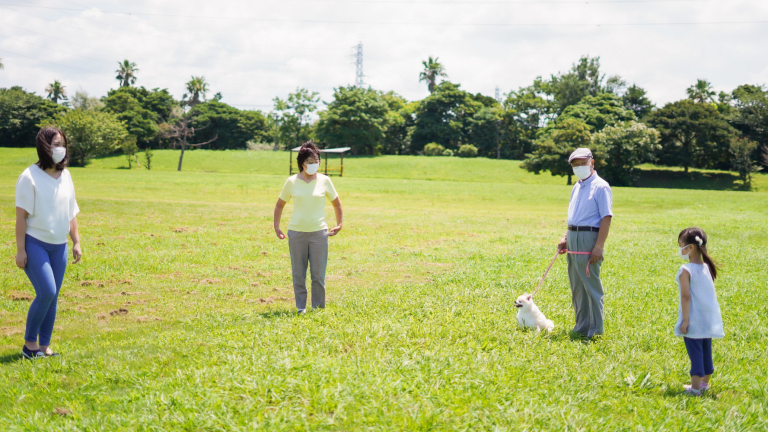 Publish date:
How to Mitigate the Risk of Covid-19 When Seeing Family
One of the most difficult aspects of the COVID-19 pandemic is navigating how to safely feel close to family, friends, and loved ones. While Google hangouts and Zoom dates are great, their appeal may have worn off slightly in the last few months. Nevertheless, safety needs to be top priority, and mitigating the risk of spread remains ever so important. 
As the fall and holiday season approaches, you may be considering whether you can visit loved ones in person. It's a tough call, and it must vary state to state, region to region, town to town, and family to family. 
If you are being very careful, have thoughtful conversations about precautions, and you feel like you want to see a close relative, there are some important steps to take first.
As pointed out by Virginia Tech expert Rosemary Blieszner, "although physical distancing is required for our health and safety, that does not mean we have to be socially removed from those we care about... Keeping in touch with loved ones is important for our mental health and happiness."
Blieszner shared her top tips to seeing a loved one in person this season, but stresses that you should only consider taking these steps if you are healthy, have no symptoms of COVID-19 and have not been around anyone who has symptoms or a diagnosis of COVID-19.
Before visiting family in person, you should:
Always follow local health and safety guidelines concerning gatherings and avoid traveling to places with high numbers of COVID-19 cases.

5 Pretty Ways To Organize Your Jewelry
I admit - I'm guilt. Despite my best efforts, my "jewelry drawer" has become a tangled mess of necklaces, bracelets and earrings. This cluttered collection not only makes it hard to see what I have, but difficult to untangle the pieces I do want to wear! This summer, I'm ...read more
This Year's Coolest Jumbo Pool Floats
Pool season is almost here! I can't wait to relax, read a book, and sip a cocktail while lazily drifting in an oversized float. (Just kidding, I have two toddlers--but a swim mama can dream, right?). If you've got a staycation planned, check out this year's coolest jumbo pool ...read more
Crystal Clear and Pristine: Pool-Cleaning Tips
Tropical Storm Isaiah gave us quite the midsummer surprise here in the suburbs of New York City. We just got our power back on after a whole week of darkness! With trees down, debris everywhere, and lots of uncertainty, one thing we forgot to check on: our above ground Intex ...read more
Wear a face covering over your nose and mouth to keep everyone around you safe, and make sure others are wearing masks as well.
Create a small social bubble or pod – people who are practicing all the guidelines related to wearing a face covering, washing hands often, avoiding crowds, and committing to being together in person only with other members of the pod. Celebrate holidays only with those in your social bubble.
The CDC points out that in general, the more people you interact with, the more closely you interact with them, and the longer that interaction, the higher the risk of COVID-19 spread.
Visit outdoors or make sure indoor spaces are well ventilated with open windows or doors. Those from the same household can sit together, but the space should be large enough to make sure those from different households are keeping at least 6 feet apart.
Avoid buffet-style eating. Have one person serve everyone else to avoid many people handling the same items.
While celebrating together, ask everyone to take a break from phones and social media – be really present and in the moment with each other.
Want more from Momtrends?
1. How to Get Kids Used to Wearing Masks
This is not medical advice. Please consult your doctor to discuss your health and risk factors. This is not a sponsored post.