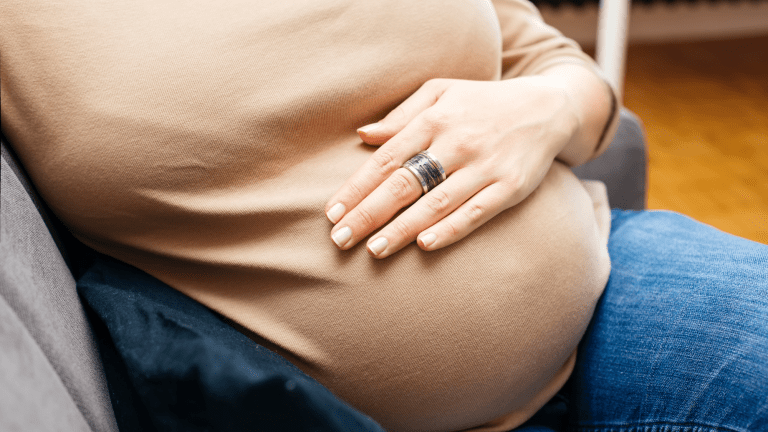 How to Manage Your Morning Sickness
Once, a pregnant mom of four told me that her body feels its best when she's pregnant. "I'm the healthiest, happiest version of myself when I'm growing a baby in my belly." 
I'm not going to sugarcoat it, friends. I had only met this bump-boasting braggart minutes before; but, instinctually, I wanted to hit her. Mature reaction, I know. But at the time, I was five months pregnant and woefully ill with round-the-clock morning sickness. "Um. How nice for you."
Yep, I'm one of those lucky ladies who inevitably experiences severe nausea, vomiting, headaches, exhaustion, and all-around unpleasantness during pregnancy. It just goes with the territory. Want a baby? Sounds good; but, first, you must endure months of misery. I know, in reality, it actually is a small price to pay, and I consider myself fortunate. But it's hard to capture this feeling of grace and gratitude, when you're praying to the Porcelain God, begging for relief. 
Ah, morning sickness, you are a pill and the price I pay for procreation and those pretty little babies I produce. You may have won today (and yesterday, and for the past sixteen weeks), but I will not let you take my spirit. Imma fight to feel better...
No, mamas, I'm sorry to say there is no cure-all for morning sickness (and if you have one, please inbox me, email me, tweet me, DM me...). But there are a few tricks, tips, and tried-and-true remedies that can help, at least, curb the symptoms.  
Never. Stop. Eating.
I can't cook. Even the smell of my six year old's beloved chicken nuggets baking in the oven is enough to send me over the edge. Burnt toast turns my tummy and a look at veggies sends me into a spiral of sickness. Suffice to say, thinking about eating is usually the last thing I want to do. Alas, getting food in my system is often the only thing that helps relieve my nagging nausea. Planning what to consume can be daunting when your gag reflex is working overtime, but if you can find one or two simple options (pizza! grilled cheese! a bagel with excess butter!) that don't sound awful, keep them handy. I find if I can manage to get some protein into my meal, it helps. 
Despite a lack of appetite, meal skipping is only going to make you feel worse. And snacks are your friend. If you can manage to eat fruit, you're winning. Otherwise, stock up on things like pita chips or lightly salted nuts. Whatever works--I tell myself that the first trimester is a free pass. I eat whatever sounds appealing in the moment, be it a milkshake or a cookie. Mama has to eat--so be kind to yourself and your body.
Sleep Through Your First Trimester
I know, not realistic, but wouldn't that be nice? If you could just close your eyes and wake up around Week 20, feeling less lethargic and more, well, human?! Wishful thinking aside, now is the time to put whatever policies you need into place to get yourself the rest your body requires during this physically grueling time. Schedule a regular sitter, rely on family members, and set boundaries when and where you can.
I'm fortunate to have a husband who, despite a full work schedule, makes himself available to help,and a mom who will drop everything so I can nap. I know not everyone is as lucky. Sometimes, you have to slap on a movie or give into video games for older kids so you can hunker down on the couch for an hour. It's worth it, and it's temporary. Sleep will help your mood, your mind, and your body; so give into it whenever you're able. 
 I'll be honest, I could sleep even more if I had the option. I'm a bottomless pit of sleep during pregnancy. Hang in there--that spurt of second-trimester energy is coming... Hopefully.
Stay Hydrated
Water. Water. Water... You've got got to water that bump. 
This is easier said than done, when even water makes you pukey. So sip slowly and constantly and keep a bottle with you at all times. For me, tons of ice and an occasional lemon wedge can help make the H20 more tolerable.
Sip on Bubbles
All I want is Diet Coke. Unfortunately, I need to limit both my caffeine intake and the nasty faux sugar stuff! But every few days when the hankering hits hard, I'll savor a few sips and it settles my tummy like nothing else. Regular cola might just do the trick for you--I just don't love the feeling of all that sugar in my mouth.
Ginger ale is a good alternative sans caffeine. Plus, the ginger, on its own, can be effective at relieving nausea. Sometimes, ice-cold plain ole seltzer water helps to calm the sickie storm. Something about all that fizz and all those bubbles seems to work.
Smell Some Citrus
Anyone else have a super nose when they're pregnant? I smell everything--good and bad. And, more often than not, those scents,odors, and fragrancies aren't appreciated. But one scent that does tend to lift me up: citrus. The smell of a freshly cute orange or a bowl of cut lemons gives me an instant mini boost.
Have a Lolly
To tell the truth, candy grosses me out right now. But in my previous pregnancies, a regular ole Dum-Dum lollipop could help thwart a sudden on-set of the "nausies." You could also try, Preggo Pops which are specifically made to help ease symptoms. If sweet fruity flavors aren't your thing, mint candies might help. 
Get Fresh Air
Now that the weather has cooled down, I'm enjoying getting outside. (The summer was impossible, I admit it.) Crisp fresh air can work wonders for your overall well being. 
Step outside and breathe in the coolness in the air. It'll wake you up and refresh your face and body.
Take a Dip 
Like I said, summer was rough, and the one thing that helped me was a dive into a cold-ish pool. Given that the weather in most locations is not conducive to swimming, I'd suggest a cool shower. It can really snap you out of a bad spell.
Pull Yourself Together
Sometimes, you have to force yourself up and at 'em despite how awful you may feel. I'm always amazed at how I instantly feel better when I shower, wash my hair, put on makeup and get dressed. Working from the outside in, tricks my body into thinking I'm feeling alright. Plus, getting out off the couch (my self-pity spot) and out of the house can work magic for mental health.
Caffeine Helps--In Moderation
I tried to go cold-turkey on the coffee. The smell in the morning made me feel horrendous anyway, so I thought it would be an easy transition. Meanwhile, I was beyond exhausted every day and would end the evening with a massive migraine. I discovered that I, personally, need a little bit of caffeine in my system to function even at half capacity. While hot coffee made my stomach turn, iced-coffee over a ton of ice with a little bit of cream and sugar (two things I usually forgo) somehow do the trick.
Talk to Your OB
Morning sickness sucks. That's the long and short of it. Talk to your doctor about options that might be safe and effective for you. I've tried taking prescription Zofran from time to time when necessary but couldn't even fathom letting it dissolve on my tongue on days I was truly feeling mostill. There is a daily medication available now as well, but I've heard it makes you zombie-level tired--and, with two kids, that's not an option for me (when I'm already struggling with the sleepies, as is.) But you have to do what feels right for you and what your doctor recommends--keep the lines of communication open... and good luck. Relief is hopefully on the way. (My fingers are crossed.) 
This is not a sponsored post. All opinions are our own.