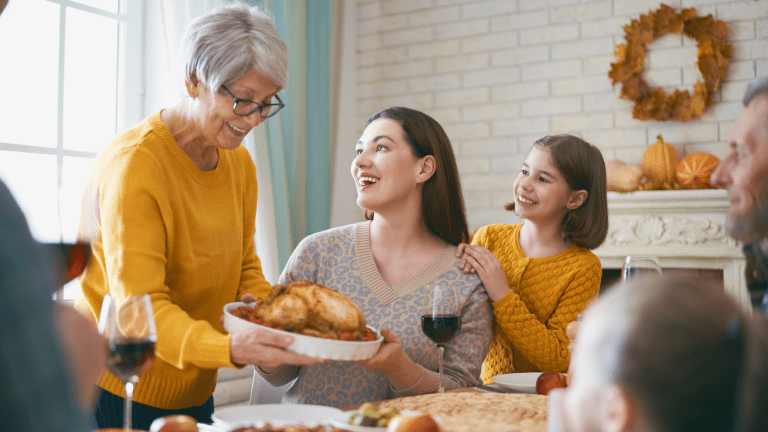 How to Manage Relatives' Expectations This Holiday Season
From Thanksgiving to Christmas, Be Clear and Establish Your Own Rules
Here we are a week before Halloween (yes, HALLOWEEN!), and I'm already fielding requests from relatives: What should we get the kids for Christmas? Are you coming over on Thanksgiving? Can you tell me which Barbie is the right Barbie? What size turkey should we get? Are they too young to get their own cell phones?
(Don't worry, the answer to that last one was a resounding YES.)
Listen, it's been a rough eight months of pandemic-induced darkness. We are all looking for the light at the end of the tunnel -- and the holidays sound like the opportunity to have a beacon of twinkling joy after many, many weeks of monotony. 
But can we all take a deep breath and calm the F... a-la-la-la-la down? Can we continue to keep our eye on the prize and conquer one day at a time in this difficult situation? Can we get through the costumes and candy and social distanced trick-or-treating before we start talking about presents and stockings and toys and treats?
I can't pretend that this not an isolated situation and a product of the pandemic for my extended family. The holiday prep begins early for grandparents and aunts and uncles -- too early if you ask me. I like to enjoy the moment and live in the present (and right now I want to make the most of fall). But COVID-19 has really amplified the divide this year. Everyone is desperate to fast forward and get to the grand-finale event.
Again, I get it. And I don't want to rob anyone of joy. Shopping for grandkids and nieces and nephews is fun, and Christmas, Hanukkah, and the holidays are special. Go ahead and get on top of your list, but leave me out of it for now. I'm not ready... and while we're at it, can you rein it in slightly so my kids aren't swimming in STUFF they don't need and won't be grateful for? Can we make sure that we're approaching gifting from a place of restraint -- because I know for a fact that less can be more. 
Here's why I'm droning on: I thought this was a situation unique to my family. But, recently, I've had conversations with mom-friends and, it turns out, this is common across the board. And since I've written a ton about holiday gifting, but never once about this potentially contentious dynamic, I wanted to share my perspective and give some ideas that might work. Some have been successful for me; others, honestly, not quite as much. But if we can't all agree to disagree on how to celebrate this season, we can, at least, try to set and manage expectations. Here are my thoughts...
1. Remember, everything is fluid right now
The COVID-19 pandemic has really thrown a monkey wrench into all of our plans. The same goes for the holiday season. As much as you'd love to do your big multi-tabled Thanksgiving feast event, you might not want to this year -- because, well, logic and practicality tells us otherwise. 
Be open with loved ones, and be transparent that it's a fluid, constantly changing situation -- so there are no guarantees. You can change your mind about hosting, attending, and inviting at any point. Follow the local numbers, mandate mask wearing, instill hand washing, ask guests to remove shoes, and feel free to put a nix on it all if anything becomes a red flag. It's not worth the stress or the risk. But be upfront about this right now, so no one can claim offense later on. 
2. Money is tight, don't feel pressured to keep up
The pandemic has taken a toll in more ways than one. Across the board, lots of families are experiencing a tightened budget, if not a full financial setback. This is not the time to be spending recklessly on gifts. Talk to your extended family members and let them know that you'll be reining things in this year for your own kids, for nieces and nephews, and all around. It's fine (and welcomed) if they do too.
3. Limit the tangible things
I've always been a fan of gifting experiences instead of things. This is slightly more challenging this year in light of COVID-19 social distancing restrictions. Still, it's worth gently encouraging loved ones to get something small and meaningful with a promised experience at a later date. Or get creative. Ask a grandma to send a craft kit to your kid and get one for herself to so that they can do it together on  Zoom. Sign up for virtual cooking classes together. Plan an outdoor activity.
Right now we want to emphasize gratitude over gratuitousness. It's okay to say that out loud to extended family members and impose some guidelines. You're not being a Grinch if you say that they are only allowed to bring one gift per child. They're not Santa (to your littles at least), and you get to make the rules.
4. Make it magical
Holiday magic is free. It's not about gifts and goodies and big shiny prizes. It's about sitting together as a family and watching movies. It's about decorating your tree. It's about traditions and warmth, and that fuzzy feeling you get when you put on your holiday jammies for the first time in the season. Everything else can be secondary.
5. You can put a gag-order on holiday talk
If you're feeling stressed about holidays, gifts, decorations, group gatherings, Thanksgiving turkeys and all the pandemic pressure, it's okay to say "I don't want to talk about this until mid-November. Can we table this conversation for right now?" And, remember, go back to tip number one: everything is fluid right now -- take a deep breath and go with the flow. And, for now, try to enjoy Halloween and what's left of fall. 
Want more from Momtrends?
2. We've Been Boo'ed Printable
This is not a sponsored post.