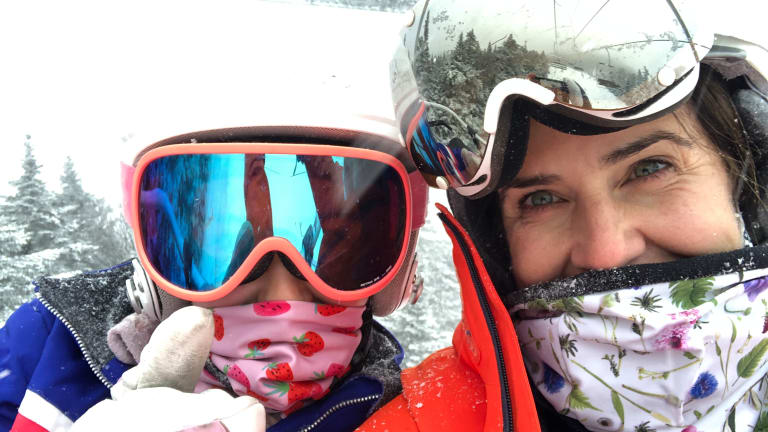 How to Make Your Ski Season Safer with the Lysol Germ-Cast™ App
The handy new Lysol Germ-Cast™ app provides daily data on flu and COVID-19 incidence levels at the county-level, as well as a three-week flu forecast.
This year certainly has been a doozy, hasn't it? Our lives have been disrupted, our favorite activities canceled, our gatherings postponed… It would be easy to let that permanently get us down. It doesn't have to be that way though.
Read on to see how my family keeps our spirits up, and how we're using the handy new Lysol Germ-Cast™ app. It provides daily data on flu and COVID-19 incidence levels at the county-level, as well as a three-week flu forecast to help us safely make plans.
It's true that we need to be vigilant while this virus is so prevalent. What's more, let's not forget it's also flu season. But, if we're armed with the right information, we can still pursue our passions safely. On that note, can we take a moment to discuss the topic I never tire of? Skiing.
I am all about following the rules and keeping my loved ones -- and everyone else -- safe, so choosing socially distanced activities is very important to me. If I have learned anything during this time, it is that we have to keep moving, period.
So, I will not be giving up my go-to winter activity -- and I urge you to dust off your ski equipment too. That being said, it would definitely be prudent to focus on how to make your ski season safer.
How To Keep Your Spirits Up During Challenging Times
Staying active is always good for morale -- and that doubly true this year. The more we move our bodies and the more time we spend outside, the better! And that is why we make the most of our time on the slopes. Winter is our very favorite season -- and with good reason. 
Through skiing, we can still get out and enjoy our surroundings and each other. This deep, abiding love, for all things ski related, practically courses through our veins -- so we're super thankful that we don't have to give up the sport that brings us so much joy. We've already given up so much. I know you have too.
Happily, skiing is actually quite safe! You're outside, of course, and can socially distance from others. You might want to give up the hot toddy at a crowded ski lodge bar, but the actual skiing -- no way. I say get out there and enjoy that powder!
Now, as you make your own seasonal activity calendar you probably want to keep informed about how COVID and flu cases are looking in your area. That is where the Lysol Germ-Cast™ app comes into play.
The public health company, Kinsa, provided the anonymized data for this app from its smart thermometers to provide families -- and even front line workers like school nurses -- with vital, detailed information on local illness incidence levels.
If the cases are really spiking in your neck of the woods, you might want to spend more time at home. And in our case, we will look for ski spots with less traffic and fewer cases.
More Ways to Use the Lysol Germ-Cast™ App During Flu Season
That's not all the Lysol Germ-Cast™ app does, by the way. You can also get illness-prevention info like daily tips and tricks, as well as access to Lysol product information. I'm sure I'm not the only mom who always has Lysol products on hand, right?! It's the best at fighting those icky illness-causing germs!
Being in the know is always a good idea when it comes to your family's health. So, are you ready to try out this super helpful app for yourself?
By downloading Lysol Germ-Cast™ in the Apple App Store and Google Play or using the web plug-in, you will always know about the local COVID and flu incidence levels. Oh, and did I mention that it's free?
What are you waiting for? Now that you know how to make your ski season safer, it's time to enjoy all that winter has to offer!
For more ways to enjoy the ski season:
This post was sponsored by Lysol. All opinions expressed are my own.