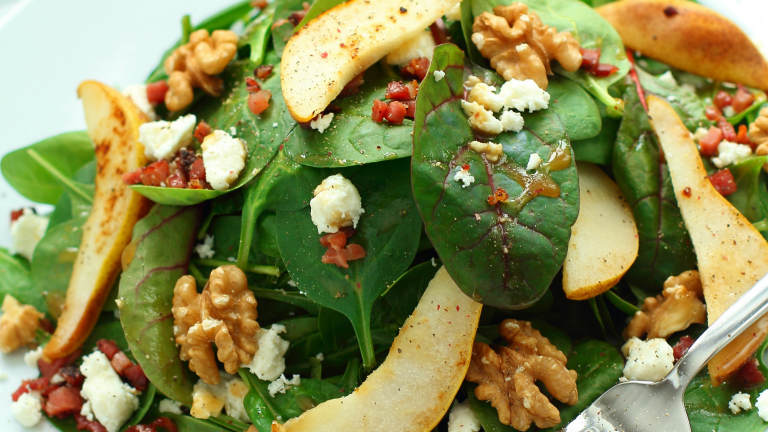 How to Make the Perfect Salad
Celebrate National Salad Month!
Spring has sprung and it won't be long before those fresh salad greens start popping up in our organic garden. If you missed it, we have some tips on how to get the kiddos' green thumbs tapping. May is National Salad Month and I have been experimenting with various types of salads and have done some leg work on how you can achieve the perfect salad. 
Creating your own fresh salad is easy, can be tailored to your mood and the possibilities are truly endless. Shopping your Farmers' Market can be a great source of inspiration.
I looked back at my favorite salads and stopped by one of my fave restaurants for some salad creating advice. The secret to making a great salad is in the layering.
It's All About the Base: First things first, choose your salad base. I am a big fan of mixing romaine, cabbage, and spinach. Something about the different textures and range of flavors really works. Whether you go Spring Mix, Kale, or Arugula, choose a base that will be the foundation of your salad.
Veg Out: Next up, pile on the veggies. Think the colors of the rainbow here. Radishes, carrots, peppers, mushrooms,corn kernels, onions, or beets. For me, using a crinkle cut cutting tool makes the salad more appealing and interesting. 
Go Green: Pop in those extra greens. Sliced celery, cucumbers (I have been loving the English cucs for a bit crispier crunch) peas, green beans, broccoli, asparagus, Brussels sprouts or avocado (for more on avocados read THIS). I have also been playing with the addition of fresh herbs to my salad and they really make a difference. Try these from Shenandoah Growers for fresh and organic herbs. 
Sweet Tooth: I never added fruit to my salad until I ate the yummiest salad on my honeymoon. Now I toss in fresh berries, crisp apples, sweet pears or tangy cranberries; I try to get the unsweetened variety. I have even tossed in cubed prunes which are delicious when using a balsamic vinegar. 
Nuts! For that added crunch and punch of protein (and to add yet another dimension of flavor), sliced almonds, crumbled pecans or diced walnuts work well.
For the proverbial cherry on top, I have started to, once again, make my own croutons. Don't worry, they are super easy and now I don't feel guilty looking at the extra bread that might have otherwise gone to waste. Try this fool proof how-to from Rachael Ray but play with it to make it yours. I store them in a mason jar and add the crunch as needed.
There you have it, celebrate National Salad Month by sharing your own yummy creation! 
This is not a sponsored post. All opinions expressed are our own. This post may contain affiliate links.