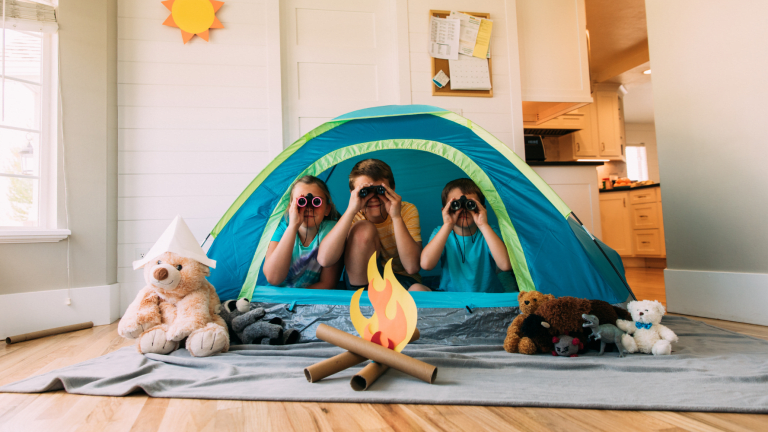 How to Make the Most of Your Spring-Break "Staycation"
Spring break has arrived -- and many of us are staying home, hunkering down, and trying to stay sane. It's more of the same in light of the COVID-19 pandemic, and we are going to do our best to make the most of it -- one movie night and ice cream sundae bar at a time. Enter: the staycation! If you haven't yet thrown out your parenting rule book, now is the right time. With a week of school-free nothingness on the horizon, why not embrace some unique activities at home. Think of it as your own personal YES week! We're all tapped at this point -- so get some relief with a few new ideas:
Create a Boredom Jar - The first thing you need to do when it comes to finding things to do when your kids say they're bored is to create a boredom jar. Get your kids to write a list of fun things to do on strips of papers, which could include anything from arts and crafts activities to building a fort. Fold up each strip of paper, then stick it in a jar. Finally, write a "Boredom Jar" label and stick it on the jar. The next time your kids say they're bored, bring it out and get each kid to pull out a piece of paper with an activity for them to do.
Homemade Popsicles and Treats - Most kids love popsicles any time of year, even when the temperature plummets to below freezing. If you need things to do when your kids are bored, they're an easy treat for them to make and they taste delicious. All you need is popsicle molds, fruit juice, and perhaps ice-cream or yogurt. Add real fruit to amp up their creation. You'll find all sorts of easy recipes on the internet.
 Cook Dishes Inspired by Your Favorite Places – Throw on your apron and let your kids play chef for the evening and make dinner for the whole family. Let them take charge with the utensils and create dishes inspired by their favorite places. If you have teens, put them in charge while younger ones play sous-chef. They can set the table and create a menu. It's the perfect activity when you need things to do if your kids are bored.
Play old school games. Remember things like red light/green light, Simon says, duck-duck-goose, musical chairs, or freeze tag? These are lots of fun, and free! Or, for older kids, go to an arcade. See who has the skills for Pac Man or Skee Ball.
Head to the park. Find a list of all the parks in your city and make a plan to visit as many as you can during the break. As part of the fun, pack a picnic. This way, your kids can still run around outside and will all be ready for a nap afterwards. Check out the playgrounds or the trails, and then when home, place stickers on a map of your city identifying each parks and playgrounds you have visited.
Learn a new sport or activity. Try yoga for the first time together (there are great digital class available), or try a Just Dance marathon. If someone in the family is an expert at a particular sport have them teach the others how to play it.
Host an active video game tournament. If you have a video game console, set up your own family tournament and compete in a different game or sport each day. 
Want more from Momtrends?
1. Cute Rain Boots That Will Put a Spring in Your Step
2. Plan a Fun Visit With Kids to Bryant Park, NYC
Momtrends was not paid for this post.