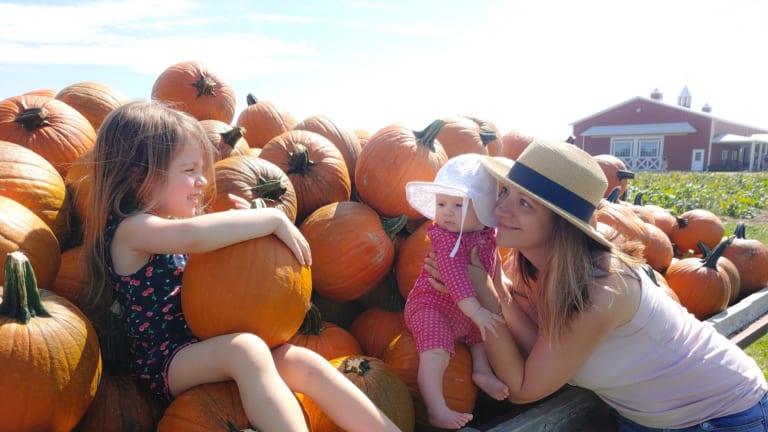 How to Make the Most of Your Fall Weekends
Here are five fall family weekend adventures to make sure you schedule this season.
I saw a meme recently about how there are actually two extra seasons between summer and fall: fool's fall and second summer. It made me laugh. 
We had our annual back-to-school barbecue on Friday and there was a chill in the air. It felt decisively like autumn--crisp and cool; it was plaid blanket, sweatshirt weather. But then today at the first soccer game of the season, we were all sweating our tails off in the blazing sun and heat. Second summer has arrived.
Related: Perfect fall weekend Manchester, Vermont
Don't get me wrong--I love each season for different reasons, but fall just squeaks its way to the top as a personal fave. There is so much wholesome family fun to be had in autumn; adventure awaits. Of course with school back in session and sports and extra curricular activities, it can be hard to find the time to do all these amazing things. That's why I try to make the most of our fall weekends together. Because, the season is fleeting... and winter comes fast. You've got to claim your actual fall and milk every moment. 
Five fall family weekend adventures to make sure you schedule this season.
Apple Picking. Pick all sorts of local varietals from Gala to McIntosh to Honey Crisp. Feast on seasonal treats like apple-cinnamon donuts and cider and get your fill of all-you-can eat red, yellow, and green apples.
Pumpkin Adventures. Halloween is approaching. We'll be carving jack-o-lanterns and baking all the pumpkin treats; so, of course, we'll need a big loot of pumpkins--big and small. The kids love picking out their own.
Foliage Peeping. Fall hikes are a family favorite around here. We love watching the transition of the leaves--from green to yellow to orange and red. 
Road Trip. I love a good family road trip. It's best in the fall when you can roll down the windows and enjoy the air and natural autumnal beauty around you. 
Beach Walk. Sure the beach is a summertime staple; but, I'll tell you a secret: it's even better in the fall.  An autumn sunset stroll (or jog) along the shore can be revitalizing. Without the sun blazing down on you and the oppressive heat, you can enjoy the sights and sounds of the ocean.
Want more from Momtrends?
PIN IT!
Use Pinterest to save your favorite ideas from Momtrends. Be sure to follow our Fall & Halloween Funboard here.
This is not a sponsored post.