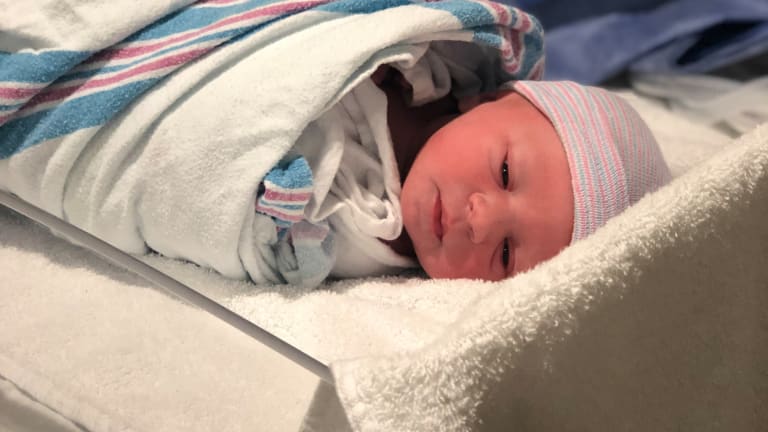 How to Make the Most of a Scheduled Labor Induction
If You Don't Go Naturally, There Are Some Pros to Being Induced
I was sure that this time, I'd go early. Baby would spontaneously come--fast and furious-- and likely in the middle of the night (you know, for dramatic effect). I was positive we'd be in business a couple days shy of 40 weeks. Babies have a funny way of turning the world upside down. Plans changed and I had a scheduled labor induction on the books and decided to share how I made the most of my new reality.
Related: Tips for Nursing Moms Going Back to Work
This was my third pregnancy after all; and my other two were prompt and timely (if not a wee bit early), so no doubt this third go-around would be, in the words of my four year old, "easy-peasy."
Getting Ready for Baby
Alas, as my due date approached, it became clear that Little Lady was awfully cozy in that big mama belly of mine, and she'd need a little, um, "gentle" encouragement. As a gestational diabetic on insulin, my doctors didn't want me to pass the 40 week mark, so an induction was scheduled for exactly 39 weeks and five days. Sigh...
Having experienced the strong effects of the synthetic-"hormone" Pitocin, the choice cocktail for induction in a previous delivery, I wasn't all that eager for the experience. But you gotta do what you gotta do to keep healthy and have a safe delivery; so, per my OB's instruction, I arrived at the hospital at midnight (and, no, I didn't turn into a pumpkin!) for a date with the doc. 
A little bit of excitement, a whole lot of dread, and one amazing prize later--and here's my big takeaway: there is an upside to a scheduled induction. In fact, there are a few. 
An induced labor is probably not your ideal situation, but might as well make the most of it. I know I did--and here's how.
Ask All the Questions
Now is the time to get it all out there. Don't hold back! While you have the opportunity (and some extra OB face-time), ask all the questions you've been ruminating in your brain. Having a scheduled induction actually gives you a bit more control in an otherwise uncontrollable scenario. You may have had to abandon your basic birth plan, so seize back as much authority as you can. Empower yourself to feel confident about what's going to happen. "What medicines will you use to induce?" "Can I walk around or will I be tied to a bed?" "What happens if the induction doesn't work?" 
No question is silly or superfluous--you should've heard all the deep, dark queries that crept out of my mind and came out of my mouth. No shame in my mom game! This is your body, your baby, your delivery--don't be shy.
Plan a Nice Day for Yourself
When I found out I'd be going to the hospital late at night (a common occurrence for inductions), I decided to plan a delightful day full of little luxuries and pleasantries ahead of time--one last hurrah before I became a mom of three. I made lunch reservations for myself, my mom, my mother in law, and my four year old mini-me at a local fancy bistro. We had a relaxing ladies' lunch and then went to my favorite nail spa for manicures. (Nothing like having freshly painted digits for all those photo ops! In fact, I kind of regret not getting a blowout too - ha!)
Carve Out the Time to Prepare
I had already packed my hospital bag, but with extra time, I was able to re-check my list and prepare in a few other ways. Knowing that it might take a little time for the meds to kick in and active labor to commence, I decided to pack a few more entertaining items--you might want to consider books, playing cards, a laptop for streaming, etc.) 
When my water broke spontaneously in my first pregnancy, I didn't have the opportunity to take a quick shower. But you better believe that this time, I took a nice, long, relaxing shower, shaved my legs (as best I could!), and shampooed my hair. Carve out an hour or so in your pre-induction schedule to blow dry your hair, do a face mask, and enjoy a little luxurious "me time." 
Eat a Good, Fueling Meal
Talk to your doctor about what you can eat and if and when you should start fasting. He or she will likely recommend that you eat a good meal to fuel up for the hard work you'll be doing later. Me? I opted for a hearty protein, salad, and grains bowl from Chop't.
Treat Yourself to a Pre-Baby Bouquet
My husband came home from work in the early evening before my induction with a bouquet of hydrangeas and a planter of ranunculus flowers. He knows I love having fresh flowers all around my house. And since our baby was about to be induced on the Spring Equinox, it was a fitting gift. Still, I knew I'd be in the hospital for a few nights and wouldn't be able to enjoy these beautiful blooms brightening up my home. We decided to take the ranunculus with us to perk up and prettify the labor and delivery room. 
It became a focal point for me during painful moments and long contractions; and every single nurse, doctor, and PA who entered the room commented on it! (Note that you should check your hospital's policy before bringing live plants and flowers into certain areas. My husband had to put it in the car once we were moved to the communal recovery area--sectioned off by curtains. When we got to our private room, though, we brought it back out!)
Spend Calming Time With Siblings Before You Go
The best thing about having a scheduled induction for me, was being able to prepare my other two children. I wasn't running out the door doing lamaze breathing in a panic like all those mamas do in the movies. I was able to engage in a calm and quiet conversation with them and definitively tell them that "the baby is, indeed, coming TOMORROW." Better yet, I was able to explain that "Grammy" would be there in the morning to take care of them since Mommy and Daddy would be at the hospital. Walking them through the steps once more eased their anxiety (and mine). And then snuggling up to read books together on the eve of becoming a family of five was incredibly special. I will always cherish this moment-- and having a scheduled induction afforded me the opportunity.
Mentally Prepare--and Psyche Yourself Up
It's hard to imagine an end in sight when you've been pregnant for over nine months. But once you know you're about to be induced, you can begin to see the light. Just think, in 24 hours time, the pain of labor will be over and you will have that baby you've been dreaming of in your arms. Finally. Take one last photo of that bump--and get yourself in a calm (well, as calm as possible!) frame of mind. This is going to be a wild ride--enjoy the journey, Mama.
More on Pregnancy from Momtends
PIN IT!
Use Pinterest to save your favorite posts. And be sure to follow our Baby Things to Love Board here. 
GEAR FAVORITES
PIN IT!
Don't forget to save our go-to baby gear and follow along for more with our Pinterest baby board!
This is not a sponsored post.