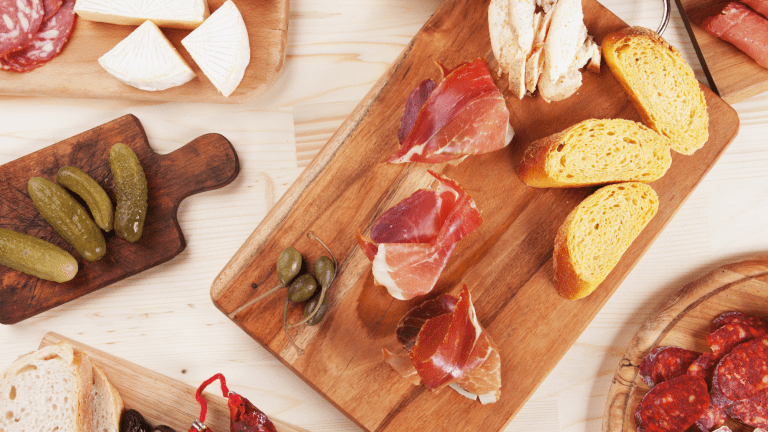 How to Make a Great Cheese Board
Amp up Your Cheese and Charcuterie Board
The holidays are a time to spread cheer, put a little merry in everything and make even the littlest things seem special. As the holiday party calendar fills up, I always find it easiest for me to choose one dish and make it for every party I attend. This year is all about the cheese and charcuterie board. We are lucky enough to have an authentic cheese shop in town and the on-trend experience is how to create a beautiful and deletable cheese and charcuterie board.
As with any appetizer, you want it to appear like you spent all day creating it, without actually having to spend all day creating it. We have a few tips to share on how to make a great cheese and charcuterie Board:
1. Start with Great Ingredients: Fresh, whole foods make the best choices. Do your homework and choose quality meats and cheeses that are made in traditional, authentic ways. Another tip is to always offer a familiar staple for those less inclined to expand their palette. 
2. Variety: You'll want to have a variety of choices on the board without mixing too many flavors. Whether you choose savory and sweet or spicy and sharp, offer a bevy of options that are both complementary in color, texture and taste.
3. Plating: Spend time rolling meats, cutting cheeses into uniform and appealing pieces, and placing items on the board in a fashion that is accessible and appetizing. Remember you want people to eat and feel comfortable and if a board is too fussy, you'll miss the mark. 
4. Color: A way to add interest and appeal is to play with color. Try to add in a variety of crackers in different shapes and flavors; try to add garnish with purpose like cornichons or olives. 
5. Background: Use a hearty platter in a solid color or a large, wooden board or try slate if you'd like to write the names near the foods. Include a variety of attractive utensils.
Other tips include-working in odds (let's say 3 or 5 variety of cheeses and 3 or 5 varieties of charcuterie), plus fruit, garnish, and crackers, bread or mini toasts; and don't forget to add in honey, a complimentary jam and/or grain mustard.
We love how Greens & Chocolate created this beautifully simple Charcuterie board for $30 from Trader Joe's. Hit up local cheese shops, Trader's Joe's Instagram as well as local cooking classes/schools for ideas.
With a little practice and patience, making a great cheese and charcuterie board will be your go-to party contribution. Have fun, enjoy and be merry!
MORE FOOD IDEAS FROM MOMTRENDS
PIN IT!
Be sure to to follow our Recipes to Inspire board here.
This is not a sponsored post.