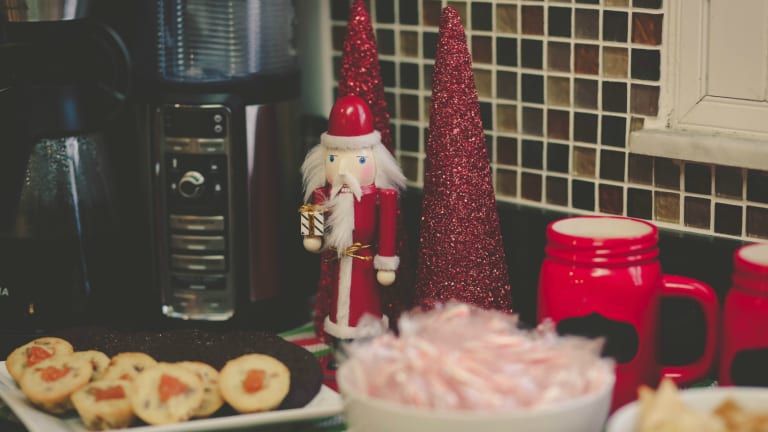 Publish date:
How to Make Guests Feel Welcome During the Holidays
Do you have guests heading to your home this season? There's no reason to stress. I know will anyway. It's built into our busy-mama DNA, bwah! But you don't have to. I'm going to share how to make guests feel welcome during the holidays today. Because, whether you have an ever revolving door of friends and family coming in and out like I do or you're just hosting one special person, you want your guests to feel like they're at their home away from home. Am I right? And with just a few simple touches your guests will feel like you really went out of your way to make them feel welcome. Spreading good cheer is what this time of year is all about after all! And that can start at home...
Set Out a Holiday Coffee Bar
Some guests don't feel comfortable just helping themselves to whatever they want in your kitchen no matter how many times you tell them to do just that. If you set out a coffee bar complete with java, mixers and treats, however, I guarantee you'll find them pouring a cup or 10 throughout the day. Haha! Make sure everything is easily accessible, so they don't feel like they have to scrounge around in your fridge or cabinets, and you'll have happy-as-pie guests. Plus, a holiday coffee bar doubles as holiday kitchen decor. Score!
Decorate the Guest Room
You decorate most areas of your home right? Don't neglect the guest room! Holiday guests will surely appreciate a little holiday magic sprinkled about where they lie they're heads down at night. And what a cheerful way to wake up! Even if you don't want to go all out and put up a tree in your guest space, for instance,  just a few holiday throw pillows and decorative accents will go a long way. It doesn't have to take a ton of time or money to decorate your guest room, just a little bit of effort. And that effort definitely lands you on the how-to-make-guests-feel-welcome winning list!
Bring Back Cocktail Hour
I don't know where cocktail hour went, but I'd like to see it brought back into regular rotation. If there was ever a time to serve up cocktails at home it's when you're hosting holiday guests. Switch things up by throwing together a different signature cocktail, like mulled wine or warm cranberry citrus punch, each night your guests are with you. I guarantee you'll go down in the books as the hostess with the mostess! In fact, I think I'm going to bring back holiday cocktail hour even when I don't have guests. 
Now that you've seen my tips for how to make guests feel welcome during the holidays, check out the beauty advent calendar we shared too. Putting one of them in your guest bathroom would be such a special surprise for your fellow beauty product lovin' guests! Can you imagine being able to open a window each day you were staying at your friend or family member's home and being greeted with a fun beauty surprise?! Happy hosting!
We were not paid for this post.