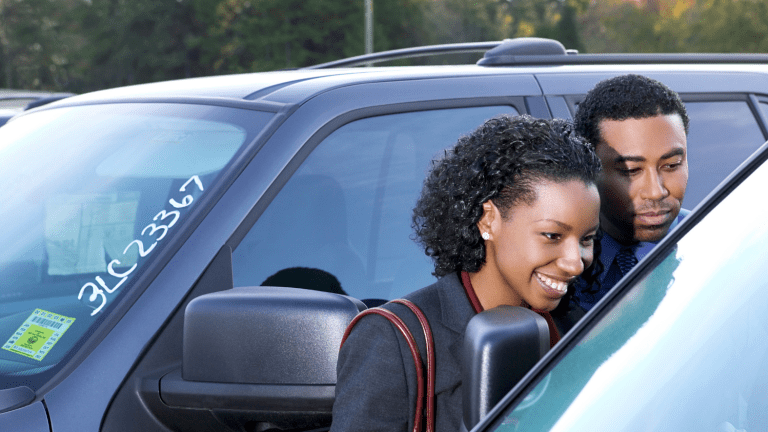 Car Shopping For Couples
Tips to find your next car without fighting, learn to make car shopping fun.
Shopping for a car as a couple is no easy task. You have to work together, share ideas, make budgets and plans, give and take, and negotiate to boot. With President's Week (one of the most popular car-buying weeks) approaching, we reached out to Jim Manelis from Chase Auto for his expert advice. Here's how he suggests avoiding the drama during car shopping and keep the "car-mance" alive during every step of the often arduous buying process. 
Related: What you need to know about the BMW X7
Car Shopping For Couples
Consider what your partner wants in a car when you go to buy and be ready to compromise. It's like a wedding venue—you both have to love it, and the reality is that you're going to have to find a middle-ground when it comes to what you both want. But don't force a decision out of frustration, as this could ultimately backfire in the future and lead to even more tension in the relationship.
Turn car shopping into date night. Makes the process less stressful by picking out a couple of dealerships and visit a different one each night over the course of a month. By pacing out your trips, you'll avoid fatigue from a "marathon" of car shopping while making the process more fun for both of you.
Eat before you go. You don't want to be low on sugar and "hangry" while you're trying to make a decision. When everyone is fed, happy and in good spirits, you might be surprised at how much more open you both will be—which will ultimately help you make the best decision.
Go for a test drive together. If you're buying the car, both people should test drive it regardless of whose car it will be. This will help both parties remain equal in the decision-making process.
Once you've both decided on a car, celebrate your new "car-mance" with a car date. Get in your car and be adventurous: create your own drive-in movie theatre, camp out for a picnic or show off your constellation skills while gazing at the stars—all from the comfort of your car.

MORE CAR FEATURES FROM MOMTRENDS
PIN IT!
Use Pinterest to save your favorite Momtrends features. Be sure to follow our Momtrends Board here.
This is not a sponsored post.