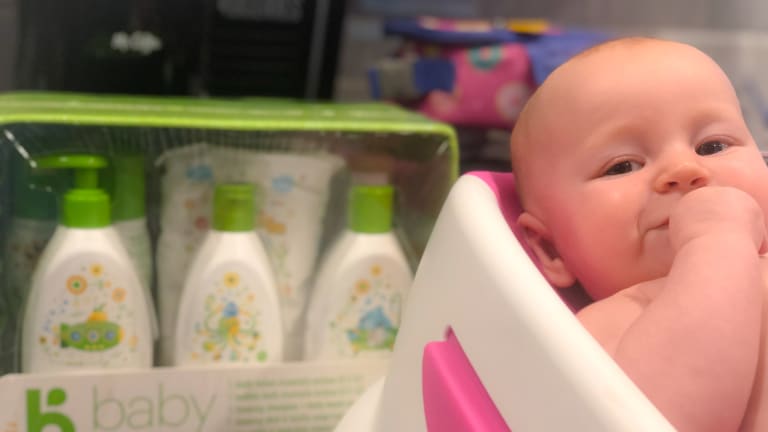 How to Make Bath-Time Special for Baby
When my first was born, I remember reading all about how bath time is supposed to be this super special wind-down moment for mother and child. It's meant to signal the shift into quiet evening hours--hushed voices, dimmed lights, and sleepy little bodies.
But the problem: my son HATED the water when he was an infant. He was like a cat--screaming and arching and scratching. No whisper or massage or miracle product could snap him out of his bath-time tizzy. And so bathing became a necessary evil--for both of us. We kept it efficient and simple (wash body, wash head, rinse, dry, quickly apply lotion, and done). Phew--it was actually pretty stressful.
Fast-forward a bit, and my first daughter certainly didn't abhor the bath as a baby like her big brother; she tolerated it with a level of indifference. But if one drop of water dared to approach her eye, game over--we were in for it.
Needless to say, I had no dreamy bath-time expectations with my third baby...
But then the first time I dribbled warm, soapy water over her tiny baby body, I noticed something surprising: she seemed to give into it--she completely relaxed and even her face had a look of pure peace and contentment. 
Eureka! This third go around, bath time has indeed become a sacred nightly ritual--and I'm not sure which one of us enjoys it more. Maybe it's her chill third-child temperament, maybe it's my increased confidence as a mom, or maybe it's the products I'm using. It's likely a combination of all three of these factors.  
So I thought I'd share a few ways I make bath time extra special.
Find the Right Bath
When my older kids were babies, we used a traditional baby tub with a newborn/infant hammock insert. I never really loved this type of product, and always found the angle to be less than optimal--their little ears would get submerged (which they obviously didn't like) and I'd have to support them with my hand to get them more upright. 
This time I'm using the Munchkin Clean bath, and I can't say enough good things about this product. Designed to work on the counter or directly in the bathtub, it features high side walls to help keep wiggly babies in place. The ultra-soft basin provides an inclined position with full head and body support so water stays out of baby's ears (hoorah!) while the wide base and non-slip feet keep her cradled in comfort. This infant tub features a water reservoir which allows you to pour clean water over your little one while dirty water funnels out through a spout. The bather also separates into two parts for quick and easy cleaning.
Use Good Products
All baby products are not created equal. I'm very particular about the ingredients in a product that go directly on my baby's skin, and that's why I'm a big fan of everything from Babyganics. Made with plant-derived ingredients that are gentle and effective, the bubble bath, foaming shampoo and body wash, and daily lotion--all made with soothing chamomile verbena are among our favorites from Babyganics. They smell delightful and leave my little one's skin super soft, smooth, and nourished. (My bigger kiddos also love how the shampoo and body wash squeezes out of the bottle as an easy-to-use cleansing foam.) And, yes, Baby #3 lets me give her a daily lotion massage, too! It's baby bliss.
You can get all three of these products, plus Babyganics dish and bottle soap; toy, table and highchair wipes; and alcohol-free foaming sanitizer in this Essentials Gift Set (it makes a great baby-shower present). 
Set the Scene
Even though I'd like to keep bath time a nightly pre-sleepy bedtime ritual, it's not always practical. My older babes are playing and yelling and running around--so setting the scene, speaking in a whisper, and dimming the lights--well, it doesn't happen very often. Instead, I have a bath-time playlist, and we listen to soothing music while we soak, cleanse, and massage. There might be big-kid chaos happening around us, but we can get into our own zen zone. 
Ahhhh... bath time really can be so relaxing. (Who knew?!)
How do you make bath-time special for baby? 
Want more from Momtrends?
1. Squeaky-Clean Bath-Time Toys for Toddlers
2. Me-Time and the Ultimate Bubble Bath
This is not a sponsored post. Some products were received for review.