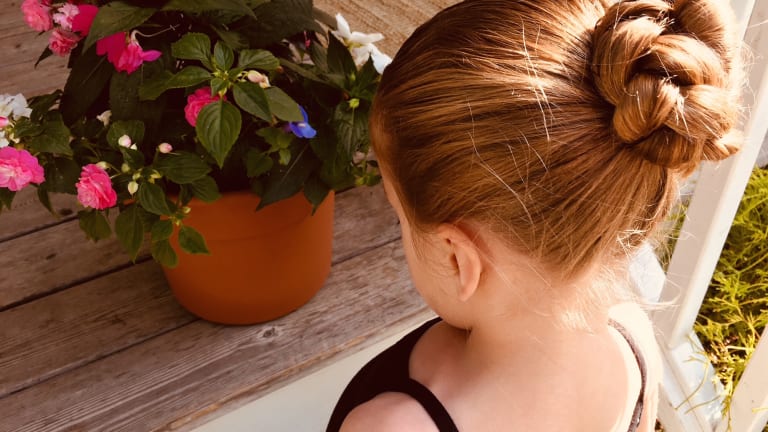 How to Create an Easy Ballerina Bun
Get recital ready with this bun-making tutorial to keep hair secure and pretty for any dance routine.
For many of us dance mamas, it is recital time! Time for the magic of a year's worth of hard work to culminate into two hours of dance performances of all genres. As a former dancer, I am over the moon that my girls love dance as much as I do. It is a beautiful art of expression and being able to perform for others is a gift. 
Related: Create a cozy reading nook for kids
The Perfect Ballet Bun
Our tiny dancer has a lot of locks and it can be a challenge to get her mane to stay put for hours on end. Thank goodness this mama has been making easy ballerina buns for decades. I know for some, this task seems daunting but I have a few tricks to share that will have you making ballerina buns in your sleep. (Side note:buns are great for warm weather, days of unending play as well as swimming. They are also great way to rock a "don't miss" hair accessory!)
What You Need to Make a Bun
The first step is to gather your supplies. You need to use a "just-right" brush for your child's hair type. and yes, this is a thing, and yes, it does matter. A professional hair stylist will be able to point you in the right direction. A good brush can be a bit of an investment, but it will last you a while and you'll notice the difference when you use it. 
I always work with "day-old" hair. If I have to make a bun on a Wednesday, then I wash my daughter's hair on Tuesday. I find this really helps keep the style in place without having to use an entire bottle of product. I start with a quick spray of dry shampoo to set the hair. Then I use a nourishing styling creme to smooth the top of her hair and catch any potential fly-aways. This also helps control the frizz and makes the hair easy breezy to grab and work with. 
7 Steps to an Easy Ballerina Bun:
Here are the step-by-step instructions for perfecting the ballet bun.
There you have it! Nothing too difficult to tackle. Good luck creating your easy ballerina bun and to all my fellow dancers, "Break a Leg!"
MORE KID-CENTRIC FUN FROM MOMTRENDS
PIN IT!
Need more ideas on what to do with the kids? Be sure to follow our Activities to Do with the Kids board on Pinterest here.
This is not a sponsored post. All opinions expressed are our own. This post contains affiliate links.