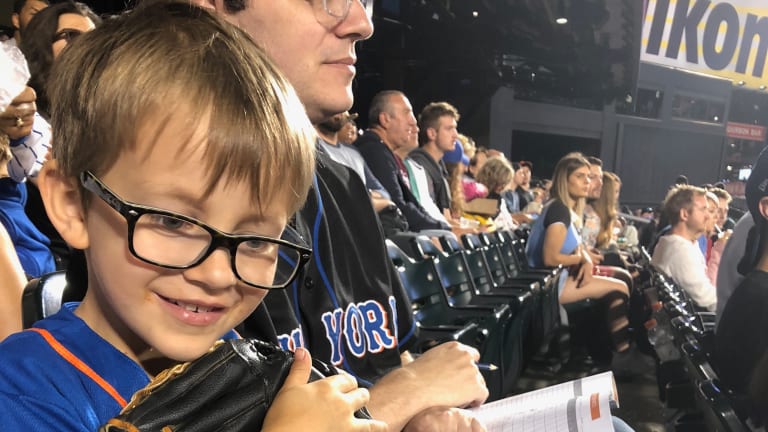 Take Me Out to the Ball Game
How to Make a Young First-Time Baseball Fan's Game Memorable
We're in the top of the ninth of baseball season; and it's almost time to retire our caps and gloves. Still, now can be a good time to introduce young kids to the magic of the live sport. If your team is not at the top of its game (eh-hem, we're lookin' at you, Mets), you can score some seriously cheap tix for the whole fam.  
I'll be honest. I was reticent to buy tickets earlier in the season, when they were priced higher. I wasn't sure my little guy would have the patience and stamina to sit through a whole nine innings of pitches, hits and runs. But we recently took advantage of the Mets' less than stellar season, and snagged a few tickets for less money than a night at the movies. And even though they lost (SHOCKER), it was a total blast. More than that--it was downright magical for our budding sports fan. And we found a few ways to make it extra special--sharing a few of these special touches to make your child's first game memorable.
Build Some Team Spirit
Root, root, root for the home team... Unless you're my stubborn little guy. He likes a family-friendly rivalry. He innately wants to cheer for the team you're not supporting--because, well, then it's a winning challenge. Regardless of his competitive nature, we made a point to watch games on TV before our first official ball game so that he began to understand the flow and rules. And sometimes I'd even pretend to be rooting for the opposing team, so he'd grow an affinity for the Mets. (Two can play at the game, Mister.)
Be Flexible
Young kids aren't going to be able to sit still for two or three hours. Yes, you want to enjoy the game, but be flexible with your arrival and departure times--especially if it's a night game. We got there shortly after the game started so there was no downtime, no waiting, and minimal whining. Some stadiums also have seating sections that are more kid-friendly. For example, Citi-Field has the Coca Cola section that has games grown-ups and children can play. Sometimes you just have to get up and move your legs--even if it's not the seventh inning stretch.
Eat all the Foods
So you saved lots of money on those bargain tickets; now is the time to open your wallet a little wider. The food can add up, but there's something special and fun about eating all the delicious festive baseball foods from popcorn and peanuts to hot dogs and ice cream, served in signature baseball cap, of course.
Splurge on a Memento
These moments make for lifelong memories. Pick out something special together so that you always have a tangible reminder of your little one's first game. We just had to splurge on my guy's first Met's jersey.
Stage a Magical Moment 
My dude was desperate to catch a foul ball. Every time one would fly up in the air, he'd reach up to the sky with his baseball glove. One time, when he wasn't quite paying attention, my father in law stealthily slipped a baseball into his glove. When he peaked down, the look of pure delight, shock, and pride on his face was absolutely amazing. I know it's cheating. I know it's a white lie, but these magical moments are worth a little fib.