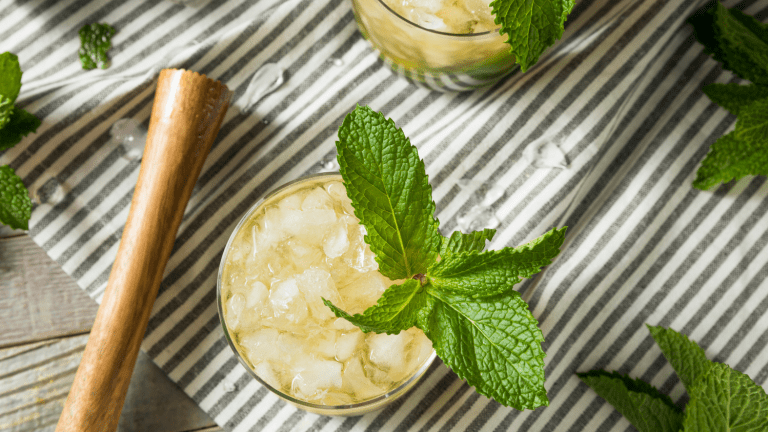 How to Make a Classic Mint-Julep for Derby Day
It's not a Derby Day without a mint julep and I'm sharing my classic bourbon cocktail recipe.
My in-laws are in the horse-raising-and-racing business. It's a crazy, thrilling, and totally risky trade, but they absolutely love it. And I can understand why... The animals are stunning, the tracks are buzzing, and the races themselves are edge-of-your-seat exciting. One thing I know, it's not a Derby Day without a mint julep and I'm sharing my classic recipe.
Related: 5 ways to celebrate Kentucky Derby style
Kentucky Derby History
The 2021 Kentucky Derby will be the 147th running of the historic horse race. It takes place on the first Saturday in Louisville, Kentucky. The field is open to 20 horses, who qualify for the race by earning points. 
About the horses: The race is for three-year-old thoroughbreds 
About the race: the distance is one and a quarter miles
About the roses: It is dubbed "The Run for the Roses", stemming from the blanket of roses draped over the winner.
How much money does the winner get? In 2020, the winning horse's owner took home 62% of the total prize money or $1.86 million. The winning jockey, Flavien Prat, got 10% of that, or $186,000.
The Derby Life
A few years ago we even joined my husband's family as VIPs at the Kentucky Derby. My in-laws are friends with a former winning jockey, and he invited us to Millionaire's Row to hobnob with the rich and famous and drink mint juleps from sunrise to sunset.
Now, I'm no bourbon drinker, but when at the Derby...
How to Make a Classic Mint-Julep for Derby Day
The cocktail was declared the "official" Derby drink in 1938. I learned one lesson from that julep-sipping day: lots of crushed ice and plenty of mint are required for a delicious drink. Oh, and to enjoy it, you have to wear a giant hat. (Hey, I didn't make the rules!)
3 ounces Bourbon
1 tablespoon powdered sugar
1 teaspoon water
3 Fresh Mint Sprigs
Crushed Ice
Add sugar, water, and mint to a glass and gently muddle together. 
Fill the glass with crushed ice. 
Add bourbon and stir. 
Garnish with a mint sprig. Enjoy! Happy Derby Day, friends!
Don't forget the silver cups! The metal cup gets frosty from the chilled ingredients helping one cool down on a steamy day. 
MORE BOURBON COCKTAILS FROM MOMTRENDS
PIN IT!
Use Pinterest to save your favorite cocktail ideas. Be sure to follow our Drinks board here.
This is not a sponsored post. All opinions are our own.