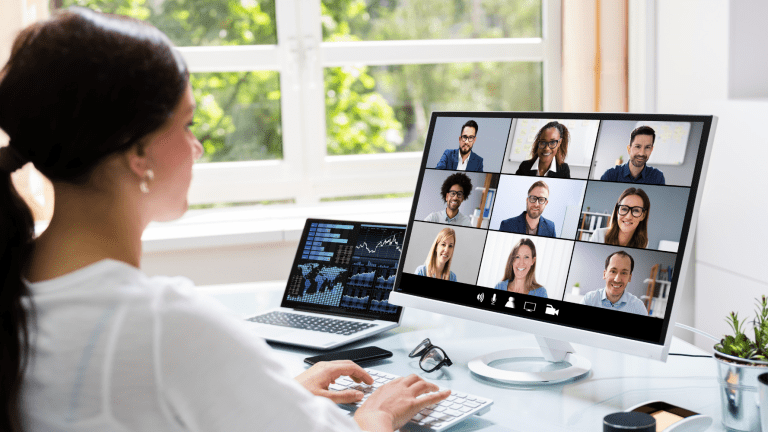 How to Look Your Best on Video Conference Calls
You may be working from home, but you can still look the professional part with these ten helpful tips.
Well, here we are 10 months into 2020, and one thing is clear: video conference calls aren't going away any time soon. We'll be Zooming into client meetings and hanging out via Google for school for some time as we continue to adjust to the new normal of life during the Covid-19 pandemic. 
Related: How to look better on your next zoom call
How to Look Your Best on Video Conference Calls
Zoom calls aren't all bad, of course. There's no commute time and you can be business on top, (pajama) party on the bottom! Still, if you want to project yourself in a more professional way, there are some certain etiquette that applies. 
So whether you use Skype, Google Meet, Zoom or any online apps to hold conference calls, make sure you always look your best. And since telecommuting and remote work has dramatically increased, you can guarantee a video conference is in your near future. 
Here are 10 tips for looking your best in video conference calls.
Check Your Smile. First and foremost, if you've been noshing at home in between video calls, take a quick peek in the mirror and make sure there's no spinach in your teeth. Consider keeping products like a teeth whitening pen or tooth stain eraser at your desk to get those pearly whites looking brighter in a pinch before you have to present. 
Freshen Up Your Face. Besides presenting a big, beautiful smile, you can also look your best in conference calls by freshening up your face. One way to freshen up your face is to use a lightly powdered makeup and blotting papers to minimize the shine that tends to get exaggerated on screen. Only then will you be ready for your close-up!
Comb Your Hair. For remote workers, especially, it's easy to roll straight out of bed and forget to even comb your hair. But before a conference call, make sure to brush out all the tangles. It also helps to keep a small stash of hair clips and bands to pull it back and keep wisps out of your face as you work.
Adjust the Camera Angle. Place your camera in a position directly at eye level. For laptops that rest on your desk, find a way to prop it up to eye level. To raise the camera lens, add some height with some thick books or invest in an adjustable laptop stand.
 Use Good Lighting. Fluorescent lighting does nothing good for your complexion. And overhead lighting can also cast harsh shadows, creating dark circles under the eyes, making you appear tired and exhausted. Instead, try to use natural lighting as much as possible, opening up the curtains in your home office. If windows are not in an ideal position and cause more glare on your monitor, another option is to place a light source behind your camera. Placing a bright light source behind the video camera and pointing it in the same direction or placing two lights on each side of the camera can guarantee a more even glow.
Choose a Neutral-Colored Background. Whether you work remote or in an office, keep your background a neutral color. A neutral color like tan or light gray offers a distraction-free backdrop that is also easy on the eyes. This may mean you have to transition to another room or location temporarily, but it will be worth it.
Eliminate Clutter. Besides making yourself look your best and professional and choosing a neutral background, it helps to tidy up your desk as well. Once you have your camera at the appropriate eye level, try to remove any clutter within view. Remove anything behind you as well, especially personal items that can distract or detract from your company's brand image. Even better, set up a wall in the background with a bulletin board, complete with the company branding and imagery. As a whole, these steps can make clients and colleagues forget you're working from home. Or, at least, that you are entirely professional about it.
Dress to Impress, But Think Minimal. When it comes to looking your best on a conference call, look presentable but don't go too overboard. What you might be able to get away with in an office may appear flashy or garish on screen. For instance, it's best to avoid clothing with patterns like stripes and plaids. If you wish, throw in a bright color to express yourself. Avoid any jewelry and accessories that dangle around and make loud clanging noises that can disrupt your conference call. In general, stick to a more minimal ensemble. But, you know, don't forgo pants completely -- just in case you forget to turn off the video during potty breaks. 
Have Pets? Keep a Lint Roller. If you have pets, especially ones who love to hop up in your lap for a cuddle while you work, we don't have to tell you how furry a blazer or shirt can get. Sure, you can close them out of your office during a conference call, but for pets with separation anxiety, that's not going to work. Instead of dealing with howling, whining or meowing at the door as you try to present your work or converse with colleagues, keep them relaxed and reach for the lint roller instead. Keep it on your desk or in a nearby drawer for quick emergencies.
Invest in Good Audio Visual Equipment. One last tip for looking your best in video conference calls? Invest in decent audiovisual equipment, such as an external webcam with high definition. Proper audiovisual equipment tends to have a much better lens, which offers a more crisp video. A better lens can also capture the lighting in a room more efficiently, potentially eliminating the need for additional lighting. You can also invest in a sleek pair of headphones or a headset for a more natural look instead of wearing earbuds.
Working From Home Means Adjusting
Even if you prefer in-person meetings or are a tad camera-shy, practice can make a world of difference. Start practicing with friends and family members to get a sense of ideal lighting conditions and the camera angle, which can remove one of the biggest obstacles. After that, you only have to worry about your personal style.
Video conference calls are here to stay. Luckily, you can now master them and add them to your skillset. And look good doing it, too!  
Tips courtesy of Rose Wood, CEO of GO SMILE, a company that supplies at-home and on-the-go teeth whitening products that are safe, effective, and clinically proven to whiten with no sensitivity. 
FOR MORE WORK FROM HOME LIFE HACKS
PIN IT!
Need more ideas on how to make life at home better? Be sure to follow our Organization board on Pinterest here.