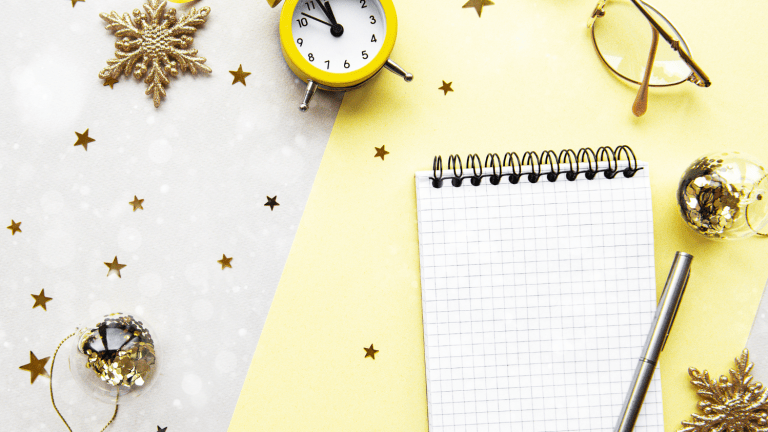 How to Keep Your New Year's Resolutions
Here are the 5 most common resolutions and tips on how to keep those resolutions in the new year.
You may start out with the best of intentions. Lose weight. Sleep more and so on. But resolutions are hard to keep, to help us out we are sharing the fun tips on how to make changes in your life. Here are the 5 most common resolutions and tips from Dr. Michael Smith, chief medical editor at WebMD, physician, certified personal trainer and nutritional expert on how to keep those resolutions in the new year.
Related: Printable gratitude activities for kids
If You Want to Lose Weight
No surprise here. In one survey, nearly half of people who tried to lose weight in the last 5 years didn't make it. Here's how to be part of the other half.
Set a realistic goal. Want to lose 50 pounds in the New Year? Great! But that'll likely overwhelm you. Instead, use the 5-pound approach. Set your sights on something that's achievable in the near future. Now that you can do! You could lose 5 pounds in a few weeks maybe even faster. Once you've lost that first 5 pounds, then you can start thinking about the next 5.
Tweak your plan. As you lose weight, you will have to change things up. That means as you get smaller (and you will), you'll need to tweak your plan. But tweaks are a lot easier to grasp than a complete overhaul.
Ease up on yourself. You will have setbacks. I guarantee it. You'll have weeks where you lose no weight and even some where you gain. At this point, people often give up. Don't fall victim to that excuse. Own the setback and make a commitment to yourself to keep moving forward.
Avoid people who don't support you. Understand that not everyone wants you to lose weight. Some may even unknowingly sabotage your goal. Avoid them. It's about you at this point.
If You Want to Work out More
I hear more excuses about why people can't get in shape than any other health goal. No time, too tired, exercise is boring excuses. I can guarantee you're not alone. There are others with the same reasons to not move more. The difference is they found solutions. You can, too. Eventually exercise will become a habit one that you don't want to miss.
Go slow. Going too hard, too early is one of the main reasons people fail. You have my permission to start with 1 minute of exercise a day. Once you got that, step it up to 2 minutes. It's more than you do now, so consider that a success.
Reward successes, no matter how small. Just reward yourself with something that'll make you feel even better. A piece of cake will likely backfire in multiple ways. Instead, buy yourself a new pair of running shoes.
Seek support: Want some extra motivation? Post your move-more goal on Facebook. A little extra nudge from friends never hurt anyone. Maybe you'll influence others to do the same.
If You Want to Eat Healthier
This might be the most overwhelming of all! The most common problem? A complete overhaul. Change what you eat, when you eat, how you eat, why you eat need I say more? Let's go small with this one, too. If you try to change too much all at once, you will probably fail.
Change just one thing. Eat one more vegetable at lunch. Sound silly? It's not. You have plenty of time to build on it. But make that habit stick first.
Don't eliminate anything! If you do, that's all you'll think about. Follow the 80/20 rule. Be good 80% of the time. Then, be bad the other 20% and eat whatever you want. You have my permission. Just be honest with yourself.
Write down your eating plan each week. You're more likely to stick with it.
Think you don't have the willpower? You do. You just need to exercise that, too. As you practice making healthier decisions, "no thanks" truly gets easier. You'll be patting yourself on the back like crazy in no time.
If You Want to Quit Smoking
Tried to quit before? You know the drill. Six out of 10 smokers have to try and try again to stop smoking.
Ditch the triggers. Don't make it even harder on yourself by leaving ashtrays and lighters around.
Make a new habit. Admit to yourself that smoking is a habit. And yes, habits are hard to break. So make a new one. As a personal trainer, I'd love to see you replace that morning smoke with a brisk walk. But do it for yourself, not for me.
Don't stop trying. Remember, each time you try, your chance for success goes up. Let failure motivate you. You can kick its butt!
If You Want to Reduce Stress
Just saying the word gets you riled up. Over 40% of workers say they're stressed out during the workday. The reality is, stress isn't going away. And the right amount of stress helps motivate us. But you have to actively manage it unless you want it to manage you. There are two simple things that will send stress running (and yes, they are about as simple as getting healthy gets).
Deep breathing exercises. Yes, literally taking slow, deep breaths not only eases stress but lowers blood pressure and heart rate. The mind and body are wonderful things.
Meditation. I'm not talking about contorting yourself into lotus pose (if you can, more power to ya!). Meditation is about freeing the mind from the chaos of the day. It's simple, but I didn't say it was easy. Thankfully, there's an app (actually many) for that. Plenty of online, free programs too. If you're looking for a way to overhaul your health, meditation has that much power.
So pick one resolution. And let's do this together. And remember, even if you missed the Jan. 1 deadline, you can start today.
More Mindful Features from Momtrends
PIN IT!
Use Pinterest to save your favorite ideas from Momtrends. Be sure to follow our Fitness and health board here.
Momtrends was not paid for this post.