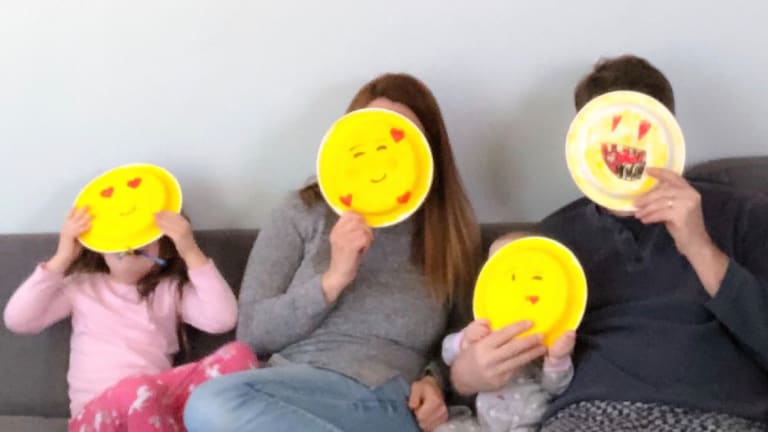 How to Instantly Change the Mood at Home
What we're going through right now may be different and a little scary, but it's vital that kids can identify exactly what's going on inside of them. They need to be able to understand and vocalize their emotions, recognize the thoughts behind what makes them happy, sad, bored or stressed. (Heck, grownups need to do too!)
I know my moods have been a veritable rollercoaster. One moment, I'm content and grateful, the next I'm depressed and despaired. While my little ones might not totally understand the depths of our current situation, they definitely have been experiencing their own mood swings. A tantrum over a bowl of cereal might be a tantrum over a cereal or it might be the manifestation of frustration over our inability to see friends, go to school, and resume normalcy. Everyone--especially kiddos--deserve a little g race and wiggle room to navigate these  unchartered waters. 
In my opinion, space is key. I try to take an hour a day to myself. I'll go for a long walk outside or a bike ride--or I'll hole up in my bedroom and take a nap or read  a book. I've let my kids have extra screen time and given them the ability to choose their own adventure after hours of attempted homeschooling--they need breaks, too!
Still, when you find yourself (or your kids) having a difficult day full of BIG FEELS, it's okay. You can turn things around--here are three ideas to help.
 Ways To Change The Mood In Your Home
CREATE THOUGHT-FEELING EMOJI GAME
Print and cut out "emoji's" representing different emotions. You can have your children write on the back of each emoji cut out what thought makes them feel that way (e.g. cut out a happy face emoji and have your child write on the back (or you do it for them) what thought makes them feel happy, etc.). Cut out a variety of emojis (including sad or afraid faces) and have your child "process" what thoughts make them feel those emotions by writing out what makes them feel that particular emotion. This is a great way to help them "think about what they're thinking about" throughout this challenging time.
PLAY THE "UP AND DOWN" EXERCISE GAME
To help your children understand that thoughts and feelings take us "up or down" have your kids sit on the floor. Have the leader grab the emoji cut outs that you've made and show an emotion. If the emotion is positive (e.g.: happy, excited, love) have everyone jump up. If the emotion is negative (e.g.: sad, afraid, angry), have everyone sit down (or fall down to the ground). Continue playing until everyone is exhausted! You can add the element of thinking by having everyone shout out what thoughts are making them feel positive or negative. Be sure to end this game on a positive note.
DEVELOP A DAILY EMOTION CHECK-IN ROUTINE
Before you go to bed for the night, spend some time with your children doing an "emotion check-in." Ask your children what thoughts they've had during that day that made them feel happy or sad, scared or anxious. This is a perfect time to sort, process, examine, and validate your kids' feelings. Remember to leave this time on a positive, loving note to help them sleep peacefully through the night. 
Tips by Jennifer Keitt and Naomi Keitt, authors of #StrongKids, a practical, colorful, and fun book to help kids learn the social and emotional skills involved in understanding their thoughts and feelings. Find out more, here.
Want more from Momtrends?
2. Create a Fun and Functional Homework Space
3. How to Give Back to Your Community Without Leaving the House
This is not a sponsored post.