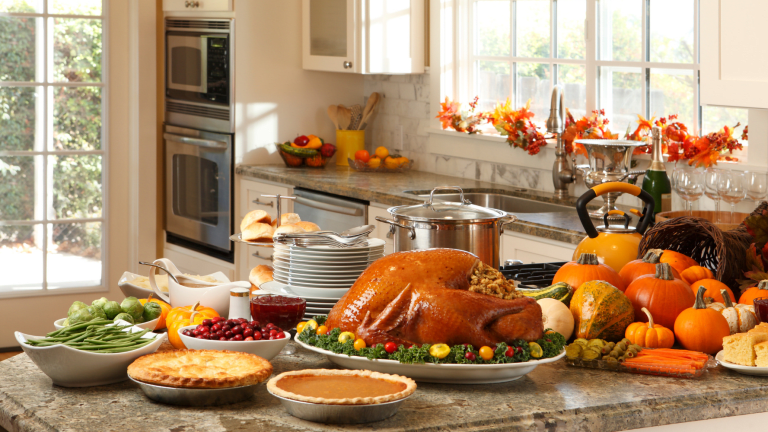 How to Get Your Kitchen Organized for the Holiday Cooking Season
As leaves turn color and temperatures drop, we are happily reminded of the upcoming gift-giving, family-gathering, carol-singing season. While the festivities might look different this year -- you're likely staying home with immediate family, you'll still want to prepare for the occasion. Regardless of how small your gathering may be this Thanksgiving, it's due time to get your kitchen organized and ready.
For some people, preparing for the holidays often translates to stress, chaos, and breaking the bank; however, an organized and well-stocked kitchen will greatly reduce any feelings of anxiety and pressure by encouraging a clutter-free and functional food prep space.
General Organization Tips for Kitchens
The first step toward organizing your kitchen for the holidays is a complete cleaning overhaul of the pantry, fridge/freezer, and wherever you store cleaning supplies (typically under the sink for most homeowners).

Pull everything off the shelves. Taking inventory of what you have will help cut costs when making a grocery list for holiday dinners; therefore, remove everything out of the fridge, pantry, and cleaning station one area at a time. Inspect each item's expiration date, and throw out anything old and moldy (including cleaning solutions).
Categorize similar items together. Before returning everything back onto their shelves, an organization system must be made. Until then, categorize items by similarity and separate them into different piles. This will help you visualize what you have and decide on how to arrange the items.
Pantry
Whether yours is a walk-in or a dedicated cabinet, pantries store a majority of what we need for making delicious everyday meals and holiday dinners. They deserve an organized system that maximizes functionality while minimizing time spent digging around for ingredients. You are more likely to forget or miss ingredients for holiday baking/cooking with a messy, overstuffed pantry. Ditch last-minute shopping runs with the following organization hacks for decluttering your pantry.
Mounted door organizer for smaller items. While intended for storing shoes, mounted door organizers consist of pockets that are perfect for holding spices, condiment bottles, seasoning packets, and anything else that fits. Many homeowners dedicate this organizer strictly for spices and herbs, while others divide common baking ingredients into each pocket. Made of a durable plastic or fabric, mounted door organizers cost between $10 and $50.
Categorize items into designated baskets/fabric totes. Pantries naturally give off a cluttered vibe due to all the little or boxed-items stored inside. However, homeowners can tidy up their pantries by stowing like-items into baskets or fabric totes. Not only does this "hide" smaller items out of sight, but also dedicated baskets help you find and put away items quicker. Remember to label the baskets/totes.
Plastic storage bins for messy items. Bags of flour, sugar, yeast, and more should be placed in plastic storage bins at the bottom of the pantry. Doing so prevents spills and messes, as well as little bugs making homes in your baking goods. Consider lids with locking clamps to prevent children and pets from getting inside.
Fridge/Freezer
Next on the list for preparing your kitchen for the holidays is the fridge/freezer. A disorganized fridge results in food waster--something nobody wants. You need a clean and spacious place to hold ingredients for a perfect holiday dinner and the leftovers afterward.
Dollar store plastic bins. A cheap and simple way to organize things like soda cans, yogurt cups, and bottled condiments is investing in dollar store plastic bins and group like-items together, similar to what you would do in the pantry. The walls of the plastic bins allow for stacking, clearing more shelf surface by utilizing vertical space. Lidded bins work especially well with preventing freezer burn for frozen food.
Label, label, label. Just as you would with bins in the pantry, label everything--including food containers. Chalkboard stickers allow you to name and date containers and then wipe away the chalk paint/ink when done. They are dishwasher safe, so you won't have to worry about them peeling off and needing to buy replacements.
Store meat and fish in a separate drawer. Meat and fish leak juices, and you may find yourself in a foul-smelling, sticky situation if those juices seep into milk cartons or fruits and vegetables. Avoid this by giving meat and fish their own shelf or drawer. Align the bottom with paper towels or hand cloths, and double bag meats marinating in Ziplocks.
There you have it some starter tips to get your kitchen in tip-top shape before the holiday season officially kicks off. You may not be cooking for 20 this year, but it's still equally important to use the opportunity to get your home organized. If you do, you'll be thankful. 
Want more from Momtrends?
1. How to Create a Gorgeous Thanksgiving Tablescape
2. Thanksgiving Preparation Safe Turkey Thawing Basics
This is not a sponsored post. Tips courtesy of Marty Basher, design expert with Modular Closets.