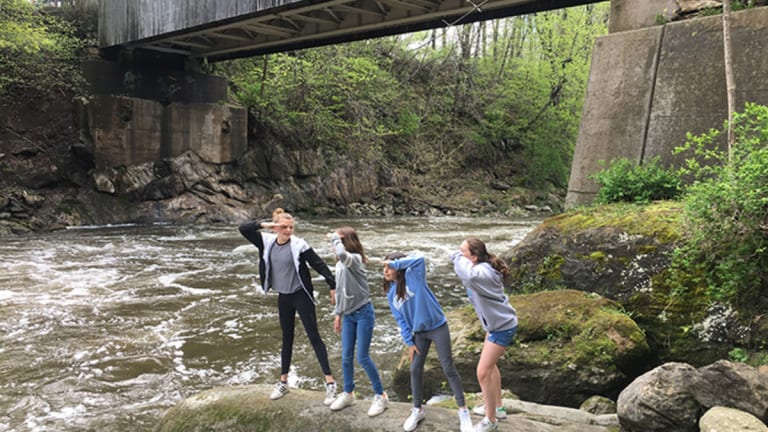 How to Get Your Kids Out Hiking
We're sharing tips to help you embrace the outdoors and enjoy your family hikes.
We're an active family. Our summer schedules are jam-packed with outings and adventures and spontaneous fun in the sun. We travel and go on vacations and enjoy staycations and shuttle the kids to day camps and sleepaways and enjoy every hectic, happy, and memorable moment. We speed up and we slow down as we hike and bike and make the most of the sand, surf, shores, and surrounding trails.
We explore the world and experience life together—outside in the elements. And our upcoming season will be loaded with plans and outings and activities. Hiking is a regular part of our routine—we love to be outdoors, breathing in the fresh air and taking in nature. It's a great way to reconnect and recharge.
The big takeaway I want to share this summer: get outside and embrace experiences and make memories with your kids. Here are my four tips to make sure your little hikers will be happy campers this season.
Enjoy a Balanced Experience
For our family, hiking is the perfect balance of active exercise and peaceful relaxation. We try to challenge ourselves physically, but we also take the time to admire the beauty around us, take in nature, chitchat and giggle, and spend quality time together as a fam of four (and sometimes more with friends!). Here's my first tip: Find a pace that works for you and your crew, and make your hike simultaneously challenging and low-key (it IS possible!). You'll find the experience can be doubly rewarding.
Wear the Right Clothes
We like to dress for success on our family hikes. Well-fitting active wear and a practical pair of shoes or sneakers are must-haves for my little athletes/budding style mavens—and for myself! We like to look good, but sometimes function is even more important than fashion for our active lifestyles. Tip: Dress in practical, light layers when hiking, and you'll always stay cool and feel comfy. Don't forget to bring a hoodie.
Hydrate, Hike, Repeat
We're big water drinkers around here, but I still actively remind myself and my kiddos to "keep calm and drink more water." Hydration is so important during the summer months—especially when you're going to be active outdoors. Be sure to drink plenty of H20 and keep your mini people sipping throughout the day. We have lots of great water bottle suggestions to make rehydrating more convenient and almost effortless. Tip: Add some fresh berries or orange wedges in your kids' refillable water bottle for a refreshingly delicious and super-easy way to keep them drinking and smiling.
MORE FITNESS FROM MOMTRENDS
PIN IT!
Use Pinterest to save your favorite parenting articles. Be sure to follow our Fitness and Health board here.