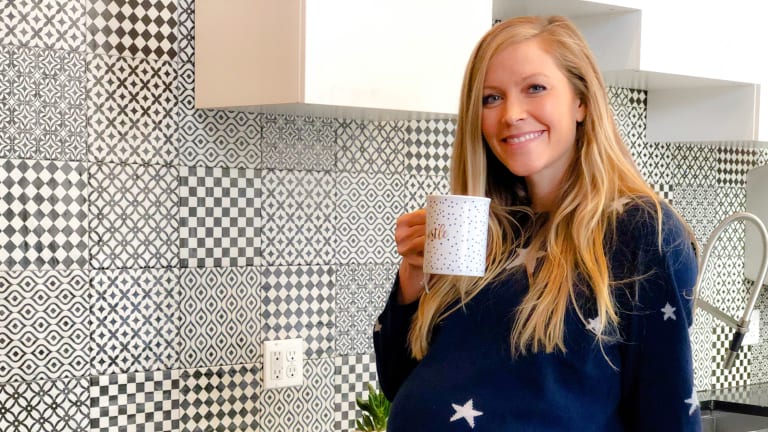 How to Get Sleep During Pregnancy
Pregnancy can be exhausting. At night, all you want to do is fall asleep and wake up refreshed in the morning. But that solid night of sleep can be elusive, especially in the third trimester. It's not always easy to get comfortable as your baby grows, and you might also be plagued by back pain, heartburn, shortness of breath, or insomnia. And just to add an extra challenge, experts such as the American Pregnancy Association recommend that you sleep on your left side. That's fine when you're going to sleep, but how do you make sure you stay there all night?
I'm currently in the final stretch of my first pregnancy, and while I'm definitely not a sleep expert, I do have a few tips to make that coveted night of rest more attainable.
When my Pharmedoc pillow came in the mail, I had to laugh. It's massive! It takes up as much room in the bed as an adult. But it's been so helpful. I nestle into my C-shape pillow and stay there all night (or at least, until I have to get up to go the bathroom). It provides support for your back, hips, belly, legs, and head, but for me, the biggest advantage is that it keeps me on my left side.
There's something about a hot cup of tea that makes me feel like it's time for bed. Peppermint, chamomile, or any herbal tea works, but I've made a ritual of drinking a nightly cup of Traditional Medicinals Organic Raspberry Leaf Tea. Many doulas and midwives recommend this tea in the months leading up to labor, but check with your doctor to see if it's it right for you (read more about it here).
There's rarely a night when I don't wake up to use the bathroom at least once. What drives me crazy is when I come back to bed and realize I'm hungry. For me, sleep is impossible when I'm hungry! So before bed, I usually have a snack that will keep me full until morning—something with low sugar and high fat and/or protein. However, eating at night can trigger heartburn, so it's important to choose the right bedtime snack. Pregnancy nutrition guru Zoe at Bella Mama Life recommends choosing alkaline foods like bananas, oatmeal, brown rice, and raw almonds.
Recently I started learning about the benefits of essential oils and bought a few doTERRA oils. Lavender oil can be a powerful natural sleep aid, so every night I put a drop or two on my pillow.
My thought patterns before bed really affect the quality of my sleep. Technology ensures that there's a steady stream of information flying at us all day, so I do best when I minimize screen time before bed. If you're not tired, try reading a book or a magazine rather than scrolling through your phone. And when you do close your eyes, a few minutes of prayer or meditation can work wonders to put your mind in the right space.
Sweet dreams! For more sleep tips, check out "Mama Needs a Good Night of Sleep."