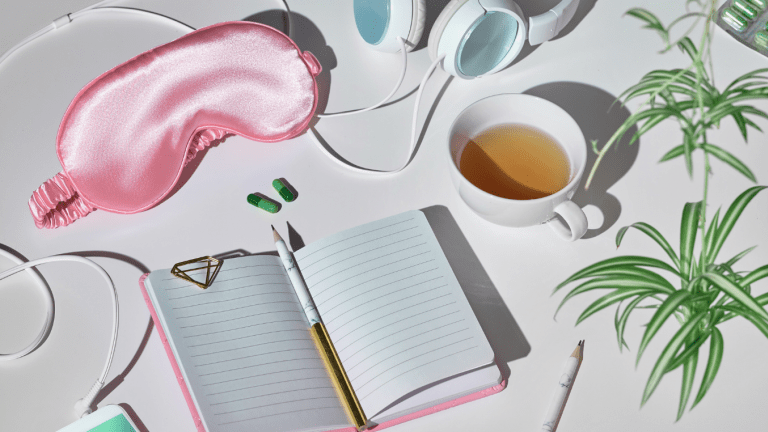 Momtrends MVP'S: How to Get Better Sleep in 2022
Now that we are officially in the new year and so many people are working on goals, resolutions, and the like, it feels like a great time to share tips for how to get better sleep in 2022.
If there is one thing I want to get more of in 2022, it's sleep. I no longer have babies at home, yet I still struggle to get in all the hours I know my body needs. I feel best when I get a solid 8 hours, but that is much easier said than done.
I know I am not alone. No matter what stage of parenthood we're in, so many of us parents always seem to be running on steam. So, I say it's high time we make sleep hygiene a priority and add it to our self-care goals.
How to Practice Good Sleep Hygiene
Even if the term self-care stresses you out, because how are you supposed to fit another thing into your already jam-packed day, just consider adequate rest a part of your routine. It's not something you have to fit in, it just is.
Once good sleep hygiene becomes a habit, it will be something you won't even think about, you will just do it, just like exercise. It takes a few weeks to get in the groove, but once you are, you feel so much better!
That's the thing. We know we feel better when we sleep better, but how do we get there? How do we fall asleep when our minds are moving at a mile a minute? How do we stay asleep instead of waking up over and over throughout the night?
Your environment is the key! It's all about how hospitable the space you sleep in is.
Before we get going, I want to make it clear that I am not a medical provider, these are just my opinions, and you should consult your own before beginning any new sleep regimen or trying new products.
What are the Best Sleep Aids?
On that note, the best sleep aids enhance your sleeping environment to give optimal rest. I covered how important a baby's sleeping environment is in my Best Baby Bedtime Products Momtrends MVP's piece and the same goes for grownups.
If the temperature isn't right, for example, and we don't sleep on mattresses, sheets, pillows, etc., that are designed to keep a person comfortably sleeping, we won't get the better sleep we could be getting!
And that is exactly why I rounded up a bunch of helpful sleep aids and products to help you get better sleep in 2022!
From everything mentioned above to humidifiers, bath soaks and even an app, there is something sure to help you get the best sleep possible!
The Best Thermostat
You don't want to overheat anytime, but definitely not during sleep. According to the Sleep Foundation the best temperature for sleeping is around 65 degrees Fahrenheit or 60-67 degrees to give you a range.
So, a smart thermostat is a natural choice to help you achieve that ideal temperature. With today's smart thermostats you can set your temperature ahead of time so when you go to sleep, your room is already at the optimal temperature.
I love the Nest Thermostat because it checks so many boxes. It accurately and easily adjusts your space to your desired temperature, saves you money by allowing you to control the temperature when you are and are not at home, monitors for other things like humidity and ambient light AND you can install it yourself!
Get the Nest Thermostat here.
The Best Cooling Mattress
Once your bedroom's temperature is set, you want to keep the cool party going with a cooling mattress and bedding. We will get to the bedding in a moment, but let's start with the biggest part of your bed setup, your mattress.
Our daughter needed a new mattress a while back and we went for the Nectar. I had heard good things about how comfortable they are but had no idea how much the Nectar enhances quality sleep with other qualities like cooling. Fast forward to us all being jealous of her mattress. Haha!
The Nectar Memory Foam Mattress is my favorite mattress not only for the gel memory foam that makes the mattress soft, yet not too soft but also because the quilted, cooling cover keeps you so comfortable and cool!
Get the Nectar Memory Foam Mattress here
The Best Cooling Sheets
Cooling sheets are something I never knew I needed until I tried them. I tend to run hot anyway, so I have never been one for materials like flannel even in the winter. You know that feeling when you flip your pillow over to the cool side? Well, you can get that feeling from sheets!
That's what Brooklinen says their Classic Percale Sheets do. The cool, crips 100% long-staple cotton will
Not only does this hot sleeper love how cool my bed stays from cooling sheets, but the Brooklinen Classic Percale Sheets, but they're soft and luxurious feeling too so you don't feel like you have to sacrifice anything for the cooling effect!
Brooklinen Classic Percale Sheets
The Best Cooling Pillow
Remember when I mentioned that cool side of the pillow feeling? Well, some pillows feel that way all the time meaning you don't actually have to flip your pillow to get that cool feeling.
And you can get all the support you need along with the cooling effect. I work best with a pillow that conforms to me and keeps its shape while I'm sleeping on it. The Layla Kapok pillow does the job thanks to reactive memory foam.
I have tried plenty of "supportive" pillows in the past, but none of them kept me cool so I can't get enough of the Layla Kapok Pillow!
The Best Eye Pillow
We aren't done with pillows quite yet. Did you know a pillow made just for your eyes existed? Me either. Well, eye pillows are a thing and they can help you get better sleep!
The Rêve Pillow combines deep touch pressure and relaxing herbs to relieve sleep killers like tension, anxiety, and stress. Its cover is soft and cooling too. It's like a security blanket for your face.
I often use an ice pack over my eyes for my migraines and the weight of it helps in addition to the cold therapy. Now I understand why! I love that the Rêve Pillow helps black sounds and light too!
The Best Sound Machine
If you are the type of person who can't stand complete silence or repetitive noises like a ticking clock get to you, a noise machine could change everything!
When I sleep I need steady, non-repetitive sounds. So, a noise machine that offers me soothing sounds that either drown out the silence or any sort of ticking, clicking, etc. that goes on in my house is so helpful!
Sound+Sleep has a few different versions, but my favorite is the SE because it comes with 60 different sounds, so you have plenty of sounds to choose from no matter what kind of mood you are in! You can even play your music on it which would be a nice way to start your bedtime routine.
The Best Epsom Salt Soak
Now everything we talked about up until now was once you lie down in your bed, but a good bedtime routine starts before that. And mine often begins with a relaxing soak in the bathtub.
My body has always relaxed in warm water whether the hubs and I sit in our jacuzzi spa in the evening or whether I take a bath before bed. And while I don't typically use bubble bath because my skin doesn't respond to it well, I am a huge fan of Epsom salt soaks.
My favorite is Dr. Teal's Melatonin Sleep Soak because it not only contains the magnesium in Epsom salt that helps relax muscles but it is also formulated with Melatonin and Lavender and Chamomile essential oils for ultimate relaxation!
Dr. Teal's Melatonin Sleep Soak
The Best Humidifier
Now that it's winter, dry air season is in full effect. And dry air does not make for a quality night's sleep. That is why we always have a humidifier in our house. Our kids haven't been babies for a long time, but the habit of using one in their rooms, and ours, stuck!
And I still recommend a cool mist humidifier because there is no risk of anyone getting burned whether it's a kiddo or a pet, bwah!
I love MistAire's version because it improves the air quality of your room in mere minutes and you won't hear a thing. It's super quiet which makes it perfect for the bedroom!
MistAire Ultrasonic Cool Mist Humidifier
Wishing You Sweet Dreams
Well, I think you have enough here to create a much more effective sleep environment, don't you?
Of course, there are other things that you can do like saying goodbye to screen time and blue light at least an hour before bedtime and sticking to a bedtime routine, along with using these sleep aids, to help you get better sleep!
And now that you have all my "how to get better sleep" in 2022 suggestions, why not check out some of our other beauty-focused Momtrends MVP's?
Stay tuned for our next Beauty Momtrends MVPs list…
For Even More Momtrends MVP's Winners, 
Follow the Links Below:
Pin It!
Save our go-to beauty tips and follow along for more with our Pinterest beauty board!
Momtrends MVP's is a non-sponsored series. Brands must meet our strict standards to be included. When naming winners we take several factors into account, including expense, convenience, and style.
We make our picks annually based on editors' research. In some instances, we may request and receive samples so that we can more thoroughly assess products. Our opinions are our own, and our goal is to help our community of moms make more informed decisions on everything from baby gear to beauty products to vacation destinations and more. We scour the abundant options and painstakingly hand-pick our favorites, so you don't have to. Our hope is that our most valuable players become your most valued purchases.