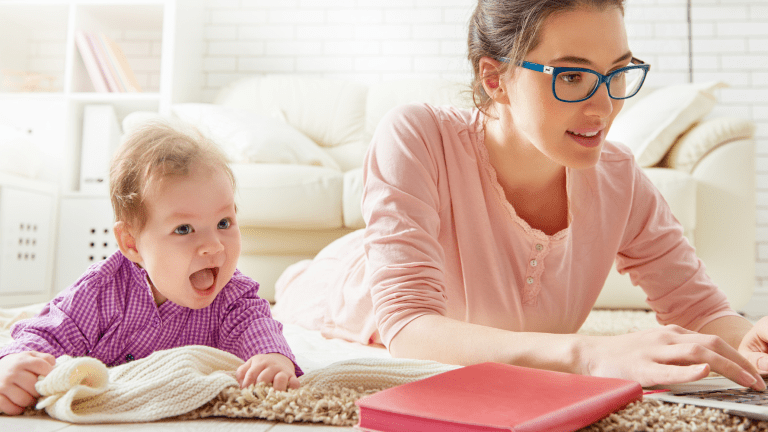 How to Get Back Into the Workplace
5 Tips for Moms Wanting to Get Back in the Game
Getting back into the swing of things may make it sound easy-breezy, but, when it comes to re-entering the workforce after a hiatus (hello, kids!), it can be quite daunting. But don't worry, we think you're up for the challenge! And, luckily, with the changing job market, there is no better time to brush off that resume and find new, refreshing employment opportunities. 
Chicago-based The Mom Project, the leading career destination for moms, and CEO Allison Robinson are working to make this transition easier and more approachable. Here are some tips Allison has to help parents who have taken career breaks to make themselves viable candidates and find a company with an ideal work-life balance.
1. Lean on your support system. We all know that parenthood requires a solid support system, and working parenthood is no exception. As you begin your job search, reach out to your network of friends, family and former colleagues for advice and support to help you prepare for this transition back to work. This outreach can help you find a new mentor in your community, a sounding board when you're stuck on your resume and even childcare help the day you land that big interview!
2. Know the market. Right now is an incredible time to change jobs. The unemployment rate is at an all-time low, and the demand for quality talent is very high. Even if you have been out of the paid workforce for a time, don't let imposter syndrome dent your confidence. It's a job-seeker's market and you have valuable skills to offer.
3. Get clarity on your own career needs. Looking for part-time work? Remote opportunities? Full-time with flexibility? Feel strongly about working for a mission-driven company? Can't commute more than 15 miles and stay sane? Establishing what type of work… well, works for you will make your job search much more focused. There are roles of all shapes and sizes available in this job market (we offer plenty of them through The Mom Project!), so going into the job search with clear boundaries and outlined personal priorities will allow you to find a position that will work with your lifestyle from day one. No one can set these boundaries and expectations for you, so sit down and really write out what is important to you and what you need to thrive while returning to the workforce.
4. Refocus and extend your lens. Consider looking outside of your industry. Take the time to map your skills and see what you can translate to booming fields, like tech or healthcare. Your experience is valuable across industries, so start owning your skills and showcasing them confidently.
5. Stay sharp and relevant. Learning a new skill can give you a competitive edge when applying for jobs. There are myriad online resources for skill development, ranging from graphic design to digital marketing to data analysis and beyond. Can you go deep on a few technical skills or certifications to set you apart from the rest? Now is the time. This gives you concrete, current assets to speak to in interviews. Bonus: you'll hopefully meet new cohorts of like-minded, professional people that can increase your network power.
6. Consider returnships. Returnships are a great way to see the inner workings of a company on a trial basis. In fact, The Mom Project and BP just announced we will be continuing The BP Returnship Program, a full-time, compensated program that supports the professional development and re-engagement of women and men who stepped out of the workforce for family or personal reasons and are now ready to return to work.
7. Interview the employer. While it may be intimidating at first, don't be afraid to ask the hard questions during your interview and negotiation process. What do flexible work hours truly mean at your company? Will managers truly support your efforts to balance work and personal life? And if you get to a great place with a company you love but their job offer doesn't align with your needs, be honest with them and tell them what it will take to get you on board. A work arrangement is a two-way street, and both you and your employer should be happy going into the relationship.
About The Mom Project: The Mom Project is the leading career destination for moms. With a community of over 100,000 talented professionals and more than 1,000 companies, The Mom Project is committed to building a better workplace for mothers and the businesses they support. For more information, visit www.themomproject.com.
About Allison Robinson: After having her son Asher in 2015, Allison identified how universally challenging it can be for American mothers to juggle the demands of motherhood with a full-time career and decided to tackle the issue on a national scale. Prior to founding The Mom Project, Allison spent 8 years at Procter and Gamble working on go to market strategies for leading household brands with a special focus on moms during her tenure on the Pampers brand. As CEO, Allison is responsible for delivering on the company's mission of building a better workplace for women while supporting our customers through innovative talent solutions that help them attract and retain the diversity of backgrounds and perspectives they need to propel their businesses forward.
Next read: How to work smarter (not harder) from home.
This is not a sponsored post