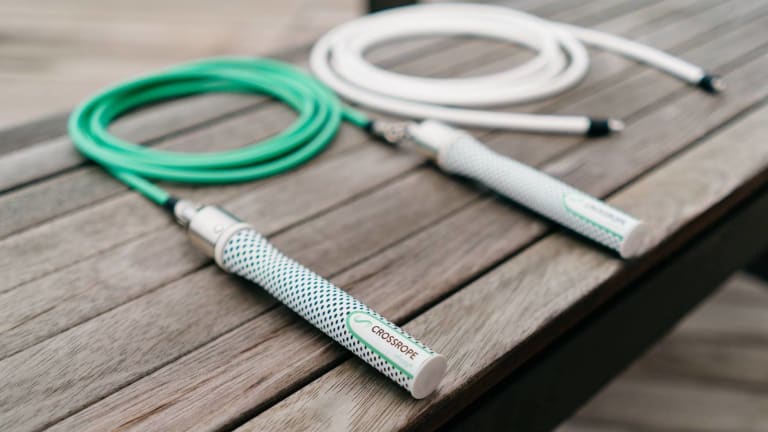 How to get an efficient jump rope workout
On days that are over scheduled, all I need is just 15 minutes with the Crossrope app to get an awesome total body workout.
You know the drill, you have to make an effort to fit exercise into your daily routine. With a bananas schedule right now, (the kids are in-person some days and remote school some days), I make a plan A and plan B when it comes to self care and workouts. On days that are nuts all I need is just 15 minutes to get an awesome total body workout. The solution is jumping rope. Here's how to get an efficient jump rope workout -- get the Crossrope app and ropes and start jumping. 
Related: Workouts to get you ready for ski season
The Crossrope Workout
Crossrope makes a series of high-end weighted jump ropes. The starter rope set is $99 for two ropes. They come in four different sizes, pick depending on your height. I have this set up, and it includes:
Slim Handles - new and improved
1/4 LB Jump Rope - great for endurance + HIIT workouts
1/2 LB Jump Rope - great for beginners + advanced cardio
Carry Pouch - for easy rope storage
Free access to Crossrope Lite (the app)
There's also the BUNDLE. This has four weighted ropes. This set adds a 1 LB and 2 LB "heavy rope" set. It's $238, and frankly I get enough of a workout with the two ropes I have. 
The quality of the jumprope DOES make a difference. This one never gets tangled or twisted, it's made to give a nice, consistent workout. If you use it properly, it's worth the money for the fancy jumping gear. 
Check out our Crossrope Video
It's all About the App
For the first month, all I needed was the "lite" app that is included. I did the intro workouts and tutorials to get going. After that first month, I subscribed to the Premium App, that's where all the good workouts are. I have done dozens of the workouts, they are constantly adding new ones, and I am never bored. I favorite the ones I like so I can easily go back and repeat a workout, but I also love the novelty of the new.
You can get a jump rope anywhere, the real key here is the app. New workouts are added each week and they have a HUGE variety. I like the HIIT workouts that combine total strength and cardio. 
The premium app is $9.99 a month. The "lite" app is all you need to get started. It's got tutorials and a few starter workouts loaded into it, as you progress, you'll want to get the full app. 
There are over 200 workouts in the app, they are ranked and HIGHLY searchable. I customize by time, the type of workout I want and the intensity. I'm never disappointed!
Why Jumping?
Jumping rope does wonders for building strength, and increasing overall muscle tone. And as a bonus, jumping rope burns over 1000 calories and hour! Crossrope is a fun workout that fits your busy schedule. I like that these workouts are quick and portable. Sign up for Crossrope here.
Getting Started with Crossrope
First, head to your app store and download the app on iOS or Android.
Set up your account and pick your workout
Get your ropes ready (you may need two or three weighted ropes depending on the workout)
Add in your favorite workout music (I use spotify in the background)
Start jumping!
MORE MINDFUL FEATURES FROM MOMTRENDS
PIN IT!
Use Pinterest to save your favorite ideas from Momtrends. Be sure to follow our Fitness and health board here.
Momtrends was not paid for this post.