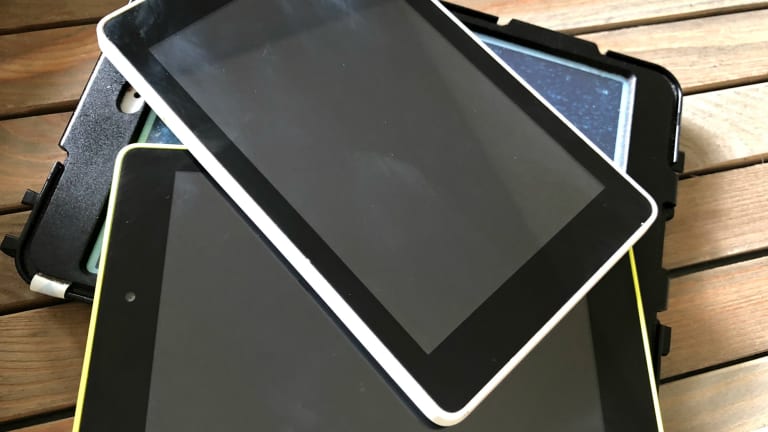 How to Get a Smart Device for Less
This post is sponsored by Trademore. I was paid for this post.
Who wants to know how to get a smart device for less? Well, actually...Let me first ask you this. Is your kiddo smart device obsessed? Obviously right? Yeah, mine too. We've had a vast array of tablets over the years and you know what they've been doing? Gathering dust. That's what. Take my ten year old, for instance, he likes to watch movies and read on one tablet and game on another. And those older versions. What should we do with those? I'm sure many of you have the same dilemma. You having working devices that your kids have moved on from, but could still be of use to someone. Well, I have a great idea for you. It's a way to help teach your wee ones the value of money AND save when it comes time to purchase a new device. So, let's talk about how you can get a smart device for less with Trademore…

At Trademore you can trade in / sell a device OR buy a device. So, the next time your child wants an upgrade you can give him the option to trade in his old device. You can see that mine was more than willing to take that deal. Bwah! Or you could tell him how much it costs to get the used device of his choice on Trademore and let him earn the money. I don't know about you, but handing a brand new, super expensive device to my accident prone child gives me heart palpitations. I love the idea that with Trademore you can get a smart device for less while they're still in that "I leave everything, but the kitchen sink at school stage". The amount of lunch boxes, notebooks and the like that my kids lost last year was insane. And their school required that they brought their tablets in to class sometimes. I always waited on pins and needles for them to get home with their tech safely on those days. Don't get me wrong. Negligence isn't rewarded in our house, but if you have a forgetful kiddos, stuff happens.
So, having Trademore as a budget friendly option is clutch for families, especially when you start thinking about phones. My son is just getting to the age where it's time we start thinking about getting him his own phone. Handing over a brand new thousand dollar device is not happening. I do believe Trademore just might be the answer for us. They have a large variety of devices at super competitive prices. AND they go through a 30-point checklist so you know they'll work and look great! How could we go wrong? He can help contribute by trading in his old devices and we can save by buying a used one. I'd say that's a win-win situation..Wouldn't you?! My next question is...What are you waiting for? Head on over to Trademore and find out how they can help you with your family's smart device needs!

And now that you've found out how to get a smart device for less, check out our tips for how to raise digitally savvy kids!
My blog may contain links to other websites. I am not responsible for the privacy policies of those other websites. When you click on a link, your information may be collected by those websites so I encourage you to read their privacy policies.
These affiliate links are not associated with Trademore.