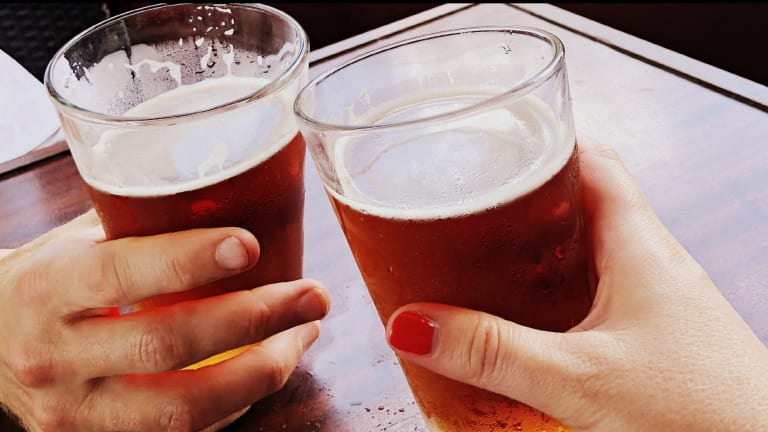 How to Focus On Your Marriage to Be a Better Parent
Let me ask you a question. Do you put enough focus on your marriage or relationship with your partner? If you didn't immediately answer yes, the answer is probably no. I've certainly been guilty of not nurturing my marriage enough at times. I think most of us can say that. So, today I'm going to talk about how to focus on your marriage to be a better parent. You see, the two can absolutely be inter-related. In fact, my hubs and I noticed recently that our patience was wearing thin with the kids and with good reason. We've been going a mile a minute this summer and not taking the time we should to connect.
After a decade together, it's easy to forget. We, of course, love each other as much as ever, but kids...work...life. It all just takes up so much energy, sometimes you only have energy enough to simply collapse into bed...and not in the fun way. Bwah! When we were simply dating over a decade ago it was a lot easier to make "us" a priority! As we've aged and found ourselves full on in the parenting trenches, we left dating by the wayside. How silly is that? And that's why we just returned home from a weekend away ALONE. We didn't even go far. We stayed a lovely resort not an hour from our home. It might as well have been Europe. We needed mommy and daddy time that much.
There's this impression that as you get older, the spark you once felt as a young hot to trot couple dies down. That couldn't be further from the truth as long as you make keeping that spark alive a priority. If you know exactly what I'm talking about, read on. We've teamed up with Disrupt Aging to turn those stereotypes about marriage, parenting and aging upside down! In fact, here are a few of my favorite tips to help get that much needed couple time in...
How to Focus On Your Marriage
1. Plan a time to have a grown-up conversation at least once a day.
2. Plan a date night in at least once a week.
3. Plan a date night out at least once a month.
4. Plan a parents only trip at least once a year if budget allows.
How to Be a Better Parent
* Keep your marriage thriving and you'll find yourself part of a more balanced, centered parenting team which will inevitabely lead to better parenting! I would say it's easy as that, but its not easy, it's work, but it's work that is SO worth the effort! And twenty or thirty years down the road you'll be a spicy duo looking down the path of a hard earned retirement. Because age really is nothing but a number. You're in the prime of your life and you should enjoy it as both a partner AND a parent! We want our kids to look at aging through a different lens than they're typically shown. It doesn't have to be a negative thing. With age comes learning and loving and, most importantly, LIVING! Be that example for them.
So, are you ready to disrupt aging and focus on your marriage to be a better parent?! Speaking of aging, if you have a daughter, you're going to want to check out our piece on how to teach girls to fight ageism!
This post is made possible with support from AARP's Disrupt Aging. All opinions are my own.