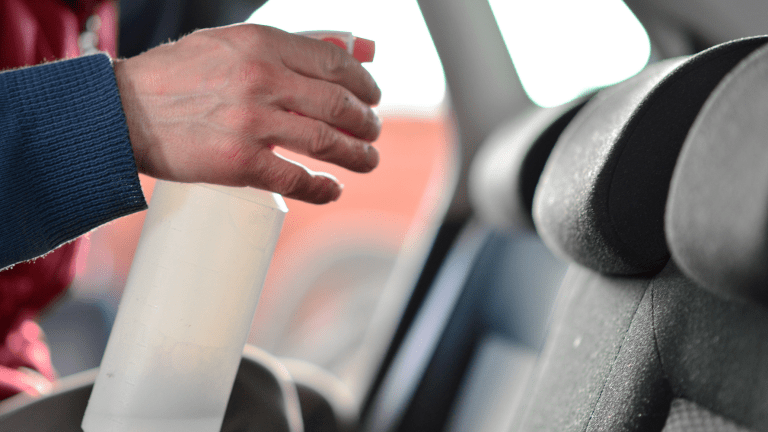 How to Efficiently and Effectively Clean Your Baby's Car Seat
Simple steps you can take to make sure your child's car seat is germ-free.
If you're a first time parent, take note -- that new car seat you just spent $250 on, it's going to real messy, real fast. Baby poop, puke, urine, milk, and eventually snacks will coat that upholstered puppy in all the gunk. And while taking it apart, and cleaning every inch might seem like a pain in the neck, it's an inconvenience that's also a necessity. 
Related: Best Car Seats 2022
Your little one will spend ample time snuggled in his or her seat, so you don't want it to be a breeding ground for funk and bacteria. 
Fortunately, there are simple steps you can take to make sure the seat is in tip-top spotless, germ-free shape. 
Here's how to properly clean your baby's car seat.
First things first: wash your hands. You want to make sure you're kicking off your car seat cleaning project with a clean start. If you want to go even further, put on some disposable or washable gloves.
Before you start cleaning your car seat, read the manual. This is SUPER important. Car seats have varying ways that they can be cleaned in order to keep them safe and properly working. You want to make sure you read the manual for your specific car seat so you know how to properly clean it. The manual should give you instructions on how to clean a car seat.
Vacuum time. Have you ever tried wiping up wet crumbs? Well, heed this advice and don't. The first thing you'll want to do to clean your car seat is to vacuum up all of the dry crumbs, sand, dirt, etc. Don't forget to turn it upside down, move parts and pieces and get in all those little crevices. Vacuum attachments can help get in the tiny corners of your car seat.
Cleaning time. Now it's time to clean! With a mild detergent, clean and wipe the entire car seat (following manufacturer guidelines, of course). Make sure to invest in a reusable microfiber cloth or towel to clean your car seat so you can take care of the car seat fabrics and be eco-friendly. Do not use too much water. A little bit goes a long way. You don't want water stains on your precious car seat. Take care when cleaning the harness as you don't want to damage the webbing. Gently clean the seat, use a non toxic spot remover if you need to for tricky stains, and then wipe it all down after! Pro tip: Spray bottles are your best friend. Purchase a few inexpensive ones and mix up your detergent.
Sanitize it. We highly recommend a handheld steamer to sanitize your car seat. This is going to get rid of and kill all the yuckies! Treat the entire car seat with steam (where allowed based on the manufacturer guidelines). Make sure to dry immediately after steaming. 
Dry it. This is another important step not to be missed. A dry car seat is crucial so you can avoid any mold or mildew. We don't recommend putting anything in the dryer and most manufacturers don't allow it either. Set your car seat in the sun, near a fan or let it air dry.
Safe Reassembly. Phew! You've done it. You've learned how to clean a car seat and it's completely dry. Now it's time to put it back together. Following manufacturer instructions, put the cover, buckles, straps, harness, etc. back onto the car seat. Give it a once over to make sure all the parts and pieces are where they need to be.
MOMTRENDS BEST BABY GEAR
PIN IT!
Save your fave baby gear and ideas on Pinterest and follow along with our Gear for baby and kid board!
This is not a sponsored post. Tips by Fran Maier of BabyQuip Cleaning.