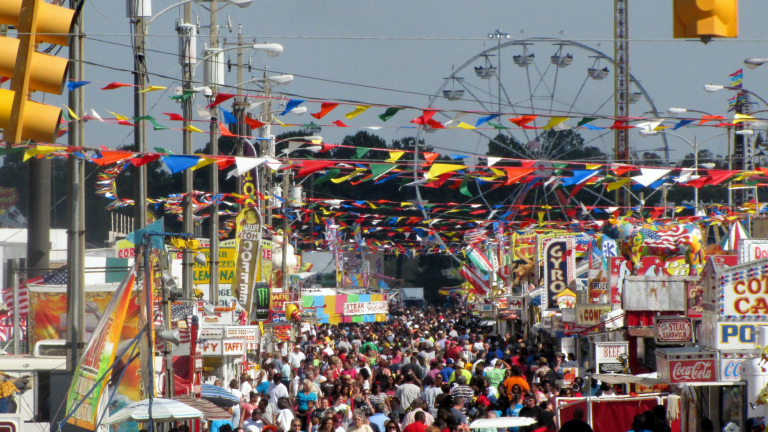 How to Eat Healthy at the Fair
Easy Tips to Eating Right
It is festival, street fair and carnival season!  While I enjoy the street fair vibe to score handmade home goods, my kiddos vote for a carnival or festival every time. We attend our hometown's annual Summer Festival every year and look forward to the energy of many of our friends and neighbors gathering in one space. And there is nothing quite like watching the kids dance around with reckless abandonment to live, upbeat music in streets typically filled with honking cars and buses. My only caveat when attending a fair, is the food.  Ever mindful of how we nourish our bodies, I have a few tips to help guide you and your family on how to eat healthy at the fair. 
Tips for Eating Healthy at the Fair:
Just Say No: Want to avoid unwanted calories, sugar and other additives? Just say "no" to beverages other than water. Sticking to water will ensure you stay hydrated, (we all know the crowds make for a steamy atmosphere!) your appetite at bay and reminds you to stick to always keep your body working in its optimal condition.
Fill Up: Heading to the fair? Strategize and planning ahead is a good way to avoid getting stuck eating meat on a stick. Aim to plan your outing right after mealtime so you are not tempted to splurge on empty calories and foods you would not normally consume. Packing a few healthy snacks is always a win too. Think easy to carry items like nuts, low-sugar granola bars or unsweetened dried fruit. 
Share: If for you, no trip to the fair is complete without a zeppole, than opt for sharing. Everyone gets a taste without overdoing it and it helps keep portion sizes in check. Everything in moderation is a great mindset for your overall wellness.
Choose Healthy: More and more, you'll find healthier food options at the fair with just a little bit of scouting. Grilled veggies, lean meats, local veggies (think slow-roasted local corn!) fresh fruits and even yogurt parfaits are healthier options that can keep you on course and help you to avoid overindulging. 
Exercise: Sneak in extra exercise where you can. Opt to park your car further from the entrance, walk to the fair, extend your stroll to visit all the areas of the fair or try some activities that involve a little physical activity. (Although, if you are a mom, they'll be plenty of weight training as you carry your overspent child the last mile of the journey!)
Enjoy the fair and have fun making the most of the outdoor festivities!
This is not a sponsored post.  A few tips were provided by registered dietitian, Jen Scheinman. You can visit her at Simply Nourished.com.