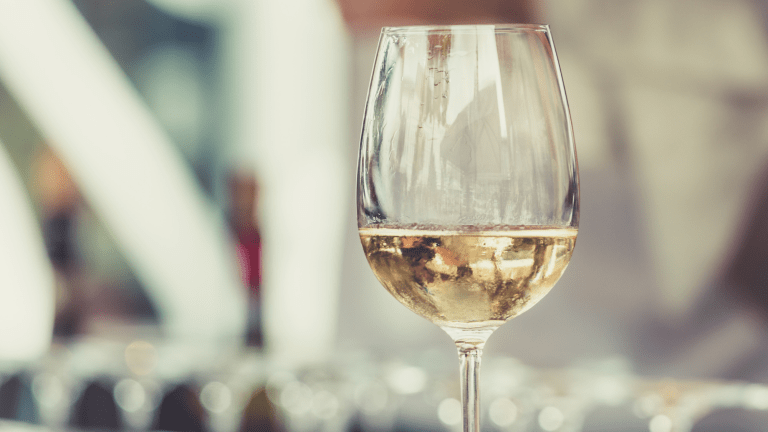 Publish date:
How to Distinguish Between Social Drinking and Alcoholism
These days, it seems like motherhood and wine go hand in hand. We sometimes joke that adult-life and parenting can drive us to drink, but the reality is: the seemingly harmless sippy-cup-full-of-Cab mentality can cross a line. 
Sure, after a long, hard 12 hours of battling babies and toddlers, a nice glass of vino can take the edge off; and cheers to you; there's nothing wrong with treating yourself to a generous pour with your plus-one after the kiddies have gone to sleep or indulging in a cocktail at your weekly girls' night. 
It's when that one glass turns into two or three every single night of the week that drinking can go from social to problematic. And it's not always obvious; sometimes alcoholism can creep up on you. And while it can seem like a fine line, there are significant differences that distinguish between regular, but still regulated drinking and an unhealthy habit. Here's how you can identify if you or someone you love have a problem.
Addicted alcoholics hide their habit
Carrie Carlton says, "When people veer from social drinking to alcoholism, they usually try to conceal their drinking from those who are close to them. This is a warning sign because they deliberately wish to hide their drinking habit from their loved ones so as not to alarm or disappoint them. The fact is, the more they try to hide their drinking habit, the more serious their drinking problem becomes."
Missing work
Alcoholics tend to miss work, damage other people's lives, and not fulfill obligations because they stay busy drinking. Social drinkers will drink at specific times when they are usually free so that no important work is hampered. Social drinkers make sure that they do not over-drink, which ensures that they can tend to important obligations. "If they start ignoring these obligations because of drinking, they have likely become alcoholic," says Carlton.
You're a weekend warrior.
"If you don't drink daily, but are drinking regularly, such as binges every Friday night, that's a red flag," says Carlton. While research shows that having about seven alcoholic beverages per week lowers your risk of diabetes and cardiovascular disease, abstaining all week only to guzzle five or six glasses in a single sitting negates any of alcohol's potential health benefits. Moreover, binge drinking can raise blood pressure and interfere with certain medications.
Drinking just "creeps up on you."
Have you ever told yourself you were going to have only a drink or two at happy hour, and before you knew it you'd downed five? One of the clues that you may be a binge drinker is not knowing your limits—or feeling surprised when you've "suddenly" passed them. "Like diabetes, heart disease, and other health problems, drinking problems develop gradually and alcoholism is progressive," says Carlton.
Drinking and driving
Alcoholics end up in alcohol-related accidents, while social drinkers do not. However, for a social drinker, they know that drinking and driving is not permitted and can be fatal. So, even if they over-drink on a particular social occasion, they don't get behind the wheel.

Get Ready for Summer Tea Collection Sale
Even if we all have to stay local, summer is going strong. As you head to the pool or day camp you might have noticed your kids GREW during the past year. Just in time for summer, Tea Collection is rolling out a big deal on swimwear and graphic tees for kids. I've enlisted some ...read more
The Key to a Great Overnight Oat Recipe
Working moms know the importance of meal planning. I'm getting ready for busy few weeks and I've been perfecting my fast breakfast options. I've been using Bob's Redmill Organic Steel Cut Oats to prepare my overnight oats for a nice, cold breakfast in the morning and I'm going to ...read more
Morning Sickness Relief with Sea-Band Mama
While pregnancy is this amazing and beautiful time in a women's life, it is also one that can wreak havoc on the body. From morning sickness to discomfort to cravings, the body that you once knew so well becomes this vessel for your baby. Of course, this is all worth it but ...read more
You wonder if there will be enough alcohol available
"This most likely means that you are probably chasing the buzzed feeling and are unable to enjoy yourself without the fear of losing that high" says Carrie Carlton. "It is most definitely a warning sign of addiction and it can be a sign of obsessive thinking around alcohol, which should absolutely raise red flags."
You "Pre-Game It"
Perhaps you are going on a blind date and don't want your date to think you drink too much so you have 2 drinks at home and 2 drinks while on the date. You know you've had 4 drinks, but your date perceives you as a "normal" drinker. You are aware of your true quantity and have the buzz to go along with it.
You hide alcohol
If you don't want your spouse, roommate or family member to see you drinking, perhaps you hide alcohol in a closet or bathroom cabinet and put your drinks in a colored paper cup so only you know you're drinking. Carrie Carlton says, "alcoholics will do this to be able to indulge in their addiction while attempting to "act sober" and deceive others around them."
You switch drinks or try to make rules for yourself that you don't follow
Many people will negotiate with themselves. For example, "I will switch from 4 glasses of wine to two Vodkas" or "I will only drink on weekends," "I will only go to happy hour when I have a new client win." "Normal" drinkers don't make these kinds of bargains with themselves because their lives don't revolve around alcohol or attempts to control consumption of it," says Carlton.
A "problem drinker" versus an alcoholic
Carrie Carlton explains that, "A problem drinker is able to self-correct when they are given sufficient reason to do so – negative consequences, painful hangovers, birth of a child, new responsibilities, etc. An alcoholic, on the other hand, is unable to permanently cut back or stop drinking even when they have numerous reasons to do so. When faced with serious consequences and reality, an alcoholic may temporarily stop or limit themselves, but they will invariably return to their regular excessive drinking patterns."
What to do if you're not sure you have a problem
Carrie Carlton suggests, "If you are not certain you are an alcoholic, seek the advice of a therapist, or attend an AA meeting and speak with those who have long term sobriety to see if they share similar thoughts and experiences. If you feel that you need more than therapy to stop drinking, in patient treatment (rehab) may be the course of action you need to get both the therapy and tools to live a sober life.
Even if you determine you're drinking is social, you might consider taking a sabbatical from alcohol. Read why one of our editors quit drinking for 90 days.
This is not a sponsored post. Thank you to Carrie Carlton, Clinical Director (LCSW), Clinical Supervisor at Beachway Therapy Centerfor her tips and suggestions.