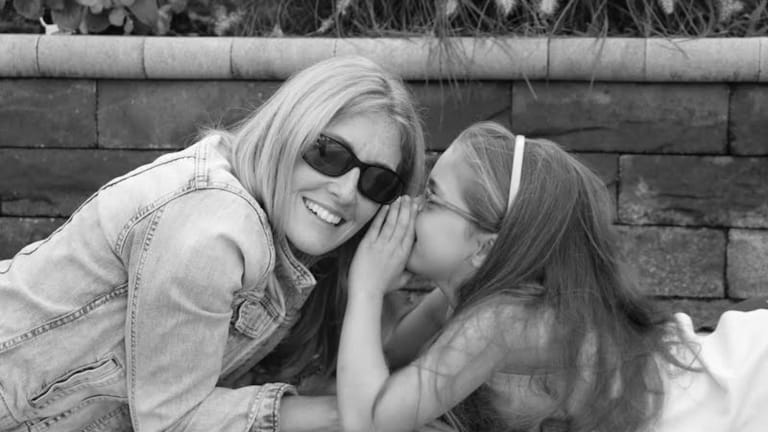 How to Talk to Your Daughter About Growing Up
Tips for "THE" talk
How many of you women out there remember "THE" dreaded movie you had to watch with the school nurse? Perhaps all of the fifth grade girls were carted to one classroom where you had to have the unpleasant experience of not only a cartoon version of your reproductive system share the facts about puberty, but an awkward demonstration to boot? While this moment in time is in ingrained in my memory, it doesn't bring with it any feelings of positivity or empowerment.  
I am now the mother of two little girls and I want their experiences about learning about their body to be more natural, more positive and certainly a lot less awkward. Thank goodness my mother was easy to talk to because she recapped said movie and made me feel like my changing body was a good thing, and not something to dread.    
I don't think there is a right time to speak to your daughter about how her body will change but I do think starting early helps the conversation to be positive, matter of fact, and removes all of the projected awkwardness. We have always chosen to use proper names for body parts and to openly discuss why our adult bodies look different than theirs.  My oldest daughter is eight and for us, this summer seemed like the right time to discuss how her body would continue to change, what menstruation is all about and go over things she could expect in the next few years. 
As for most big moments in my life, I chose to turn to literature to help support and lead my discussion.  We are a family of bookworms and have certainly shared a fair amount of our time snuggled up with a good book.  This time around I leaned toward the books presented by American Girl. One of the books I perused (then shared with and then gave to) my daughter was The Care and Keeping of You:The Body Book for Younger Girls. I found this book (as well as other in this series) to be direct, informative, void of judgement and full of the girl power enthusiasm I was aiming for. 
Here are a few mom tips from me to you about how to talk to your daughter about growing up:
1. Seize the Opportunity: Perhaps other family members are out on errands, away from home or you find yourself with some down time with your daughter. There is no "right" time so find a point of entry into the convo and go for it.  For us, it started with discussing school clothes. My girl wanted a few loose fitting tanks and asked if she needed to wear a sports bra underneath as she had seen me and many of the other girls wear.  BOOM! This was my opportunity.
2. Be Prepared: Mamas, you want to have your facts straight. Brush up on the little details, make mental notes of all of the things you want to cover so the information seems relevant, comprehensible, and concise. 
3. Be Honest, Be Clear, Be Strong: I know some of us aren't as comfortable talking about matters of the body, genitalia, the how to's of period protection, etc. But mamas, if you're embarrassed, they might get the impression that there's reason to feel shame, less than normal or have negative feelings toward the inevitable changes that will occur. Practice if you must. Gather your girlfriends, sister, mother, or other  woman and get the words flowing.  Think discreet not taboo. 
4. Body Language: Be mindful of your body language. Speak clearly, keep your arms open and make eye contact. Let her know that if she has questions, you have answers.
5. Field questions: My daughter had a lot of questions. I answered them as openly as I could. I made sure I shared all the good that was to come of the changes. I made sure to allay her apprehensions, and anxieties.  I let her know she could let the information marinate and get back to me at anytime with more questions. I reminded her that if she heard terms in school, from her peers, or on television, that I would listen without judgment and give her appropriate and factual information.  She had questions about pads vs. tampons so we explored both. You have to take your daughter's lead and not only get her the facts, but quench other curiosities as well. 
We hugged a lot. I was so proud of her and the way she digested all the information. She seemed to take it all in and shared how she thinks this is what makes women so special. Like we possess super powers. (Well, don't we?) I hope that you find these tips on how to talk to your daughter about growing up helpful and that your road is equally easy to navigate. 
This is NOT a sponsored post. Mamas, leave us a comment on this post. At the end of the month, we'll choose a random winner to win a few American Girl books from Momtrends. This post contains affiliate links.