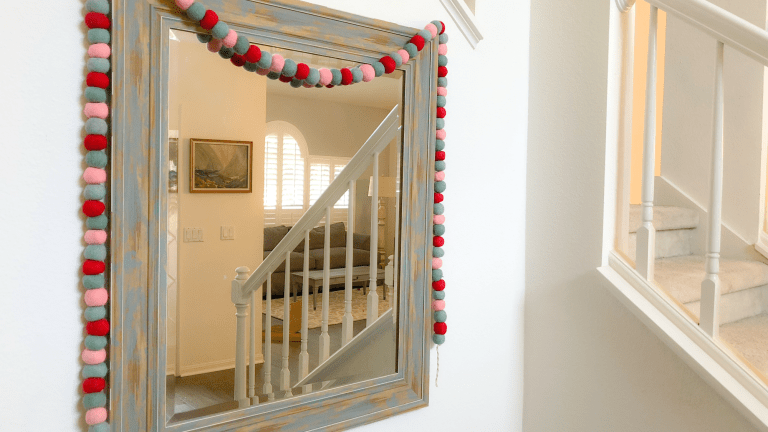 How to Decorate Your Entrance for the Holidays
It's mid November...That means it's time to talk about holiday decorating right? Today we're going to focus on how to decorate your entry for the holidays! You see, I'm the kind of girl who likes to inject her whole house with holiday magic as soon as it's appropriate. For me, that means November 1st. Bwah! And the entry is the first chance anyone coming inside my home has a chance to experience said holiday spirit. So, I made dressing up the entryway one of my first decorating projects this season. And it all centered around a gorgeous distressed mirror that I recently picked up at Zulily.
Did you know Zulily has loads of fabulous home decor options? Until I moved to our new house, I had mostly shopped there for clothes, toys and miscellaneous items, but when I really started digging around, I saw how many fun decorative accents and even furniture they have, boxes full of home orders mysteriously started showing up at my door. Haha! And I am beyond thrilled with my latest Zulily choice. The distressed wood of the mirror goes perfectly with the modern farmhouse vibe I'm trying to invoke in my home and the turquoise wash goes perfectly with my home's color scheme. But would that color scheme work for the holidays? The answer is YES!
How to Decorate Your Entry for the Holidays
Keeping with the farmhouse vibe, I picked up a felt ball garland to drape across the mirror I found at Zulily. The colors were perfect and there is something so cute and kitschy about it. On that note, I decided to add a toy bear to the mix too. He's perched comfortably atop a reclaimed wood bench. A Tartan plaid pillow and throw blanket add some interest in texture and print forms. I always love a bench in an entry because it gives people a place to take off their shoes. Now as much as I'm into this bench, it was a little small for the space, so I added a real plant housed in a turquoise planter to fill out the area. There is just something so homey about a live plant, don't you think? I've even managed to keep this one alive. Haha!
So, to sum up...If you're looking to decorate your entry for the holidays, I suggest you start with a mirror and bench and let those be the pieces you build your holiday display around. The mirror will reflect natural light and the bench will be totally functional. Then all you have to do is add holiday worthy decorative accents like garland and plaid to the equation! And don't forget to check out Zulily for all your decorating needs. You just may find everything you're looking for! Holiday magic here you come...
For even more holiday home advice, check out some ways to get your guest room ready for the holidays!
This is not a sponsored post. We did receive samples.