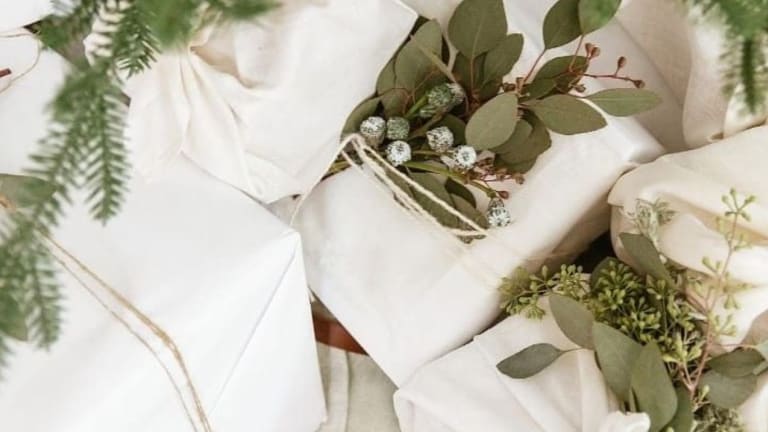 How to Create Chic Sustainable Holiday Gift Wrapping
Three ways to upgrade your gifts with eco-friendly wrapping that is pretty and practical.
The holiday shopping crunch is officially underway and with recent surveys reporting that 64% of consumers are shopping for gifts that are sustainable or minimize their environmental impact, consumers are looking for eco-friendly resources more than ever and that includes ways to evolve their traditional gift wrap methods. Here's the thing - most wrapping paper, the glittery, metallic stuff you pick up almost anywhere, isn't recyclable.
Related: Holiday Hangtag Printables
How to Create Chic Sustainable Holiday Gift Wrapping
Little decisions can have a larger impact. For instance, if we are all more thoughtful about our gifting, we can cut down on our waste. To start, I believe in gifting wisely. We're into sharing experiences and cutting back on THINGS. In addition to giving wisely, you can also wrap smart. Jaclyn Tracy, founder of SISTAIN, a new, cool marketplace offering sustainable goods and tools to help consumers live more sustainability, has tips and tricks for wrapping your gifts beautifully and sustainably this season.
Keep it simple
Kraft paper is the perfect base for an elegantly and eco-friendly wrapped gift. Kraft paper is not coated in plastic so it can be recycled. Get ready to reuse a box you already have from those Black Friday and Cyber Monday purchases and wrap it up in Kraft paper and a little help from:
Washi Tape — completely biodegradable and recyclable
Twine — made out of natural fibers i.e. cotton, hemp, jute, and manila ropes
And a bit of greenery -- get the kids involved in finding natural touched like leaves and greens to add to your gifts.
Cute Cloths
A unique and beautiful way to sustainably wrap gifts this season is with cloth. This method of wrapping is also known as Furoshiki which is both a style of gift wrapping and the name of traditional Japanese cloth.
Jaclyn and team recommend Fabric Wrapping Co. where you can find different sizes and styles of cloth for any gift this season. These cloths can be reused and repurposed for more gift wrapping or tied together to use as reusable bags. Don't be afraid to get creative! You can also use cloth napkins or scrap pieces of craft fabric to wrap your gifts.
Practical papers
For those that love the sparkly wrapping paper there IS a solution. There are plenty of beautifully patterned sustainable wrapping papers out there. Jaclyn and team recommend Wrappily papers because they offer wrapping paper printed on 100% recyclable and compostable newsprint. And if you want to add an extra touch, this gorgeous perfectly imperfect ribbon is made of 100% hand-dyed silk. (note: this is an Amazon link).
With these three pretty solutions you'll be kind to the Earth while also embracing the best parts of giving.
MORE FROM MOMTRENDS FOR THE HOLIDAYS
PIN IT!
Use Pinterest to save your favorite gift ideas. Be sure to follow our Holiday Recipes and Crafts board here.
Momtrends was not paid for this post.