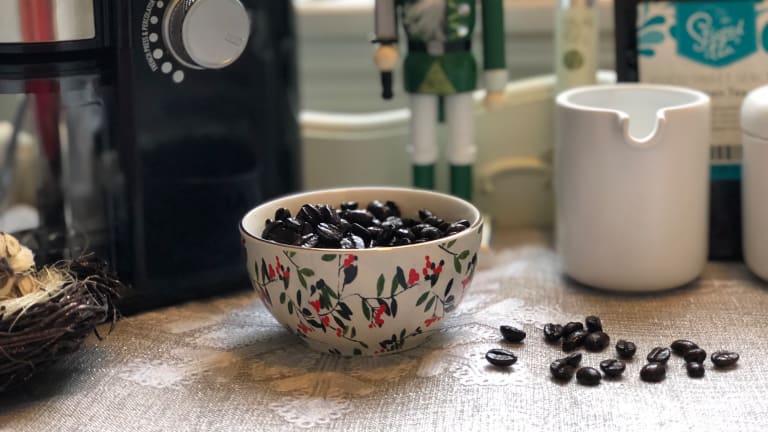 How to Create an At-Home Coffee Bar
Serve up Brew in Style
The real countdown has begun and we are working hard to wrap things up both literally and figuratively. Many of you will be packing up and heading to see family and friends and many of you will be hosting the festivities. This year we will have a bevy of guests for nearly two weeks and I would like their stays feel as homey as possible. Setting up an at-home coffee/tea bar is all the rage and we know that it is one step closer to making our guests feel welcome and that "mi casa es su casa".
There's a little B & B that my parents love and I am taking my inspiration from this gem. With a little bit of planning, you can create an attractive and functional at-home coffee/tea bar that you might just leave out long after the guests have gone. The main take away is to create a space that is inviting and allows your guests to help themselves as they would in their own space.
1. Start with a blank space-find a nook, counter, use a side table, old desk or or even a wide sill if you have to, but find a spot that is away from the general traffic where guests can help themselves without feeling like they are intruding and also gives them a little reprieve too.
2. Fresh is best-time to break out the grinder like this electric burr one from Gourmia. Fresh coffee beans make fresh grounds, and we think most can agree that the aroma that fills the house is in every way a delight. (We love that it offers 18 grinding settings and you can grind 2-12 cups to suit your needs.)  We have discovered a gourmet coffee that is rich in taste, aroma, has none of the bite of strong coffee but all of the bold taste. I had the pleasure of meeting the Don Pablo growers themselves and they pour their heart and soul into their company and it sure tastes it. The Don Pablo gourmet coffee is so rich and decadent there's no need to hide it behind cream or sugar.  His advice was to choose the french press method to brew the perfect cup of coffee. Our pick is the beautifully crafted (yet dishwasher safe!) ceramic french press from Bonjour. 
3. Choices: I am as much a tea lover as I am coffee drinker so I like to give my guests options. Fresh brewed is best from fragrant tea leaves. You cannot go wrong with this ceramic tea pot with infuser. The mesh insert makes it easy to steep the tea leaves without all the fuss and muss. 

4. Treats: Whether you're whipping up a fresh loaf of bread or want to give a sweet treat, placing a little something special on your at-home coffee/tea bar is a must. We ordered this box of sweet treats from Sugarwish, a candy box delivery service, and are never disappointed with the presentation. You choose the treats, they box 'em up nice and pretty and BOOM!, it gets delivered to whomever needs a sugar fix-think modern day candy-gram.  And if you're looking to amp up your homemade bread baking game, you must try the fully programmable, digital Gourmia all-in-one mixer, kneader and baker of all things fresh, doughy and delicious. (It even lend in hand in making tricky Gluten Free breads!) I have always been a tad bit envious of my sister's bread baking skills and cannot wait to surprise her with an aromatic slice of yum when she comes for a visit. 
5. Be Prepared: Gather spoons, sugar, lemon, milk, napkins, milk frother, mugs, fresh jams and anything else that might be needed. Remember you want everything to be ready and available so everyone feels at home but with a little touch of special. 
And if you're still in the holiday shopping rush, shop away with our clickable, easy to navigate guides including great gifts for kids (Amazon Fire HD 8 Kids Edition) and great gifts for moms, grandparents and tweens and teens too!
We wish you a merry everything and a time well spent with your loved ones.
This is not a sponsored post. Some samples were received.