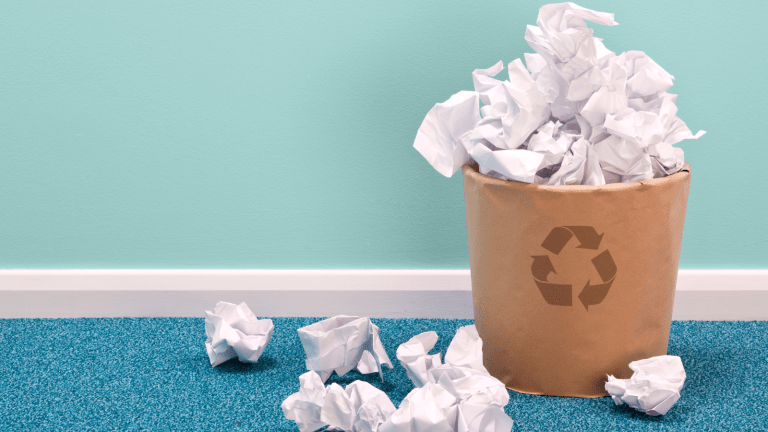 How to Control Junk Mail and Go Green
We get an eco-expert to help us go green and reduce paper waste.
Waste is a fact, a reality we have to and want to deal with. For go green month on Momtrends we have been working with GLAD to learn some innovative ways to waste less. My goal? I want to know how to control junk mail and go greener.
Related: Our favorite kitchen compost containers.
How to Control Junk Mail and Go Green
Through this relationship, we had the pleasure to learn some tips from Keiko Veasey, an eco-expert and founder of Linden Hills EcoParents, a neighborhood-based group, on how to go green in our neighborhood.

Contact your municipality or hauler to make sure you fully understand what can (and can't) be recycled and choose recyclable items.
Look around for local (or mail-in) recycling programs for items that may not be collected by your municipality. Terracycle and Preserve's Gimme5 program are great examples. You can also download Glad's free Smart Trash app, which will show you where to recycle items in your area.
Get your name off the junk mail lists. Direct Marketing Association represents over 3,500 businesses & organizations that send direct mail, and you can register online for free to get off their list https://www.catalogchoice.org/ This will help waste less outside the kitchen too.
Avoid disposal or single-use items. Consider repairable items instead. It'll save waste (and money) in the long-run.
Designate one are in your kitchen to keep three cute bins for trash, recycling and compost. Since most of the waste is created in the kitchen this will help you have a one stop shop that's organized and doesn't take up a lot of room.
MORE ECO-FRIENDLY IDEAS FROM MOMTRENDS
PIN IT!
Use Pinterest to save your favorite ideas from Momtrends. Be sure to follow our Momtrends here.
Momtrends was not paid for this post. We were given samples.