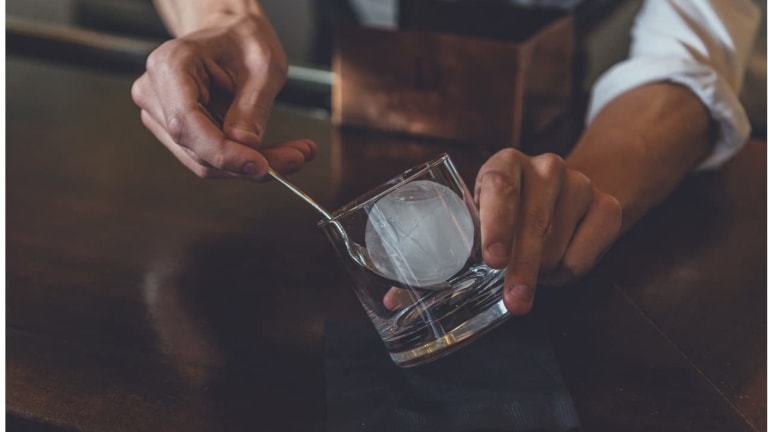 How To Chill Your Cocktail Without Watering It Down
Learn how to sip on your drink and enjoy that craft cocktail taste, minus the water
Over the last couple of years distilleries have become increasingly popular. I love that many of them are even family friendly. Distilleries are great places for big events, girls' outings, and even date nights.
Related: One event that I especially love attending at a favorite local distillery, which is called Manatawny Stillworks and is located in Pottstown, Pennsylvania, is their free bottling workshops (parties).
Related: 6 cocktails to sip this alfresco season
I appreciate the opportunity to get a behind the scenes look at how a distillery operates, help fill their bottles, and also learn all about crafting the perfect cocktail.
After each workshop is finished and the spirits are ready to be sent to the store and put on the shelves for sale, various cocktails and food are served to thank the helpers.
One of the most important things that I learned from Manatawny Stillworks distillery, after a bottling workshop, was how to chill your cocktail without watering it down.
This is very important when enjoying a delicious cocktail, because when you use traditional ice cubes they melt fast, which waters down and dilutes your drink.
When you have taken time to create a cocktail at home, the last thing you want is for your drink to taste watery.
How To Chill Your Cocktail Without Watering It Down
The answer to this spirited question can be easily found by purchasing and using The Original WHISKEY BALL.
I noticed that a few distilleries I have visited use The Original WHISKEY BALL not only when serving whiskey cocktails, but for other drinks as well.
The Original WHISKEY BALL ($13.95) is a jumbo spherical ice mold that is ultra slow melting. This means that you can feel free to sip on your drink and enjoy that craft cocktail taste, minus the water. Get it on Amazon here (this is an affiliate link)
Cheers!
MORE COCKTAILS FROM MOMTRENDS
Love this recipe? Please share! You are guaranteed to love these summer cocktails too:
PIN IT!
Use Pinterest to save your favorite cocktail ideas. Be sure to follow our Drinks board here.