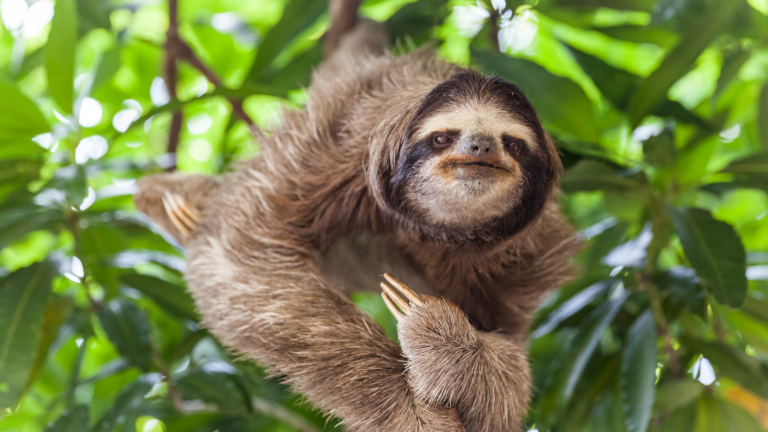 How to Celebrate International Sloth Day
October 20 is International Sloth Day, a day in which we honor and celebrate the slow-moving animal with fun facts and our favorite sloth finds.
Of the things that North Americans associate Costa Rica with, the sloth is perhaps one of the most well-known and significant. October 20 is celebrated worldwide as International Sloth Day, a day in which we honor and celebrate the slowww-moving animal. Here's how to celebrate Sloth Day.
Related: Plan a Disney adventure in Costa Rica
Sloth Fun Facts
Quiz your kids this morning and amaze them with your knowledge on these cute animals.
Sloths can hold their breath for up to 40 minutes underwater and are great swimmers
Sloths only go to the bathroom once a week
Sloths have coarse, thick fur - a perfect location for algae and fungus to grow
Sloths can turn their heads 270 degrees in either direction due to extra vertebrae in their spine
Sloths have finger bones that are four-inches long
Sloths love their alone time
The average sloth lives between 20 to 30 years
It takes up to a month for sloths to digest one meal, as their stomachs have four compartments
Armadillos and Anteaters are their closest relatives
Sloths sleep up to 20 hours per day
Sloth Spotting in Costa Rica
I was lucky enough to see a few sloths on my trip to Costa Rica. We were with a nature guide who was great at spotting them and VERY respectful of their space. Of the six sloth species in the world, Costa Rica is home to two unendangered subspecies – the Two-Toed Sloth (Choloepus Hoffmanni) and Three-Toed Brown Sloth (Bradypus Variegatus). Both species are typically spotted in tree canopies around the country, though they can be difficult to spot as their fur blends in well with the vegetation. Sloths can be spotted all throughout Costa Rica. 
It is recommended that travelers book tours with responsible and knowledgeable guides, who can easily spot sloths from a distance using a telescope. It is important to remember that petting, touching and holding a sloth (or any wild animal) in Costa Rica is illegal.
How to Safely View a Sloth
Travelers are invited to take photographs of Costa Rica's wildlife, however, the Government of Costa Rica provides a series of recommendations to avoid cruelty to animals and support environmental conservation efforts in the country through its #StopAnimalSelfies campaign. The Government recommends that travelers avoid hugging or holding wild animals, as this promotes the exploitation of wildlife and can put the individual and animal in danger. Practice responsible tourism by keeping a safe distance from the animal when taking photos.
By paying for experiences at wildlife rescue centers, travelers can also help sloths and other wild animals return to nature. Several organizations invite you to adopt a wild animal and support their rehabilitation. You will receive an adoption certificate, as well as photos and updates on the animal.
Sloth Gear
Show your love for these slow pokes by snapping up some sloth swag.
1. Sloth Travel Mug $24.99; 2. Sloth Coin Purse $12.75; 3. Sloth Pencil and Eraser Set $11.99; 4. Sloth Chip Clips $7.90;  5. Sloth Pin $5.30; 6. Sloth Personalized Rainbow Mug $8; 7. Cacti Sloth Sticker Set $3.70; 
Sloth Crafts 
Get inspired and make these Sloth Pencil Toppers we saw on Handmade Charlotte.
More on Travel Ideas from Momtrends
PIN IT AND PLAN IT!
Are you ready for a summer adventure? Pin it and plan it! Be sure to follow our Travel with Kids board.
For even more Momtrends, follow us on Facebook, Twitter, Pinterest and Instagram