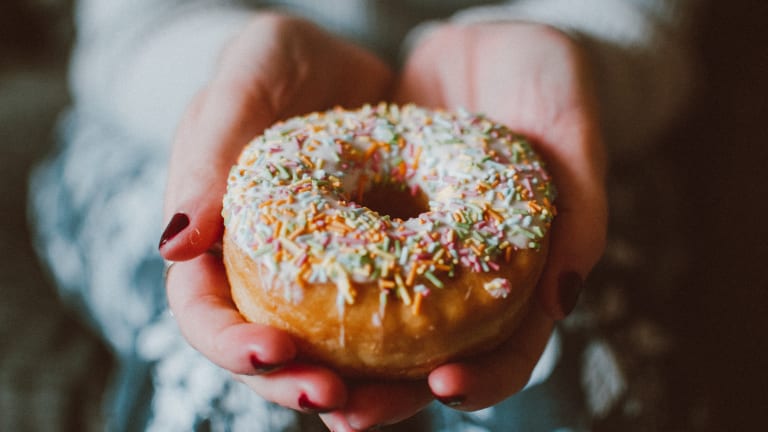 How to Celebrate Donut Day
Celebrate this sweet holiday with our guide to free donuts and the best make your own recipes
Little known fact: Donut Day isn't a made up, Pinterest-invented holiday. National Donut Day has actually been around since 1938 when it was established by the Chicago Salvation Army to honor women who served donuts to soldiers during World War I. It is traditionally the first Friday of June, making it a great way to kick off summer.
Related: National Donut Day fun facts
According to Jeff Miller, Executive Chef and Vice President, Product Innovation at Dunkin' Brands, "Donuts have a special place in our country's history and culture, creating moments of delight, lifting spirits and bringing people together at work and at home. We are proud to celebrate this timeless favorite on National Donut Day with our loyal guests by once again offering a free donut with the purchase of any beverage, and pleased to share this offer with all of our donut fans all around the world."
Guide to Free Donuts on Donut Day
We've got the scoop on how you can score free donuts today. Use this information to plot your day and hop from shop to shop to maximize your donut consumption. Maybe you should use google maps and plan to walk from place to place so you can work off those rings of glazed goodness?
Krispy Kreme is offering a free donut of in any variety and Canadian stores. Sorry, Connecticut, you're not included for some reason. Offer is also limited to store availability. In other words: don't take any chances and get there early.
Dunkin' Donuts will give a free donut of your choice with the purchase of a beverage. The chain is celebrating in locations around the world - here's hoping the little shop on our base in Japan is participating!
At Cumberland Farms you can get a free donut with the purchase of any hot or iced coffee or "Chill Zone" beverage. Offer is valid from 5 AM until 10 AM.
Tim Horton's will give a free Nutella-filled Chocolate Hazelnut Donut when you present this coupon. And, bonus, the coupon is valid until August 31.
Entenmann's is giving away 40,000 donuts and coffee at Madison Square Park in NYC. Not in NYC? You can enter to win a year's worth of donuts at Entenmann's Facebook page.
Best Make Your Own Donut Recipes
Donuts are made to be enjoyed year round so we should really celebrate them every day, don't you think? Here are some of the best homemade donut recipes so you can make it Donut Day at your house any old day you chose. Turns out there are endless possibilities to create some donut concoctions to make the perfect donut for you and your family.
One reason we like the idea of making donuts at home is that you can bake them instead of frying. The only special thing you need to bake donuts at home is a good Donut Pan. From traditional to mini to heart-shaped and twists, Wilton has our favorite options. There's even a donut hole pan!
These recipes represent a big range - from skinny baked to old-fashion fried. The one thing they all have in common: they're freaking delicious.
Happy Donut Day!
More Sweet Treat Ideas from Momtrends
Pin it!
Use Pinterest to save your favorite recipes. Be sure to follow our Sweet Treats board here.
This is not a sponsored post. All opinions are our own.