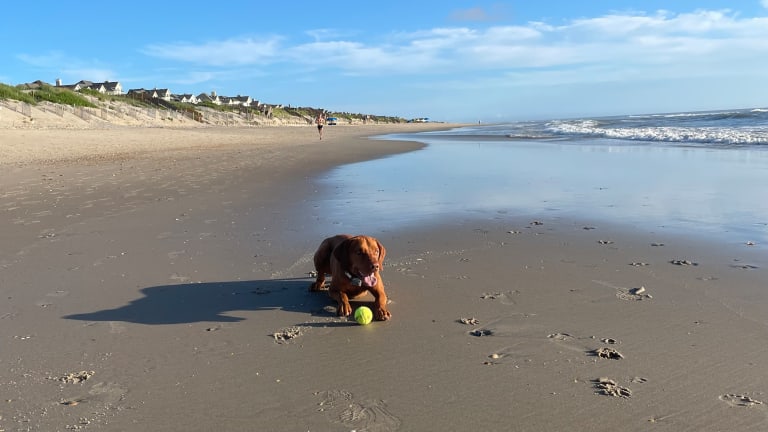 How to Care for Your Dog in Extreme Heat
Our dogs can't tell us when they are overheating, here are professional tips to keep them safe during heat waves.
There is a national heatwave hitting the U.S. and humans aren't the only ones suffering through these high temperatures.  Our dogs can't tell us when they are overheating. It's our job to keep them safe. Working with a few experts, we've come up with tips for how to care for your dog in extreme heat.
Related: Finding the perfect dog crate
How to Care for Your Dog in Extreme Heat
Neda Torabi - Founder and CEO of Houndstone shares her best ways for pets to beat the heat. In addition, we've gone to the Red Cross pet page to get their tips.
Never leave your pet in a hot vehicle, even for a few minutes. The inside temperature of the car can quickly reach 120 degrees even with the windows cracked open.
Avoid Walking at Peak Temperature Hours. Try to take long walks with your pup during the early morning and late evening hours and throughout the day ensure you are walking on grass to avoid hot pavement on their paws.
Give Cold Baths. Cool your dog down with a cold bath or rinse through the hose. 
Lookout for Signs of Heat Exhaustion. Monitor your pup for signs of heat exhaustion like excessive panting or difficulty breathing and when in doubt, call your local vet. If you suspect your pet has heat stroke, take their temperature rectally. If the temperature is above 105 degrees, cool the animal down. The easiest way to do this is by using the water hose. Stop cooling the animal when the temperature reaches 103 degrees. Bring your pet to the veterinarian as soon as possible as heat stroke can lead to severe organ dysfunction and damage.
Ensure your Dog has Enough Water. Continually fill their bowls with water - The only place dogs have sweat glands is on the pads of their feet, so they regulate their body heat by panting, resting, and drinking water.
Did you know: Dogs with short noses or snouts, like the boxer or bulldog, are especially prone to heat stroke, along with overweight pets, those with extremely thick fur coat or any pet with upper respiratory problems such as laryngeal paralysis or collapsing trachea. 
These tips can help your dog avoid life threatening heat conditions and ultimately stay safe.
More First Aid Tips for Pet Owners
To arm your family with the best practices for managing heat and other pet emergencies, you can rely on the Red Cross.
Download the Red Cross Pet First Aid app. The features step-by-step instructions for first aid emergencies, toxic substances, a pet profile for storing tag ID, photo and medical information, early warning signs for when to contact a veterinarian and an animal hospital locator. Users can find it in smartphone app  here redcross.org/apps.
Take the Red Cross Cat and Dog First Aid online course. You can access the course on your desktop or tablet at redcross.org/catdogfirstaid and go through the content at their own pace. 
MORE PUPPY LOVE FROM MOMTRENDS
PIN IT!
Use Pinterest to save your favorite pet tips and be sure to follow our Puppy Love board here.