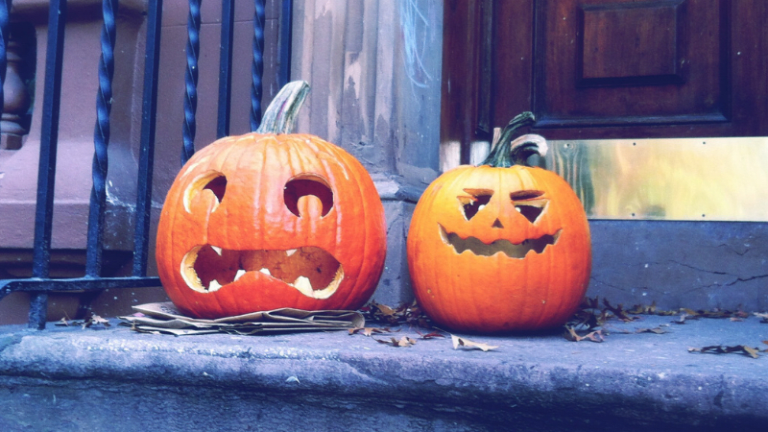 How to "Boo" Your Neighbors
Your Kids Will Love Ghosting Friends This Halloween Season with sweet surprise treats on their doorstep.
Last Halloween season, my husband and I were returning home from an early sushi happy-hour date, when we spotted something "suspicious" taking place on our front stoop.
There were a few giggly kids (and a Dad) stealthily and "cartoonishly" tip-toe running away from our door, as we emerged from the car. My husband was about to inquire when it hit me, we were being BOOed. 
Related: We've been boozed free printable
This was a first for me, but I had been waiting and hoping that we'd be introduced to this community tradition in our new neighborhood. 
So, you might be thinking, what is a "booing?" Sometimes, referred to as ghosting (not to be confused with going MIA after a date), it's when you anonymously leave Halloween goodies on a neighbor's doorstep
Want to bring this fun pre-Halloween tradition to your hood? I'm sharing a few spectacularly fun ways to make it happen. 
Instructions on How to "Boo" Your Neighbors 
Map Out Your Boo Streak... Don't just hit ONE house. Boo at least three friends and strategize a plan of attack in advance. Can you walk with your kids to these houses or will you need an escape vehicle? (Last year, we spotted about eight kids piling into a Chevy Suburban after a successful booing and being whisked off by a parent escort! Safety first, always.
Give a Little Bit of Candy... but not too much. Halloween is approaching and there will be plenty of sweets--so tread lightly on your fellow parents while you can. Booing is usually a nighttime affair, you don't want to sugar kids up too much in the late pre-bed time hours, lest you make a new mom-enemy. 
Give Some Tricky Treats and Trinkets.. Finger tattoos, Halloween crafts from the $1 store, slime, stickers, and other frightfully fun finds will make for an awesome surprise package. 
Leave a Note... with a hint! The kiddos can't resist telling their friends anyway so you might as well have fun keeping them guessing in advance; include a message to "boo it forward." It's like a chain letter--without the threat--and it's so much more fun.
Don't Forget the Grown-Ups... The kids in our town are absolutely obsessed with booing--and, you know what, so are the adults. So much, in fact, that there's a 21+ spin-off version, called "boozing" your neighbors. (Yeah, I've yet to personally experience that one, but if anybody wants to show up on my door step with a bottle of wine, I won't argue.) Get a printable here.
MORE HALLOWEEN FUN FROM MOMTRENDS
PIN IT!
Need more ideas on what to do with the kids? Be sure to follow our Activities to Do with the Kids board on Pinterest here.
This is not a sponsored post. All opinions are our own.