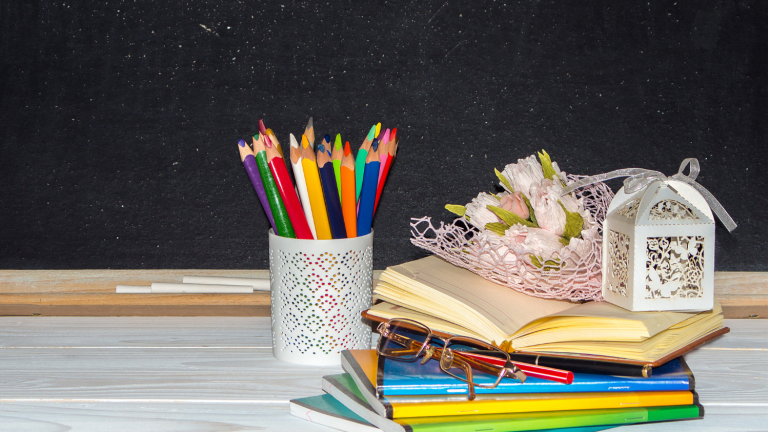 How parents can help their children's teachers relieve their anxieties this year
Together we can make this school year memorable, safe and dare I say it fun!
Mental health has never been more important than RIGHT NOW. As World Mental Health Day (10/10) trails World Teachers' Day (10/5) are both on my radar, I wanted to take a moment to talk about working with your school to make this school year a great experience for everyone. I went to the experts to find out how parents can help their children's teachers relieve their anxieties this year.
Related: Teacher appreciation printable roundup
How Our Teachers are Feeling
Learning company HMH (Houghton Mifflin Harcourt, they are publishers and make learning materials) recently found that only 38% of educators reported a somewhat or very positive view of the state of their profession – down from 49% in 2020.
With so much up in the air this fall for teachers, including the precarious job of heading into the classroom each day not knowing if they (and their students) may be exposed to COVID, researchers from HMH asked educators what they need most from parents as they navigate this tricky period: 34% of teachers say they need acknowledgement that they are doing their best, while another 31% say they need more understanding from parents that their priority is their child.
How to Support Your Child's Teachers
Today to celebrate World Teacher's Day Francie Alexander, a leading education researcher and Chief Research Officer for HMH (also a former teacher), shares stressors facing teachers across the nation this year and solutions for parents. Alexander says, "As we look forward to World Teacher's Day, the teachers may need a boost now more than ever. From my years teaching and staying in touch with my teacher friends, I know there are small things that can make a difference."
Say Thank You. We all like to feel appreciated and thank you notes or shout outs at drop-offs and pick-ups mean a lot. Families often wait until the end of the year but in these challenging times saying thank you early and often will set a positive tone. Let the teachers in your lives know that you are very grateful to have them. And if you have a special teacher in your life, it's never too late to reach out.
Stay in Touch. Teachers usually have preferred ways of communicating. Some prefer email, some office hours. Be sure you know the teacher's policy and check in when needed. Something that may seem to be a problem can often be quickly clarified.
Prep for the Parent-Teacher Conference. You'll get more out of these meetings when you come prepared. No one knows your child like you do! I would always started the conference by asking family members to tell me more about the child and to let me know what they are hearing about what's going on in school. Jot down your questions so you'll be sure to get everything you need out of the meeting. In my experience parents wanted to know two things: how is my child doing? And what can I do to help?
Know that We're Better Together When it Comes to Children's Well-being. Teachers reported that their number one concern for this school year was the well-being of their students, your children. Share your insider's knowledge about your child so you can tell the teacher about any behavioral changes or things that you can work on together for the benefit of your child.
Have Fun. Your child will only be in first grade or high school physics once and the teacher will have a once-in-a-lifetime impact. Work together and enjoy the journey. One of my favorite questions to ask of children is one teachers ask their own kids: what did you learn that I may not know about? You'll have fun hearing about books that were written after you were in school or new things about how the world works. Then you can let the teacher know that you're learning too.
Together we can make this school year memorable, safe and dare I say it fun! Keep these tips in mind as you navigate the next few months of in-person learning. I know I am going to try to lead with kindness and empathy.
MORE LOVE FOR TEACHERS FROM MOMTRENDS
PIN IT!
Use Pinterest to save your favorite ideas. Be sure to follow Momtrends here. 
Momtrends was not paid for this post