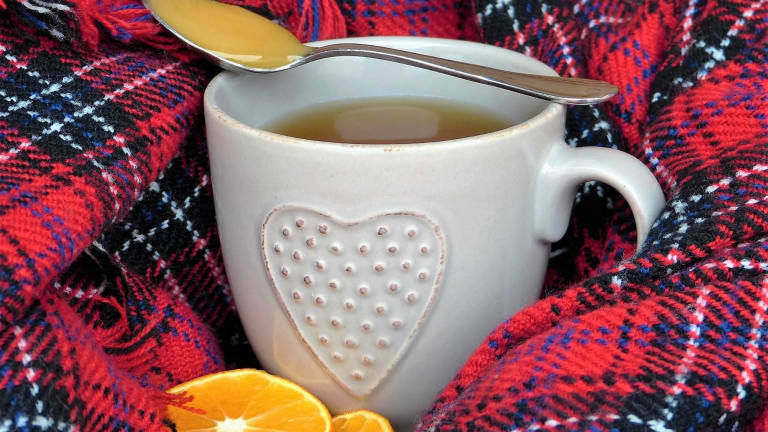 How I Survived the Flu
A cautionary tale...
I have been sick, really sick, with the dreaded, you guessed it, FLU. Do you know how I survived the flu? Well, I'm going to tell you. Now that I'm on the mend, and because I don't want the same thing to happen to you, I thought I would share some cautionary words. I'm certainly no doctor, but after having been through this thing along with my entire family, I have some thoughts.
So, here's how I survived the flu...and what I could have done better. 
Related: Top Myths and Facts About the Flu 
1. Take it seriously. I'm sure you've seen all the scary news surrounding the flu this year. If you even think for a moment that you might have the flu, get to the Dr. right away. The hubs and I waited for a few days before we went in and, although we got medication, we, nor my son, recovered nearly as quickly as my daughter who got seen right away. Mine lasted nearly 3 weeks, the hubs' was 2 weeks, my son's 10 days and my daughter's 1 week.
2. SLEEP. The hubs was better about this than I was. And we, of course, had the kids sleep as much as possible. I'm guessing that's why they ALL got better before I did. Bwah! I did try to make myself go to bed earlier than usual, but it clearly wasn't early enough. Us moms are forever thinking about ourselves last, right? Get more sleep tips here.
3. Secondary infections are no joke. If your fever goes away and comes back, get thee to the Dr. again. I ended up with a bacterial infection thanks to my compromised immune system and had to go back to the doctor and get additional meds. I would probably still be down for the count had I not made an appointment.
4. If you're run down, I'm guessing you're going to be more at risk. After Christmas I went through a vicious migraine cycle that landed me in the ER and barely sleeping. Shortly after, I got the flu and gave it to every single person living in my house. While migraines are difficult to prevent, being generally rundown is not. So, do whatever you can to stay well rested.
5. Be nice to your loved ones. I don't know how we would have made it without my mom's deliveries of groceries and comfort goodies every few days. Sure, there's Amazon Prime, Instacart and all that jazz, but when both parents are battling 102 degree fevers and trying to take care of sick kids, they aren't really focused on what's running low in the fridge. If you aren't lucky enough to have family around who can help, however, try to stay on top of things and get those orders in because you don't want to be stuck without fluids to keep you hydrated, tissues for your poor noses and whatnot.
And that is essentially how I survived the flu. It wasn't pretty, but I'm starting to feel like my old self. Whew! Good luck out there and I hope you all can make it through this season without a visit from the oh so nasty flu fairy! And if she does happen to make an appearance, please check out my top tips to ease flu symptoms. Hopefully they will help make you at least a little more comfortable! Stay healthy my friends...
MORE WELLNESS FEATURES FROM MOMTRENDS
PIN IT!
Save your favorite tips from Momtrends on Pinterest and be sure to follow our Health & Fitness board here.
We are not medical experts. Please consult your medical provider for any and all medical advice. We were not paid for this post.