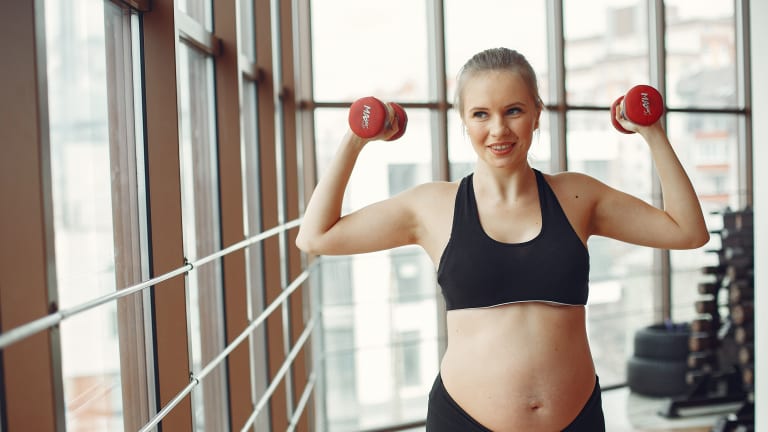 How Exercise Can Give You a Healthy, Happy Pregnancy
Studies show  that exercise may be the key to a healthy, happy pregnancy, find out the five reasons to get moving with baby on board.
Fit, fabulous... and pregnant! Yep, that's the way it should be. When Meaghen Murphy the Features/Fitness Director at SELF Magazine reached out to us to share some news on pregnancy and healthy and it turns out, exercise can give you a healthy happy pregnancy. 

Related: Pregnancy Safe-Skincare and Beauty Products
How exercise can help pregnant women
One major finding is that exercise may be the key to a healthy, happy pregnancy, not to mention a faster bounce back to your pre-baby bod. Sporting a baby bump? Or planning to soon? Exercise may be the secret to a healthy, happy pregnancy, not to mention a faster bounce back to your pre-baby bod.
The first step is to check in with your healthcare provider to get the green light to exercise. My Ob/Gyn confirmed that not only could I work out, I could still run. Since I was regularly running10-25 miles a week, I kept going. As my belly grew, I decreased the distance and intensity of my runs, but kept going. Anecdotally, I can tell you it made me feel strong and connected to my body all through pregnancy.
The five best reasons to be an active mom-to-be
You'll maintain a healthy weight. On average, a woman of normal weight can expect to put on 25 to 35 pounds during nine months of pregnancy. To avoid additional weight creep, hit the pavement: Women who walked for only 30 minutes a day throughout their pregnancy reduced their risk of gaining excess bulge by 8 percent, according to researchers at The University of North Carolina at Chapel Hill. Stroll and unwanted pounds will be gone, baby, gone!
Labor may be easier. When push comes to push, fit child bearers could have an advantage. Pregnant women who were able to do moderate to high intensity aerobic workouts for 12 to 16 minutes experienced deliveries that were shorter by about 30 minutes than their less fit counterparts, a study in Acta Obstetricia et Gynecologica Scandinavica notes. "Delivery is very physical. If you are in good shape, your body may have an easier time pushing," says James M. Pivarnik, Ph.D., author of the pregnancy section of the U.S. Department of Health & Human Services Physical Activity Guidelines for Americans.
You'll banish post-baby blues. Women who worked out pre-pregnancy and during their last trimester were 34 percent less likely to report symptoms of postpartum depression, researchers at The University of North Carolina at Charlotte reveal. In fact, breaking a sweat only once a week for 30 minutes proved helpful. "Postworkout changes in body temperature and endorphin levels may produce feelings of well-being and relaxation that hamper depression," study author Jennifer Ersek says. Make exercise your happy pill!
Backaches will be history. Sorry to bring up a sore subject, but 50 to 80 percent of pregnant women will complain of nagging aches, particularly back pain, a report in the Current Review of Musculoskeletal Medicine indicates. (The weight of the baby puts added pressure on your spine, triggering the trouble.) You can minimize discomfort simply by strengthening your lower-back and leg muscles, the report finds. 
You'll stay healthier. Having a bun in the oven makes you susceptible to certain pregnancy--specific health conditions, including preeclampsia (or pregnancy-induced high blood pressure) and gestational diabetes. But regular sweat sessions can help lower the inflammatory markers, such as C-reactive protein, or CRP, associated with preeclampsia; exercise also helps control blood sugar and reduce insulin resistance, nudging down an expectant mother's diabetes risk, Pivarnik explains.
Pregnancy and Beyond
Keeping up with workouts is a great way to invest in your health during and after pregnancy. Check out this post for more ideas on pregnancy workouts.
MORE PREGNANCY HELP FROM MOMTRENDS
PIN IT!
Use Pinterest to save your favorite parenting and pregnancy resources. And be sure to follow our Pregnancy-101 board here.
Momtrends was not paid for this post.  Self's staff writer Carey Rossi prepared the tips.