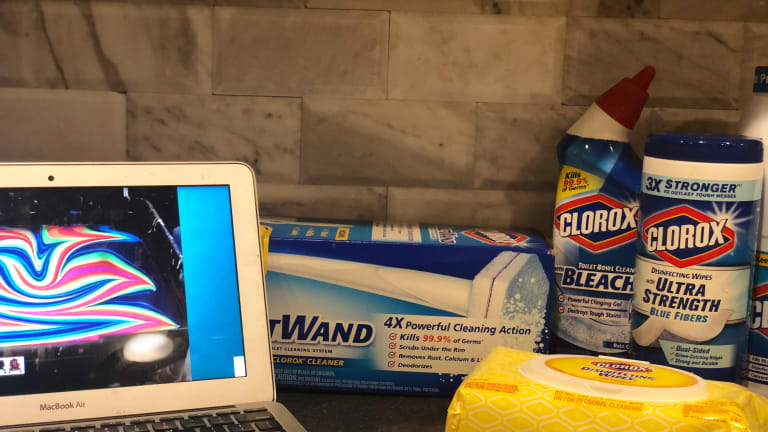 How Deep Cleaning Your House Can Be Oddly Satisfying
You know those oddly satisfying videos that always go viral on Facebook? It's usually someone squishing slime or methodically frosting a cake or slowly blending paint colors on a palette? (If you don't know what I'm talking about, take a sec and head on over to YouTube—where there is a plethora of options to choose from, and they're like soothing meditation for the mind and soul.) I could stare at someone slicing kinetic sand on my laptop screen for hours—drooling in serenity. Hypnotic, yes. Oddly satisfying, oh yeah, Baby.
You know what else is oddly satisfying and meditative? Deep cleaning. I don't know about you, but I can really lose myself in a pile of dirty dishes. With nothing more to think about then scrub, rinse, repeat, a good spring spruce-up can be like a sabbatical for my overworked brain.
Come to think of it: One time, I went into my closet just to find a missing top, and emerged three hours later. I didn't know how much time had passed or what was happening around me. But, suffice to say, my wardrobe was color-coded—and that missing top wasn't the only treasure that turned up! The sense of achievement was paramount—and I know I'm not the only one who finds organizing and cleaning to be a big coup. According to a recent spring-cleaning survey performed on behalf of Clorox, the most oddly satisfying cleaning activity is, in fact, organizing a closet, closely followed by organizing a pantry.
That sense of accomplishment is certainly part of the appeal, but I also cling to the inevitable rush of relief. You see: a clean and clear countertop is, in a way, a fresh start. I may not be able to clear out all the clutter in my head, but I can eradicate all the mess in my house—and that helps me simultaneously feel content and motivated. Once I can conquer a big mess, I feel ready to tackle everything else on my to-do list too. I feel less stifled by stuff! I feel empowered. Do you fall in the same boat? Of those surveyed, 71 percent of people who find cleaning oddly satisfying, say it's because it helps them feel relaxed, and 57 percent say it makes them feel accomplished.
Whether it's scrubbing through grime to reveal a sparkling surface, digging hairballs out from under the refrigerator, or discovering binkies and pocket change buried deep in the cracks of the couch cushions, any spring cleaning job requires the right tools to make it an oddly satisfying success—and that's why I always my have my favorite Clorox products at the ready.
Want to get your own oddly satisfying fix? (You know, beyond a YouTube binging sesh?) We're sharing a few totally fulfilling spring-cleaning must-haves, to-dos, and tutorials!
WIPE YOUR SURFACES:
Clorox® Disinfecting Wipes are definitely my number one spring cleaning must-have. I use them on countertops, in the kitchen, on tables, in the bathroom, and everywhere/ anywhere(!) in between. Get your supply ready for all those cracks, crevices, and corners. Of Americans who find cleaning activities oddly satisfying: countertops, the top of the stove, inside the microwave, and inside the refrigerator top the list the as most rewarding.
What's more--the new Ultra Strength Clorox® Disinfecting Wipes are three times stronger than a wet paper towel and built for the messiest of messes with tough blue fibers and grime-catching ridges. So you can wipe away caked on grease to uncover beautiful glistening granite. (Picture the below tutorial in slow-mo for an extra oddly satisfying effect.)
To clean:
o Step 1: Wipe surface.
o Step 2: Let dry.
To disinfect:
o Step 1: Wipe surface, using wipes for the treated surface to remain visibly wet for four minutes.
o Step 2: Let dry.
(That was fun, wasn't it?)
CLEAN OUT THE FRIDGE
Mystery stains. That's what we call them—and they are an inevitability with young kids and husbands (ha!). I find many a mystery stain in my house, with the largest concentration of them in the fridge. Bleck! That's why I always do a deep dive into my refrigerator come springtime. Emptying it out is the hard part. The stains? Why, they're a breeze! You can scrub them away with minimal elbow grease and a little help from Clorox® Clean-Up® Cleaner + Bleach. It's designed to clean and disinfect messes and stains on hard, non-porous surfaces. Plus, Smart Tube technology enables you to be use every last drop. Oddly satisfying and totally thrifty—win-win!
PROTECT YOUR SURFACES
A deep spring cleaning can also be a proactive opportunity to lessen your workload down the line. Clorox® Regular Bleach with CLOROMAX® boasts the same disinfecting, whitening, and cleaning efficacy of regular bleach, with Cloromax® technology. It forms a protective layer to repel stains, so that future cleaning session can be quicker and easier—which is a whole other level of satisfying! (It also keeps laundered whites whiter for longer.)
GET A SPARKLING TOILET
Washing away the icky buildup on a toilet is uniquely rewarding—and, better yet, it's easy. Clorox® Toilet Bowl Cleaner – Clinging Bleach Gel. It's a thick formula with a wide dispensing nozzle that delivers better "bowl coverage and kills 99.9 percent of germs—so you can kiss them goodbye and flush them away.
Okay, so there's your oddly satisfying spring-cleaning starter list. Go ahead and clear your mind and scrub the house. It's so much more rewarding than squeezing a blob of slime… I promise.
Join us on Thursday, April 19 at 6 PM PT/ 9 PM ET for our #CloroxSpringClean Twitter Party.
WHAT: #CloroxSpringClean Twitter Party. We'll be talking all about our favorite oddly satisfying cleaning activities--from organizing and sorting to wiping and dusting--and sharing some tips and tricks.
WHO: Hosted by @momtrends and @theshoppingmama.
WHEN: Thursday, April 19 at 6 PM PT/ 9 PM ET.
WHY: Clorox will be giving away (3) $50 Amazon gift cards and (1) $150 Amazon gift card, plus 4 product packs valued at $50
This is a sponsored post. All opinions are our own.