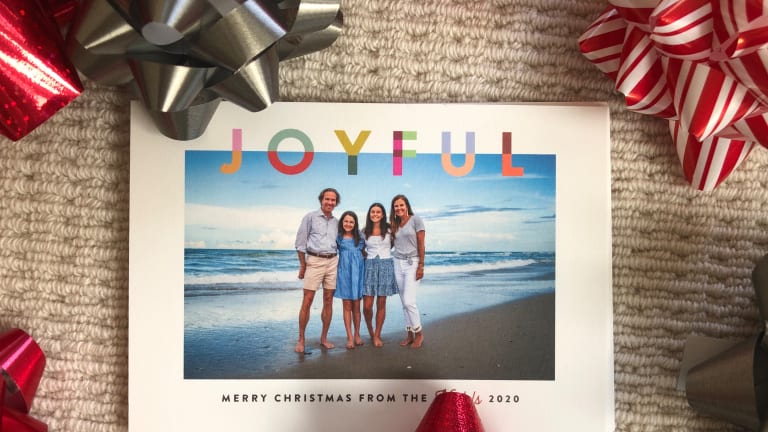 How to Create the Best Holiday Photo Card
Now is the time to start planning that holiday card, use these tips to create a great card.
We can all use some holiday cheer. With the holidays fast approaching, now is the time to start planning that holiday card. This year it's unlikely we'll be seeing our friends and family. Cards are a terrific way to stay safely connected. Even if you don't have a professional photographer, you too can create the best holiday photo card that will spread joy to family and friends. All you need is one great photo and Minted to spread the holiday cheer. 
Deal Alert: 30% off your holiday card order and 20% off on all orders year-round, plus FREE shipping when you join MintedMore
We just ordered our Holiday Cards from Minted and our personalized holiday postcards arrived in a flash. Here's a sneak peek. Order yours at Minted today for the best prices. All designs are freshly crowdsourced from Minted's community of 15,000 independent artists across the globe and each purchase supports these indie designers and small businesses.
Related: Free holiday hangtag printables
How to Create the Best Holiday Photo Card
Before you get started on designing you'll need 1-2 photos. You can start combing through the photo files of 2020 or you can snap a new shot of your kids and puppy. Here are some helpful tips.
Magic Time. If you have grade-school kids, be prepared to get in and get out. Kids typically can sit and participate for about 20 minutes. But with a game plan, you can utilize those 20 minutes efficiently.
Get Lit. Make sure the background is properly lit. With cameras these days, you can review a photo before you go ahead and print it to ensure everyone's faces forward and clearly visible. 
Skip The Props – if you are having more than two people in the frame, skip the props and instead focus on your location. You don't need any extras like bales of hay or a gigantic Christmas tree taking up precious restate. Think simple and clean, regardless of how many people are in the photo. This applies to everything, clothing, background, poses, etc.
Smartphone – if you don't have a fancy camera, or know someone who does, don't worry. Today's smart phones are equipped with a great camera. The key to making the photo professional are three simple tips. First, have someone else snap the photo. You don't want your holiday photo to be a selfie. Second, capture the photo both horizontal and vertical, making sure that the legs and head are not chopped off. That way when it comes time to choosing the card layout, you have some options. Third, have fun with the filters. Your phone comes with several color options and lighting, play around with it, but don't choose more than two different filters to prevent the photo looking over-processed.
Have fun – with today's busy life, treasure the moment that your family is all together and you're spending some quality time capturing a great moment.

Get your photo cards at Minted here.
Tips to Make Sending Cards Easier
Get your stamps early. I was just into the post office and they are almost sold out of Snowy Day stamps.
Always opt for return address printing. You may spend a bit more, but it will save you a ton of time and you'll get cards back if you have the wrong address for your friends. 
Get your addresses pre-printed. When using Minted you can get FREE addressing of your card. Select "Printed" recipient addressing on the "Envelopes" step, and choose your envelope design. Your FREE custom envelopes will arrive with your holiday cards, addressed and ready to send.
Update addresses in your contacts as they come in. I save the envelops every year and update addresses while watching Netflix holiday movies.
More From Momtrends for the Holidays
PIN IT!
Use Pinterest to save your favorite gift ideas. Be sure to follow our Holiday Recipes and Crafts board here.
This How to Create the Best Holiday Photo Card feature is not sponsored. There are affiliate links in this post.