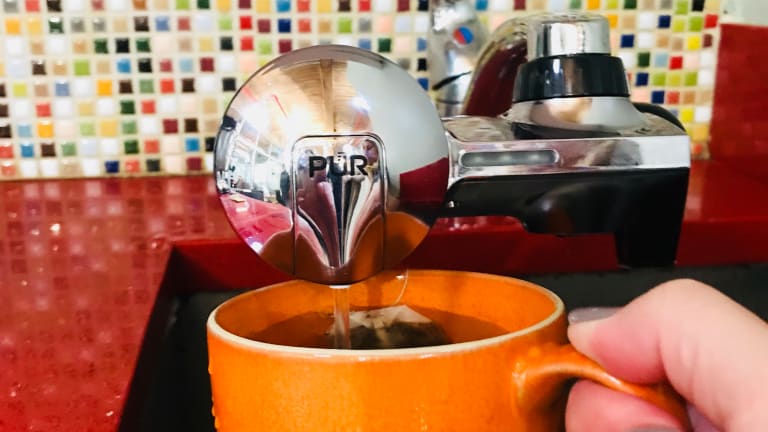 Publish date:
How Clean Is Your Water?
PUR Advanced Faucet Filtration System
We all know we need to drink more water. In fact, my 2018 health resolution has been to drink more water. But I really haven't stopped to learn just what it is I am consuming. Just how clean is my water?
I'm working with PUR® Advanced Faucet Filtration System to help moms like me find out more about our drinking water. First, a little education. To start learning about my water I went to PUR's website called KnowYourWater.com - this is THE place to find out how clean your water is. All you need to do is enter your address and zip code and you can get a personalized water quality report.
Find Out How Clean Your Water Is
After I entered my address and zip code, details immediately popped up about my water. First, some fun facts, I learned that my NYC water comes from the West Branch Reservoir (about 52 miles away) and that it serves more than 8 million people. That's a lot of people who need clean water. 
Next, I found out about the content of my water. As you can see, the report showed me what contaminants are in my water. 
Yikes. I have a lot of lead and 18 total contaminants.
What's wrong with lead? According to the site, heavy metals like lead can build up in the body and lead to a host of problems. I'm not a medical expert, so I don't want to delve into the outcomes and scare you, but I do want you to read some articles, like this one from the Water Research Center. My lead level is nearing what the EPA regards as unhealthy. It's time to fix that.
A little knowledge is power. If you don't test your water, you'll never know what you are dealing with. My water doesn't smell or look funny, and it tastes, well, like water. While your water may look clean, it can contain potentially harmful contaminants. This can happen from the source or be picked up on its journey through our old pipes.
This free service can arm us all with the knowledge we need to make the best decisions for our families. 
Learn About Your Drinking Water
Thanks to PUR you'll get a personalized water quality report in an easy to understand format. I'm a visual learner, and I love a good graph. KnowYourWater.com covers 90% of the US population that is served by a public water system (it can't get information about wells). The website gathers information from the EPA and other government sources. 
How to Clean Up Your Drinking Water
Now that I know what I'm dealing with, I know what I want to fix. Remember, I'm trying to drink more water this year. But, think about it: If you drink more contaminated water, how will that help you?
I got the PUR Advanced Faucet Filtration System to help me work towards my goal of living healthier. PUR is the #1 best-selling brand in lead filtration among filters certified to reduce lead. Look at the numbers: PUR can reduce over 70 contaminants, including 99% of lead, 96% of mercury and 92% of certain pesticides. 
Here's how it works: the PUR Advanced Faucet Filtration System is easy to install. We put it on our sink in a matter of minutes. I didn't need a plumber and I didn't need any tools. It goes right on the tap of my faucet and works immediately. NOTE: Don't forget your replacement filters! PUR suggests replacing filters every three months.
The PUR Advanced Faucet Filtration System is available at major retailers nationwide and PUR.com.
Using the PUR Advanced Faucet Filtration System
How Much Water is Enough? According to WebMD, I should try to drink between 75 to 150 ounces of water a day. Before I start my day, I fill up my Hydro Flask, with PUR filtered water and then try to repeat this healthy habit five more times!
Once the system is on your faucet, all you need to do is go about your day. Go ahead, fill up those bottles and brew that tea. You'll have a great filter taking the nasty stuff out. 
Momtrends tip: To drink more water get a fun bottle like this Hydro Flask. The bold pink color is hard to lose, and it always catches my eye, serving as a great reminder to hydrate.
Every time you make ice cubes, set up your coffee maker or fill your dog's bowl, you are looking out for your family. I'm a tea girl, I drink about six cups of tea a day. And then there's the iced tea I drink. Yes friends, you need to think about those ice cube trays too. And don't forget about your furry friends, they need clean water too. 
When I drink PUR filtered water, I'm giving myself a great boost. Whether it's drinking more water at my desk, or the water I use to prepare fresh steamed broccoli for my family, I am doing a little better in 2018!
Win a "Year of PUR" 
You know I love to share my Momtrends finds. I'm teaming up with PUR to share a great giveaway! You can win a PUR Advanced Faucet Filtration System, 11-Cup Ultimate Pitcher Filtration System and replacement filters for each, plus a 21 oz Hydro Flask water bottle.
For a chance to win, leave a comment on the post detailing what you have learned from your KnowYourWater.com water quality report. Enter the giveaway via rafflecopter below. 
This is a sponsored post with PUR water. All opinions are my own. Photos may not be reused without permission from Momtrends Media