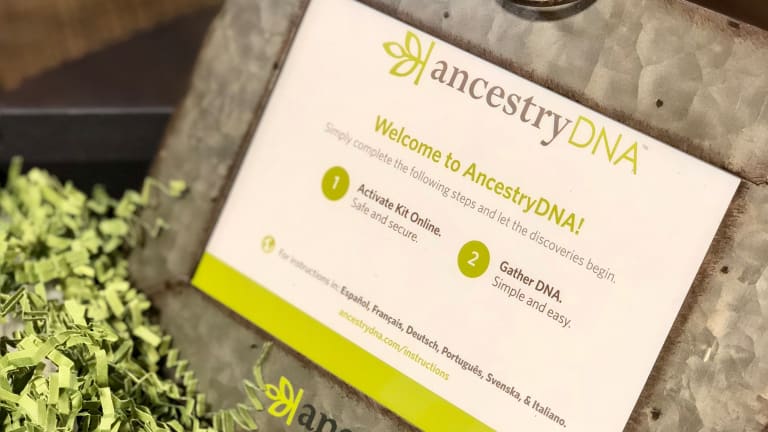 How AncestryDNA Testing Works
Giving the gift of family
I've been doing this blogging gig for twelve years and I'm happy to say I maintain a genuine level of excitement to try new things. Occasionally something lands in my inbox that gets me SUPER excited. When AncestryDNA offered to test my DNA for FREE, I was hooked. I've seen the commercials and have had friends try it, now it was my turn to discover my past and how AncestryDNA testing works.
Getting Started with AncestryDNA Testing 
AncestryDNA is the leading DNA test in the US. According to them, they have amassed "the most diverse DNA collection on earth." It's pretty easy. After you sign on you'll get a kit sent to you. From there you take a simple saliva test. I did mine at the office. All you need is about 30 minutes. The kit includes full instructions, a saliva collection tube and a pre-paid return mailer.
NOTE: Do NOT eat, drink, smoke or chew gum for 30 minutes before giving your saliva sample.
Fill the tube with saliva to the black wavy line. 
Replace the funnel with the cap. 
Tighten to release stabilizing fluid.
Shake the tube for at least five seconds. 
Place the tube in the collection bag. 
Mail in your sample.
How AncestryDNA Testing Works
My saliva was sent off to a lab for testing in about three weeks I had my results (note: processing times can take up to 6 weeks). The science behind the testing uses the AncestryDNA "reference panel." This panel is made up of people whose family have long-standing, documented roots in a specific area. 
The lab compares my DNA to this reference panel to determine my possible ancestry from hundreds up to a thousand years ago. As more testing is done, the results get better and better.
My AncestryDNA Results
First, I was a little surprised I wasn't 50% Portuguese. As far as I can tell, both of my father's parents were born there. So the 19% total seemed a little low. But, hey, Portuguese people love to travel so you never know! The large portion of Eastern Europe makes sense. My mom's side of the family came over from Poland. I had no idea that I'd come out at 60% Eastern European. Now my love of snow sports makes more sense!
Things you can do with Ancestry.com
Once the test results are back, there's more fun to be had. You can find out about migration patterns and the history of "your people."  
In addition, AncestryDNA wants you to keep coming back for more and building a community. Here are the three major products they offer. 
DNA Story: The places that make up your history. This is the big reveal where you will likely be surprised. For me, I'm scratching my head wondering where 4% Norway came into the picture.
DNA Matches: This is where you find long lost family members (if you're into that sort of thing). Apparently I have 104 4th cousins or closer. Since I can barely keep up with my seven current first, cousins, this portion of AncestryDNA doesn't hold a lot of appeal. Unless I find out I'm related to Megan Markle, aka Her Royal Highness The Duchess of Sussex, then I'm interested. 
DNA Circles: This helps you dig around a specific ancestor and build out your family tree. Stick with me here. DNA Circles are based on the idea that if you and another user are a DNA match and have the same ancestor in your tree, there's some evidence that you're related through that ancestor. But if you add a third person who also has matching DNA, or a fourth, it becomes more likely that you're all related because you're descendants of a particular ancestor. Again, not of particular interest to me unless Megan and I turn out to be kin.
What I was after was the experience of discovering more about my ethnicity. While my results are somewhat surprising, I can't say there were any big shockers...or that I need to have any tricky conversations with my parents.
Some of the regions where I have no ties include: Africa, America, Asia, Pacific Islander, and West Asia. I'm going to be diving into more Polish history and learning more about Eastern Europe. And, more important, now that my testing is complete, I'd love to get Mr.Momtrends involved so we can give the girls a more complete picture. 
Start learning more about your family at https://www.ancestry.com/
Let me know if you try it and what you think of your results.
This How AncestryDNA Testing Works feature is not sponsored. Thank you to AncestryDNA for providing a sample kit for testing.