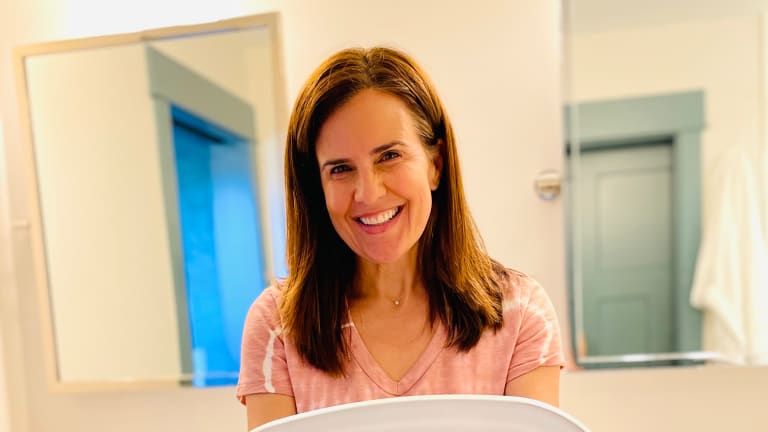 Taking charge of your family's health can feel like a big burden right now. We all have so much going on, I feel it too. But there are tools out there to help us get on the right track. Adding a FitTrack Beebo body composition scale to your home is a smart health decision that will help empower you to make your health a priority and focus on wellness. 
Receive 17% Off the Beebo Scale with Code: BEEBO17 
How the FitTrack Beebo Helps Moms
FitTrack Beebo is designed for moms and moms-to-be. For all the expecting moms out there, this body composition scale allows you to safely track your own health and your baby's growth throughout your pregnancy. Track your pregnancy and the health of your infant as they grow with our smart feedback algorithm. It gives moms-to-be a way to check in on baby and is a great tool towards maintaining a healthy pregnancy. After all, knowledge is power! 
Support for After Baby Arrives
At Momtrends, we are always encouraging moms to make time for wellness, like setting up an at-home yoga practice. We're always here to support new moms.
After baby arrives, FitTrack Beebo can be a key partner in helping new moms feel empowered about their health. In postpartum months, you can map your health and fitness journey with 17 health measurements that make it easier to achieve your health goals as a new parent. Rather than looking to social media for unrealistic expectations on what your post-baby life should look like, make smart decisions based on science. 
Once you're ready to get your post pregnancy health back, the Beebo full body composition helps measure your body vitals. So when you do start losing weight, you know exactly if you're burning fat or just losing water. It's like having a personal health coach at your disposal.

The Ten Best Wooden Play Kitchens For Kids
Cooking is a timeless fascination for children. This type of play goes beyond gender and teaches kids loads of life skills along the way. An investment in a play kitchen is money well spent, as it can provide hours of entertainment. We've rounded up the ten best wooden play ...read more
New Victory Announces a New Season of Shows
We know you're busy planning picnics and summer outings, but we wanted to let you know that The New Victory just announced their new season and it looks fantastic. We thought you'd like a sneak peek of what's in store! Each year the New Vic theater brings culture to tourists and ...read more
Fun Ways to Discover Venice Italy with Your Family
Greetings from Italy wear the gelato is rich, the clothes divine and the scenery is inspiring. Now that I've been to this fine city in the north of Italy, twice, I've amassed a list of favorites to share. These are some fun ways to discover Venice, Italy with your family. ...read more
Getting Started with FitTrack Beebo
It's simple to set up. You'll pair the scale with an app on your phone to track your data. FitTrack can be used with Apple iOS 10 or higher and Android OS 5.0 and higher. Here are some tips for how to get the BEST results from your FitTrack Beebo.
Place the scale on a stable and even surface, such as a tiled floor, to ensure accurate readings.
Anytime you move the scale, take time to calibrate it. Simply step on and off the scale quickly - the scale display will then indicate 0.0 pounds, indicating that the calibration is complete.
Do not step off the scale or re-position your body before completing the measurement.
For multiple weigh-ins, please wait two to three seconds between users for the display to turn off.
How FitTrack Helps Support Your Health
Now you know more about how this smart scale can support you as a mom. There are also ways it can support the entire family. Here are seven ways this body composition scale can support your family's health.
Pregnancy: Get support during pregnancy. FitTrack Beebo scales have a dedicated mode for moms-to-be, allowing you to safely track your weekly progress throughout each trimester.
Infant health: Keep an accurate diary of your baby's growth and weight. An important metric to assess the health of a baby in the early days of development.
Weight: 7 out of 10 smart scale users with a weight loss goal manage to lose a significant amount of fat mass in less than 3 months following the installation of their body composition scale.
Body Vitals: Get a full picture of your overall health beyond just weight and pinpoint the result of your effort on getting healthier or losing fat.
Fitness Goals: Most goals fail because they're too hard to stick to. FitTrack empowers you with more information so that you can cultivate a greater understanding of your body to reach your goals faster.
Supports Family: With this smart scale you can add up to eight users. Each can be recognized by the scale automatically and each will have their data synced onto their own profile. Keep your family healthy together.
Let's Go!
Ready to get started? Head here to order your FitTrack Beebo body composition scale. Looking for more tips? Join the Fit Tracker Facebook Group for exclusive content!
Momtrends was not paid for this post.