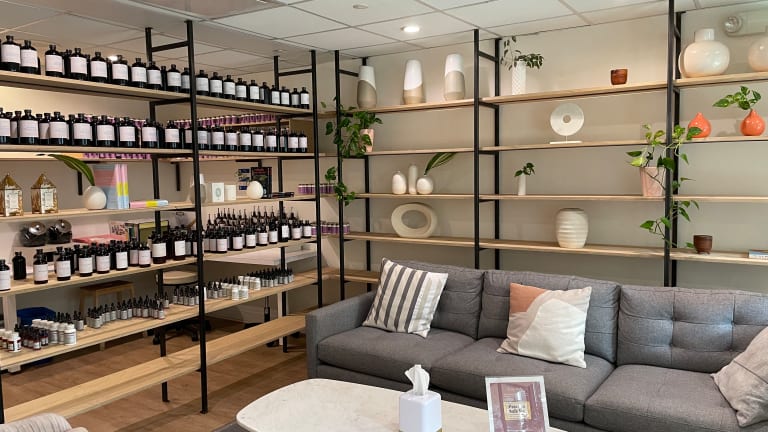 How Acupuncture Can Help with Menopause
Eastern medicine can help support women as they transition through perimenopause symptoms.
What are your feelings about acupuncture? I have tried it a few times over the years to get me through some lower back pain and to help with allergies, but now I am committed to treatment because I'm finding it so supportive as my body adjusts to getting older. I want to tell you how acupuncture can help with menopause.
Related: Is menopause why we can't sleep?
How Acupuncture Works
For thousands of years, acupuncture has been used to support women's health in all the phases of our lives. It can help with fertility, pregnancy, and for me, with perimenopause symptoms. I've been hesitant to try drugs or supplements. My first thoughts are to look within and see if I can change my practices before ingesting anything. I've been doing my research and found many women respond positively to acupuncture.
​Acupuncture works by putting tiny needles into specific spots on your body to stimulate the energy flow. Stick withe me: The idea is to get energy flowing by using pressure to help your body feel it's best. I've been seeing a Brooklyn practice for a few months now and have had some really positive results. I want to walk you through the process and encourage you to give acupuncture a try.
Check in. First your practitioner will ask you where you are right now: How's your health, your energy, your sleep? Open up as much as you can--the more they know the more they can help. It might be helpful to arrive with some thoughts jotted down. Have a list of your concerns ready to share.
Pulses. Next your practitioner will take your pulse. Traditional Western doctors measure the heart rate, which is taken with blood pressure as part of a standard physical exam. In Chinese medicine, pulse diagnosis is a significantly more developed diagnostic tool. Your practitioner will check both wrists to assess your health. In addition to assessing the heart rate at the radial pulse (the pulse felt next to the wrist), traditional pulse diagnosis also assesses up to 28 different pulse qualities which relate to your organs. Each of these "pulses" hold information about your health. 
Needles. Then comes the fun part--the actual needles. Your practitioner will place needles in specific spots to help your qi (also known as chi) start moving. Acupuncture needles are gently and precisely inserted into different pressure points on your body. These needle points are usually near nerves in your body that relate to your organs. The needle stimulates the nerves to release hormones, such as endorphins, that trigger a response from your body.
The rest. The rest, is THE REST. You'll sit in silence letting the energy flow as you simply do nothing. It's the best part of the treatment. 
How It Feels
During the rest period, I try to slow everything down and practice meditative breathing. Sometimes it's easier than others. The needles never hurt, they might feel a little tingly, but let your practitioner know if you are in pain at ALL. 
After it's done I usually feel relaxed energized and peaceful--it's like a mini reboot.
How Acupuncture Helps with Menopause
The symptoms I'm dealing with include hot flashes and a metabolism slowdown. I've had great results with the acupuncture to speed things up and cool things down. In addition to my issues, acupuncture has helped other women with insomnia, low libido and more.
About Yinova Center
Yinova has three locations in NYC. They combine scientific research. In addition to acupuncture, they may suggest herbal medicine, bodywork, supplements and overall lifestyle advice. 
I have been visiting the Brooklyn Heights center, they also have locations in the Flatiron area and the Upper East Side. The centers are pretty and calm, like a little oasis for women who need support. The team is awesome there. You'll feel supported and heard--and couldn't we all use more of that!
I hope you do your research and consider Yinova and acupuncture to support your health.
More Menopause Support from Momtrends
Pin it!
Use Pinterest to save your favorite Momtrends features and be sure to follow our Fitness and health board here.
Momtrends was not paid for this post.