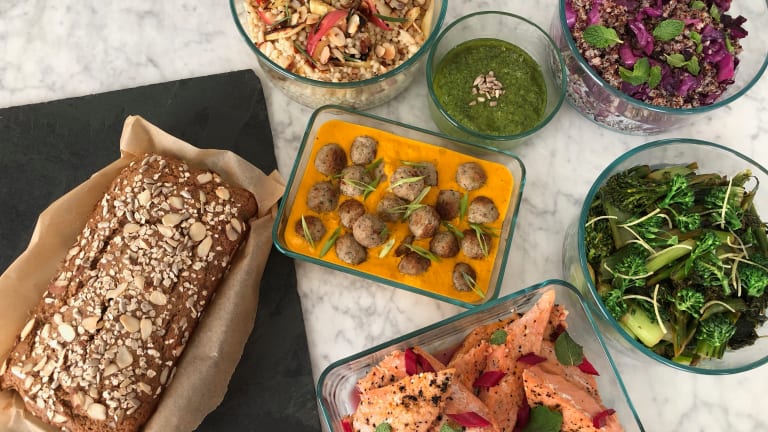 How a Personal Chef Service Works
Checking out The Culinistas: Private Chefs for weekly in-home meal prep
Fall is always bananas for working moms. The schools really load up the calendars in the fall and then there are the youth sports schedules to reckon with. Add in a demanding job, and it's amazing we don't all resort to pizza 2-3x a week. Here at Momtrends, it's about helping parents manage the work/life juggle. Since we've started, I've focused on easy-to-prep meals for years (like our oh-so-tasty foil recipe round-up). But what about bringing in a pro to do the heavy lifting? I started working with The Culinistas to find out how a personal chef service works and was impressed and surprised.
Momtrends Discount: Use Code: MOMTRENDS50 to get $50 towards your private chef services. Valid thru October 2020. 
Checking out The Culinistas
I had a perception that a personal chef service would be exorbitantly expensive and slightly painful. I imagined a snooty chef preparing food that was too fancy for our needs. The Culinistas experience was such a delight. The business is set up to be stress-free and fun. 
How a Personal Chef Service Works
Menu Planning: Select Your Menu. The Culinistas will help you customize it to your needs.
Grocery Shopping: Your chef shops for the freshest ingredients.
Cooking: The Culinista chefs cook your dishes in your kitchen
Clean Up: The chef will clean everything up and store and label all the food. 
Check out this video about our Private Chef Experience
Why I loved Culinistas Private Chef service
My first visit to The Culinistas website was great. I selected items from the weekly menu (it changes seasonally). It took a few simple clicks. I loved all the healthy options that were available. It's a great resource for vegans or those with food restrictions. Clients can fully customize the experience.
Before our appointment, I received our welcome box from Culinistas. This had a set of spices and a full set of Pyrex food containers, as well as EVOO.
Our chef, Jordan arrived fresh from the market. He came loaded with glorious produce and fresh fish. I was extremely impressed with the quality of ingredients.
Jordan, our chef, was so personable. Though my kids weren't around, I wish they were. He was a wealth of knowledge about food and cooking. He was incredibly efficient. 
He got right to work and made himself at home in the kitchen. In about three hours, he prepared three meals for us. When he finished, he labeled everything and stashed it in the fridge. Not only were we prepped with three delicious dinners, my kitchen was spotless at the end. 
Things to think about when hiring a personal chef service
Right now The Culinistas service NYC, LA, Aspen, & the Hamptons. And I will be frank, this service is not inexpensive. The base fee is $250 for a weekly cook, the food is additional. For our family, we'd be looking at $400 for three meals. Keeping in mind that EVERYTHING is expensive in NYC, this is a great price for families that can afford it. 
In addition to the price, you've got to be comfortable with someone being in your home. Since I have flexibility in my work days, I can schedule the sessions when I'm working from home.
With Culinistas, there is great flexibility. If you opt for the weekly cook you can update them when you will be traveling or don't need the service. Everything can be done via email. 
Are you ready to book your private chef?
If you are looking for assistance in your goal to eat healthier as a family, this service is going to be perfect. For families that can afford it, The Culinistas private chef service make family meals not only possible, but delightful. 
For more information and to book and appointment visit theculinistas.com
Momtrends Discount: Use Code: MOMTRENDS50 to get $50 towards your private chef services. Valid thru October 2020. 
7 WAYS TO USE THE CULINISTAS
Weekly Service: Choose a menu & request a service date to suit any dietary need. Your Culinistas chef will grocery shop, cook in your home, and clean up, always remembering your culinary and kitchen preferences. 
Occasions & Holidays: Hosting a party is stressful enough, so let The Culinistas take care of the food. We'll design your menu and your chef will shop, cook, serve, and clean up, so all you have to worry about is having a good time.
Dinner Party Prep: Utilize our weekly service as an opportunity to prep for your upcoming dinner party. The Culinistas will shop, cook, and clean up, leaving you with all of the tools you need to serve your guests carefree that evening.
Date Night: The Culinistas will customize your menu for a romantic dinner at home. Your chef then shops, cooks, serves, cleans up, and tip toes out for maximal, uninterrupted alone time.
Cooking Class: The Culinistas offers cooking lessons in the convenience of your own home. Select a menu and your Culinistas chef will shop for groceries and teach you how to prepare a delicious meal from start to finish.
Hamptons & Aspen Summer Packages: The Culinistas is the easiest way to reserve exclusive access to quality private chefs for brunches, dinner parties, BBQs, or family fridge stocking for weekly meals. From designing menus and shopping locally, to cooking, serving & cleaning up, we'll take care of your culinary needs this summer.
Postnatal Package: The Culinistas is here to ensure new mothers are being supported & getting the nutrition they need during their fourth trimester.
More Food from Momtrends
Pin it!
Use pinterest to save your favorite ideas from Momtrends. Be sure to follow out Momtrends board here.
Momtrends was not paid for this How a Personal Chef Service Works post.