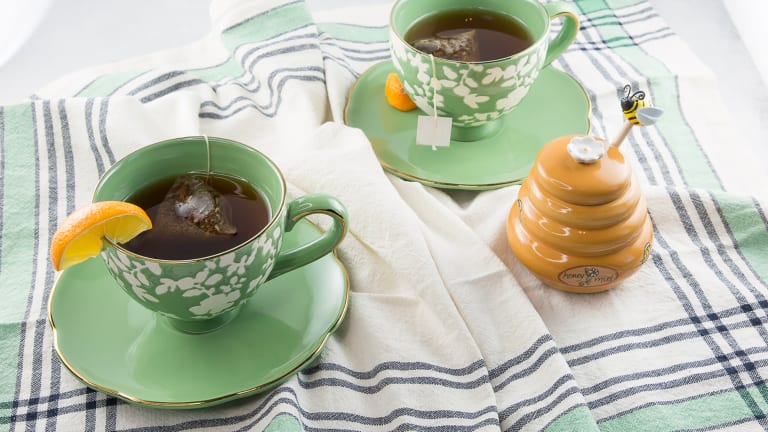 Hot Toddy Cocktail
Does it seem like cold and flu season gets worse every year? Maybe it's because my preschooler loves to share his germs (not that he likes to share anything else), but this year seems exceptionally bad. And, inevitably, what the kiddos get, mom gets. I do my best to keep our hands washed and our diet full of immune-boosting vitamins, but there is only so much you can do.
So, what are we to do when a nasty cold invades our otherwise happy days? If you ask your grandma or grandpa, they will probably say forget the OTC cold meds and reach for a hot toddy. To this day my grandpa swears by this cocktail recipe. "You just need to sweat the germs out," he says.
There are many variations of the hot toddy, but mostly, you need tea, whiskey, honey, and lemon juice. From there you can create your concoction. I prefer a good black tea and Wild Turkey. If you don't have Wild Turkey, Jack Daniels is a good option as well. I like both equally. I usually have Wild Turkey on hand though because I use it in my husband's favorite dessert, black bottom bourbon pecan pie.
To make this hot toddy, heat water in your tea kettle (or microwave). Allow tea bag to steep for 2-3 minutes. Add one shot of whiskey, one tsp of honey (more if you like it sweet), and the juice of a lemon slice. Stir, sip, and climb under the covers for your "sweat session." Or, simply sip and enjoy. You don't have to be sick to enjoy the coziness of this cocktail. It pairs well with "Netflix and Chill" days!
Hot Toddy 
6 oz high-quality black tea
1 shot whiskey
1 tsp of honey (more if you like it sweet)
1 lemon wedge ( squeeze juice into the cocktail)
Happy Sipping!
This is not a sponsored post.